World Cup 2014: Alejandro Sabella - Bramall Lane to Brazil

By David Ornstein
BBC Sport in Brazil
Last updated on .From the section 2014 Fifa World Cup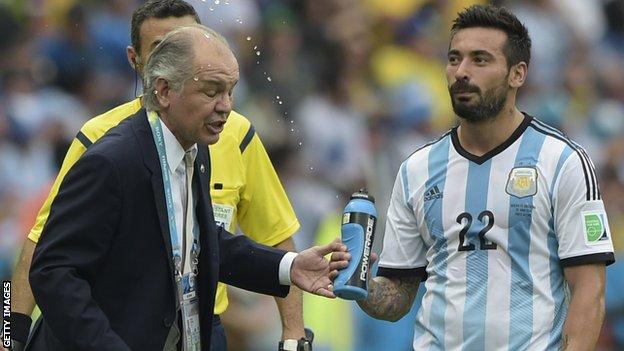 Alejandro Sabella might not be a cigar-smoking, earring-wearing national icon who unleashes expletive-laden tirades and attracts more publicity than most of his players combined.
But the current Argentina coach carries no less expectation than the last man who led them at the last World Cup in the eyes of a country desperate to see their 28-year wait for a third title brought to a glorious end, especially on enemy territory.
Sabella is attempting to succeed where Maradona failed in South Africa four years ago by guiding the Albiceleste to a first World Cup triumph since Maradona himself captained them to victory at the 1986 tournament in Mexico.
The only time Sabella, 59, has attracted any noticeable attention outside Argentina during this competition was when striker Ezequiel Lavezzi squirted him with water on the touchline during the Nigeria game.
With this more low-key approach, Argentina won all three of their group games,beat Switzerland after extra time in the last 16, edged past Belgium in the quarter-finals before seeing off the Netherlands on penalties.
Their dream is alive and Sabella, though uncomfortable in the spotlight, appears to be coping well with the pressure. It is not the first time he has stepped into Maradona's shoes.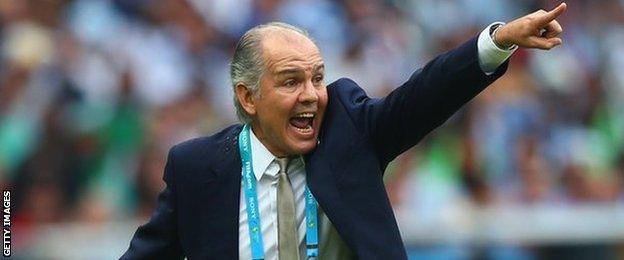 The previous occasion was in 1978, when then Sheffield United manager Harry Haslam travelled to Argentina on a scouting mission. He wanted to sign Maradona but returned with Sabella.
The story goes that Haslam got Sabella from River Plate for £160,000 after refusing to pay an extra £40,000 for Maradona - but it later emerged that Argentinos Juniors had wanted £600,000 for the still unproven 17-year-old.
"It was like an army following me about - 'are you signing this player, that player?'" Haslam said at the time. "In fact, I'd signed 22 at one game according to their local paper.
"The deal was done but even then I get to the airport and the man looking at the passports doesn't want to let us out because we've got Sabella with us!"
Sabella's Argentina record, August 2011-present

Played

Won

Draw

Lost

37

24

9

4
Haslam may have returned without future world-beater Maradona, but when a talented 23-year-old was lured from South America to South Yorkshire, and to a club in the second division of English football, it was not only a coup but a culture shock.
Sabella, or Alex as he was known, arrived in the same year that compatriots Ossie Ardiles and Ricky Villa joined Tottenham, fresh from World Cup glory in their homeland, and Alberto Tarantini signed for Birmingham - a sign of things to come for English football.
"He was definitely a trailblazer," former Sheffield United defender Tony Kenworthy told BBC Sport. "He was one of the first players to come from that side of the world and he was brilliant. You get some bad foreign signings, but we couldn't have landed a better one - as a player and a person."
There is some amusing footage of Sabella and his team-mates on the Bramall Lane pitch in pre-season, the Argentine trying unsuccessfully to communicate verbally with confused-looking Blades captain Mick Speight as Kenworthy appears similarly perplexed in the background.
They resort to a form of sign language before Haslam's Spanish-speaking assistant, Uruguayan Danny Bergara, assumes the role of interpreter between Sabella and the baffled British players.
"Alex is telling you, 'backheel, backheel'. In his language, 'tacon, tacon'," Bergara explains to the bulk of the squad before turning to Sabella: "Alex, 'backheel'"
"Buh?" replies Sabella. Bergara, who went on to enjoy success managing Stockport, repeats "Backheel". Sabella's final attempt: "Buck-hill."
Despite that season ending in relegation, Sabella seemed to enjoy his spell with the Blades.
"I think over here we play more honestly and without bad intentions," he said during an interview with local television. "In Argentina, the marking is tighter and they will do anything to stop you."
His wife was less enthusiastic about swapping Buenos Aires for Mosborough, adding: "It seems to be a very quiet life here. In the evenings in Sheffield there doesn't appear to be a lot of nightlife."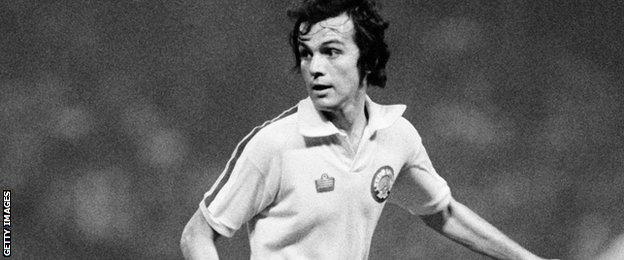 Kenworthy recalls there being "quite a buzz about the place" as Sabella rapidly became "one of the lads" and happily socialised with his colleagues despite the fact he "wasn't a big drinker".
"Alex was very intelligent and soon picked up a bit of English to understand what we were trying to convey," said Kenworthy. "On the pitch it was easy - a little shout, a nod, a hand gesture.
"He was a maverick, a luxury player. When Alex got the ball he did his own thing. We would fit in with him when he picked up the ball because he was very skilful and wanted to take people on.
"Despite being quiet and laid back, he was very serious about football and tactically astute. He knew exactly how he wanted to play and exactly how he expected the team to play.
"He was quite single-minded and stubborn. For instance, he wouldn't train on Friday. I don't know why - maybe he didn't want to get injured - but if Alex said he wasn't doing it, he wouldn't do it."
Sabella moved to Leeds for a season in 1980, but it is the Blades who remember him most fondly.
"When Alex signed, I wagged school and went to Bramall Lane to welcome him on to the pitch with about 4,000 others," said Steve Cowens, manager of Sheffield-based rock band Sabella.
"His silky skills set him aside from the rest. The fans loved him and he became a cult hero.
"The band are all young Blades fans and when they were looking for a name in 2012, one of their dads said he thought 'Sabella' was a great choice and they all agreed.
"We've since had a lot of emails and messages on social media from Argentines asking about our band and its name. We're hoping to tour Argentina later this year."
Sabella the footballer returned home in 1981 and had success with Estudiantes under the guidance of Carlos Bilardo, who would lead Argentina to their 1986 triumph and is now their general manager.
Inspired by Bilardo and Osvaldo Zubeldia, another respected Argentine boss, Sabella moved into coaching and assisted Daniel Passarella for almost 20 years, including at the 1998 World Cup.
In 2009 he took over at Estudiantes, winning the league and Copa Libertadores, before accepting a lucrative offer to manage United Arab Emirates side Al Jazira. But when Argentina suffered a quarter-final exit at the 2011 Copa America, the call came and Sabella opted against moving to the Middle East.
"We saw him as a pragmatic choice, a steady hand, following the chaotic reigns of Maradona and Sergio Batista," said Beto Duec, an Argentina supporter taking in his sixth World Cup in Brazil.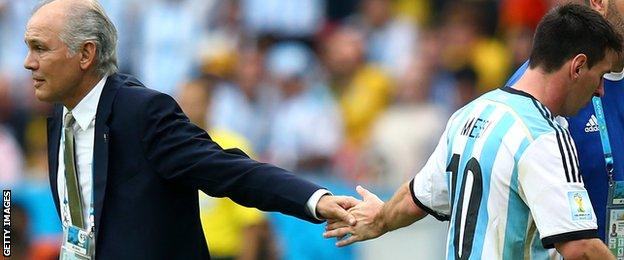 "Maradona is our favourite son and he took a lot of pressure away from the players, but he was not a great coach - too emotional. He was more a motivator, a cheerleader, thinking with his heart.
"Sabella thinks with his head and has more experience, he's more controlled, he admits mistakes and rectifies problems. We adore Maradona, but Sabella is a more appropriate choice as coach."
Sabella's first decision was to install Lionel Messi as captain but qualifying for the World Cup started poorly, with Argentina collecting only four points from their first three matches.
Trailing 1-0 in Colombia, Sabella made a crucial tactical intervention by replacing a defensive midfielder with a forward and switching from 5-3-2 to 4-3-3. His side did not look back.
History repeated itself in their opening World Cup match against Bosnia-Hercegovina for which Sabella had reverted to 5-3-2. Again he changed to 4-3-3 during the game and again it worked.
Messi expressed displeasure at the use of 5-3-2 and Sabella admitted his mistake, but any suggestion of a rift was dispelled when Messi scored a last-gasp winner against Iran - his second of four goals that propelled Argentina into the second phase as Group F winners.
"He is a coach who transmits tranquillity to the team," said former Argentina captain Juan Sebastian Veron, who worked under Sabella on the national team and at Estudiantes.
"He is very concerned with detail, preparing for each match by going over everything that could happen on the pitch. From a strategic point of view, he is really intelligent during the game.
"Most importantly, he forms extremely good groups. He has finally managed to get Messi operating to his full potential after the highs and lows before, but it has not come at the group's expense."
Sabella showed he was not afraid to make tough calls with the controversial omission of fans' favourite Carlos Tevez, but Argentina seem a happier camp without the Juventus forward and it has allowed the coach to build a team around Messi as Bilardo did with Maradona in 1986.
Argentina are craving a similar ending and if it happens, there will be smiles at Bramall Lane.
"I would never have imagined that Alex would be in the position he is today," said Kenworthy. "But you could see there was something in him and this couldn't have happened to a nicer guy.
"He's one of these people who make you think: 'Whatever comes your way, I hope you enjoy it because you deserve it.'"