Caf: African World Cup success aided by Nations Cup move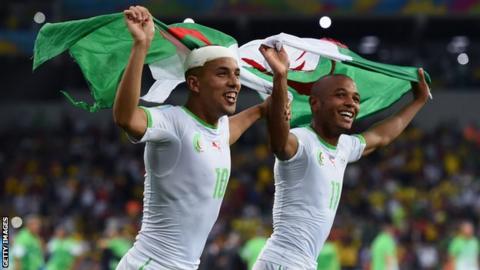 The Confederation of African Football believes its decision to move the timing of the Africa Cup of Nations from even to odd years is paying immediate dividends.
As Algeria qualified from Group H following Thursday's 1-1 draw with Russia, it meant Africa had two teams in the knock-out stages of a World Cup for the first time - with Nigeria having gone through on Wednesday.
This is the first ever World Cup where Africa's representatives have not had to play a Nations Cup just five months before the global final.
"The fact that two teams made it through is a combination of various factors, one of which is Caf's decision to change the Nations Cup from even to odd years," said Caf secretary general Hicham El Amrani.
"This makes it impossible for African players to have two major events to play in the space of six months."
Fitness coaches have previously said it is physically impossible for footballers to peak twice in such a short period of time, one of the reasons Caf changed the Nations Cup's timing in 2010.
Africa's World Cup preparations were also often hindered by the fact that coaches who had qualified the team for football's greatest event could find themselves sacked just months before the finals if their team performed poorly on the continental stage.
This left the incoming coach little time to prepare, as happened to Togo coach Otto Pfister in 2006, when he had two weeks with his players before having to name to his World Cup squad.
El Amrani said the teams' progress is also down to their "preparations, talent and skills" as well as the "overall progress and development of the African game".
On Monday, Nigeria play France in Brasilia while Algeria take on Germany later that day in Porto Alegre.
In the event that both African sides win through, they would meet in the quarter-finals - meaning the continent would be sure of having a team in the World Cup semi-finals for the first time.
"We wish the best of luck to Algeria and Nigeria as the entire African continent is behind them," said El Amrani.
He added that Caf President Issa Hayatou has contacted both federations to pass on his congratulations as well as wishing them the best for the next phase of the competition.
Nigeria coach Stephen Keshi says his Super Eagles are not just representing Nigeria, but the whole of Africa.
"We are the African champions and have a collective responsibility to not only play for our country, but also the continent."
Four years ago in South Africa, Ghana came closer than any African side to reaching the last four - but after Asamoah Gyan's penalty in the last minute of extra-time crashed against the bar, the Black Stars exited the competition after losing a penalty shoot-out against their Uruguayan opponents.
The Ghanaians had been only the third African side to reach the quarter-finals of the competition, following on from Senegal in 2002 and Cameroon in 1990.
Since Morocco topped their World Cup group in 1986, an African side has always reached the second round of the World Cup.
In Brazil, Africa almost had three teams in the knock-out stage as Ivory Coast were 60 seconds away from qualification until Greece scored a last-minute penalty to win 2-1 and book their passage instead.
Cameroon and Ghana also failed to make it through after enduring difficult campaigns.
Both sides rowed about bonus money, while the Indomitable Lions suffered a red card and an unseemly incident where Benoit Assou-Ekotto headbutted a colleague on the pitch in the match against Croatia.
Ghana, meanwhile, had to send two players home for disciplinary reasons - shortly after a plane flying in excess of three million dollars had arrived from West Africa to pay the squad their appearance fees.