World Cup 2014: Julio Cesar the hero of Brazil after penalty heroics

By David Ornstein
BBC Sport in Belo Horizonte
Last updated on .From the section 2014 Fifa World Cup
There were pivotal twists and dramatic turns, moments of boundless ecstasy and crushing agony, tears of frenzied joy and unthinkable despair - but in the end, it came down to a man who could not get a game in the second tier of English football last season.
While Julio Cesar probably intends to forget about the past 12 months as quickly as possible, what happened at Estadio Mineirao on Saturday will stay with him forever.
The events will also remain with all who witnessed this remarkable World Cup last-16 tie - as hosts Brazil eliminated Chile 3-2 on penalties in Belo Horizonte to keep their dreams alive and destroy those of La Roja.
The tension was simply unbearable: 1-1 after 90 minutes of football, the Brazil crossbar rattled in the final minute of extra time, the hopes of 200 million people resting on a set of spot-kicks.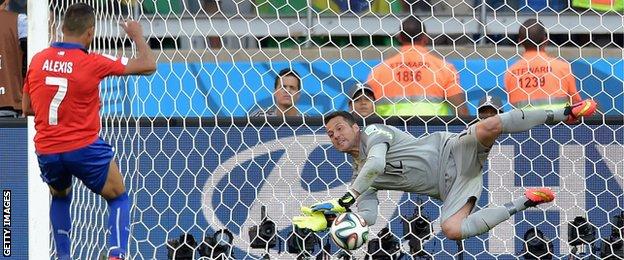 Suddenly there was no singing from the stands; the carnival atmosphere replaced by a collective mumbling. Was this really happening? Were Brazil actually on the verge of losing early at their own tournament? The nation came to a standstill.
The scenes on the pitch were replicated off it: some embraced, others prayed, many debated. Who should take the penalties? In what order? What happens if...? Anxiety reigned.
Luiz - scores. What noise! Pinilla - saved. Even louder! Willian - wide. Stunned silence. Sanchez - saved. Huge eruption! Marcelo - scores. Almost there! Aranguiz - scores. Surely irrelevant! Hulk - saved. Oh no! Diaz - scores. Trouble! Neymar - scores. Back on track! Jara - post. Paradise!
As the Brazil players found energy in their weary legs to race across the pitch and mob Cesar, the goalkeeper's journey had come full circle. The villain of 2010 was the hero of 2014.
Four years ago in South Africa it was Cesar's mistake in failing to deal with a long ball into the penalty box that led to Brazil's unexpected quarter-final defeat by the Netherlands.
This time, his intervention averted a national disaster.
Jose Maria Marin, head of the Brazilian Football Confederation, has compared winning or losing this title to "heaven or hell", while the squad and coaching staff have repeatedly promised to triumph in the Maracana on 13 July. An alternative outcome is not even being contemplated.
Cesar had already rescued his team in normal time, a magnificent reaction stop preventing Charles Aranguiz from putting Chile 2-1 ahead with only 15 minutes remaining.
But a bigger role was still to be performed. Television cameras followed his every move as the teams prepared for their decisive exchange. His shot at redemption had arrived - and he delivered.
Following QPR's relegation from the Premier League in May 2013, Cesar slipped down the pecking order to become manager Harry Redknapp's third choice between the posts.
He helped Brazil win the Confederations Cup but went nine months without a club game until he started Rangers' 4-0 FA Cup defeat by Everton in January.
After buying new gloves and training alone in a local park, the former Inter Milan number one eventually left on loan, joining Toronto FC in Major League Soccer, but made just seven appearances.
Not ideal preparation for the biggest competition of your career, then, but it did not show as Brazil qualified for the knockout phase as Group A winners, nor as he excelled again in Belo Horizonte.
"This proves I was well trained for the World Cup," said the man of the match. "The staff created a calm and secure environment for me and I felt great joy, strength and affection.
"Being labelled a villain after South Africa was very hard, but this proves that if you have a dream you go after it and never give up. What will crown this will be to kiss and lift the trophy."
Cesar even managed to overshadow poster-boy Neymar, whose contribution was also significant. He supplied the corner for David Luiz to open the scoring and slotted the winning penalty.
"Neymar needs to be valued for what he did," said coach Luiz Felipe Scolari, referencing the forward's high-quality display produced despite being on the receiving end of some heavy challenges.
"He may only be 22 but he is experienced and mature. He is very good psychologically, mentally, and the details in his life show he has been ready since he was 17 or 18.
"He went to take that penalty as if he was playing with his friends at Santos."
Despite Brazil's inconsistent level of performance against Croatia, Mexico and Cameroon, their supporters arrived in buoyant mood. The Selecao had never lost to Chile on home soil and beat them by three-goal margins at the same stage of the 1998 and 2010 World Cups.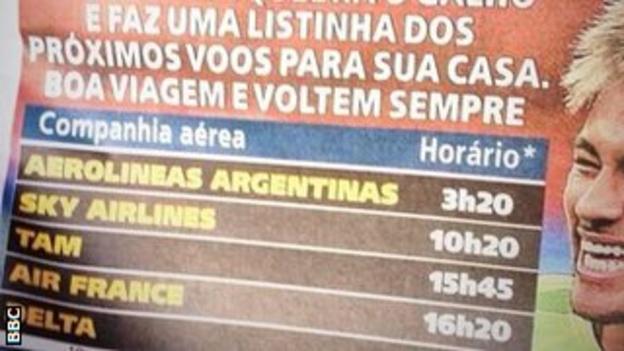 Such was the confidence - or refusal to countenance defeat - the front page of one Brazilian newspaper even listed flight times back to Chile and La Roja were referred to as "fregues", meaning client or regular customer. In other words, they always give Brazil what they want.
But on this occasion the effervescent Jorge Sampaoli and his richly talented, meticulously organised and ferociously competitive players had other ideas.
They accounted for reigning champions Spain in the first week and the pockets of boisterous, red-clad fans were desperate to make history with another stunning upset.
Star man Alexis Sanchez drew them level, but their greatest opportunity came in the dying minutes of extra time, when substitute Mauricio Panilla saw a spectacular strike come back off the woodwork.
The whole of Brazil must have breathed one enormous sigh of relief.
"The atmosphere on the bench was very, very tense," said Scolari. "For the nation, this was important. We were tense - it's not easy to play in the World Cup, at home, with the pressure of needing to win. It would be easy to say: 'Well, if we qualify from the first stage that's fine'.
"But no, we took upon ourselves this mission that we must be champions. We passed it on to the players and the people embraced the idea and are now demanding it from us.
"If you make a promise, you must deliver it. You go until the end and do whatever is possible to deliver what you promised and this is what the players are doing.
"This is the fourth step - there are three more to reach heaven."
The effects of this match were felt far and wide; social media site Twitter has never tracked more posts per minute than the 389,000 that were sent when Gonzalo Jara missed the decisive penalty. That eclipsed the 382,000 peak during Superbowl 48. It was also the most discussed match of the World Cup so far, attracting 16.4 million tweets.
But few in Brazil will care about statistics; all that matters is that they are getting closer to an achievement they view as a birthright.
Next up, Colombia in Fortaleza on Friday.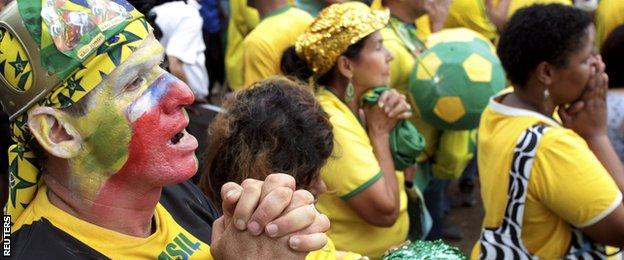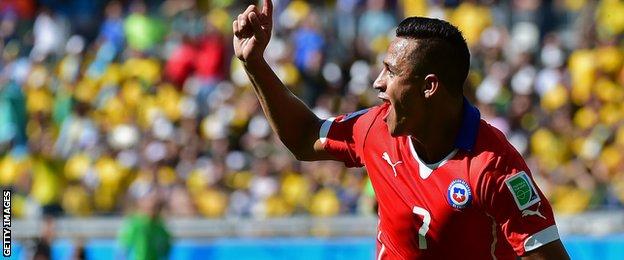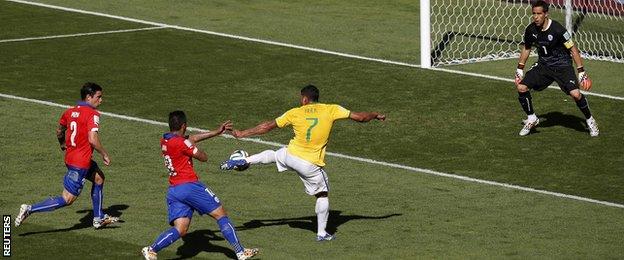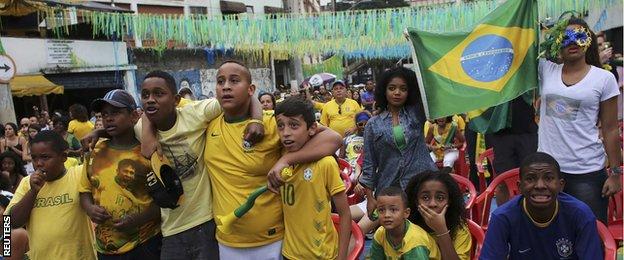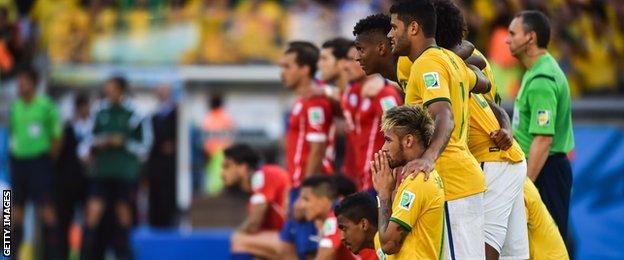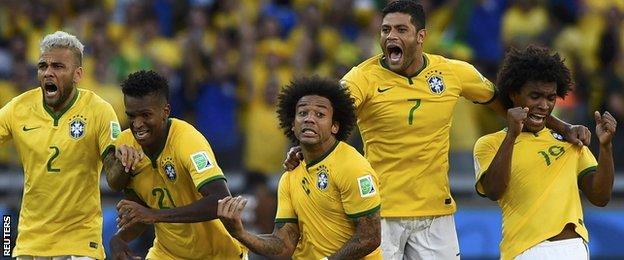 For the best of BBC Sport's in-depth content and analysis, go to our features and video page.