World Cup 2014: Brazil's Neymar set to face Colombia
Last updated on .From the section 2014 Fifa World Cup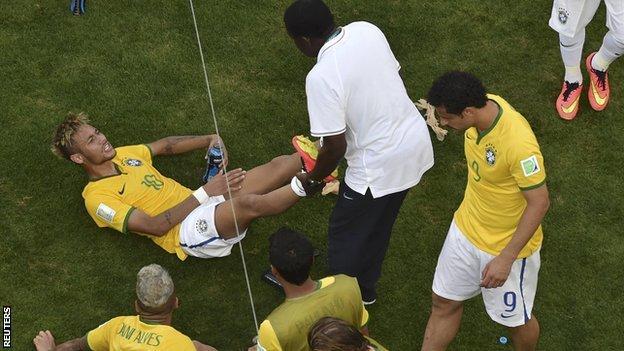 Brazil forward Neymar is expected to be fit to face Colombia on Friday in the last eight of the 2014 Fifa World Cup.
"The worst is the knee - it's what's hurting the most," said Brazil spokesman Rodrigo Paiva.
"He will be evaluated again, but team doctor Jose Luiz Runco said fans don't have to worry because he's not a concern for the match."
Paiva added that Neymar may be rested from training if necessary.
Brazil coach Luiz Felipe Scolari had said after Saturday's game against Chile: "We will do our best to put him on the pitch."
Neymar scored Brazil's fifth spot-kick in the penalty shootout, before Chile defender Gonzalo Jara missed to send Scolari's side into the quarter-finals.
"Neymar needs to be valued for what he did because it was a big effort," said Scolari, who criticised English referee Howard Webb for not protecting his star player.
"He played 75 minutes of the match after a strong hit on the thigh and we couldn't understand how somebody hits with that strength and gets no card."
For the best of BBC Sport's in-depth content and analysis, go to our features and video page.