World Cup 2014: Arjen Robben apologises for dive against Mexico
Last updated on .From the section 2014 Fifa World Cup
Arjen Robben has apologised for diving after the Netherlands beat Mexico 2-1 in the last 16 of the World Cup - but said it was not for the decisive penalty.
Klaas Jan Huntelaar converted the match-winning spot-kick in stoppage time after Robben had been fouled.
Mexico coach Miguel Herrera accused Robben of diving three times in the game, but the forward told Dutch television: "I have to apologise. In the first half I took a dive.
"The one at the end was a penalty."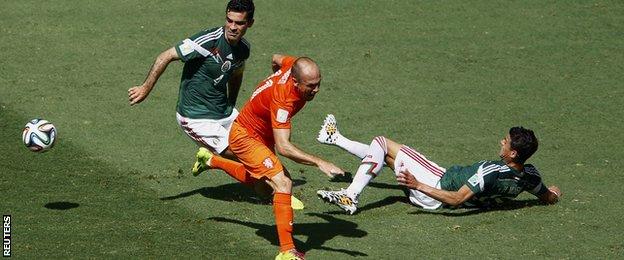 Robben was fouled by Mexico captain Rafael Marquez in the 94th minute, but Herrera suggested the Bayern Munich player should not have even been on the pitch to be able to win the penalty.
"Robben dived three times," he said.
"You should caution a guy who is trying to cheat, and then if Robben did it again he would be sent off."
Mexico first suffered a penalty scare towards the end of the first half when Robben fell inside the area following a challenge by Hector Moreno.
Portuguese referee Pedro Proenca waved play on and Mexico took the lead early in the second half when Giovani Dos Santos scored from distance.
Robben again went to ground inside the area after a Miguel Layun challenge, before Wesley Sneijder equalised with a powerful drive late on.
Just as extra-time looked likely, Robben raced into the area, Marquez stuck out a boot and the referee awarded the penalty, which Huntelaar coolly finished to put Netherlands through.
It left Herrera incensed, and he added: "Why did Fifa choose a referee from the same confederation as the Netherlands instead of one from South America, Asia or Africa?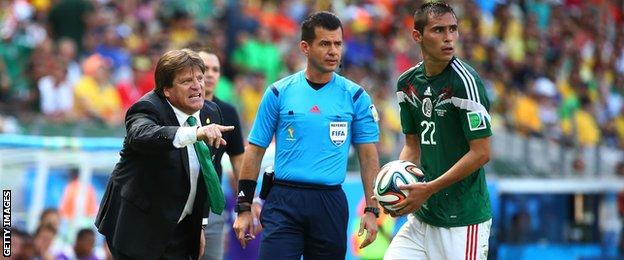 "The doubtful decisions were always against us. In three matches we had horrible refereeing. The man with the whistle knocked us out.
"I want the referee committee to take a look and that the referee goes home, just like us."
Marquez claimed after the game that Robben had admitted that he was lucky to get the decision.
Former Barcelona defender Marquez said: "I spoke with Robben after the match and he told me that it was not a penalty.
"He said that the first foul was a penalty and that one was not called."
Mexico and Manchester United striker Javier Hernandez echoed the thoughts of his manager and captain.
"We were so close to getting through but a very doubtful penalty sent us out," he said.
"Referees are humans, they make mistakes but unfortunately sometimes these mistakes hurt a lot of people.
"We need to leave this moment behind us turn to the next page."
Six players were booked for diving at the last World Cup in South Africa but, as of yet, there have been no bookings for simulation at Brazil 2014.
Arnold Muhren, the former Netherlands international, believes that anomaly must be addressed.
"They don't give yellow cards but they should," the former Ipswich and Manchester United midfielder said.
"They have to suspend [players] for a couple of games so they realise they don't have to do that to win games.
"Robben apologised for diving but you shouldn't do it at all - I don't see English players doing it. We don't like it in Holland, either."