World Cup 2014: Mikel shrugs off Nigeria bonus row
Last updated on .From the section World Cup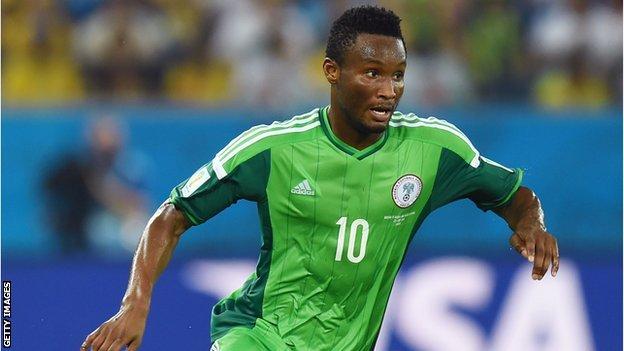 Midfielder John Mikel Obi has played down Nigeria's bonus row and insisted it will not affect the team in Monday's last-16 game against France.
"There wasn't a major issue about money," Mikel said. "We discussed it and it was quickly clarified.
"We are very focused on the game and we are motivated."
Nigeria's players were understood to be concerned they would not be paid after the tournament - a situation that occurred after last year's Confederations Cup - and Mikel admitted there were talks in the camp.
However, he described it as a normal situation.
"There were discussions here and there between the players, coaches and the football association - this is what happens anywhere," he said.
"I play for Chelsea and this is how it works everywhere. It wasn't a problem."
And the 27-year-old is confident the Super Eagles will be at their best as they try to reach the quarter-finals for the first time.
"We have been training and we have not lost concentration for the game. If anything, we are even more motivated. We are ready and fit and looking forward to the game," he said.
"It will be a spectacular game and small details may decide it. We have to be cautious, concentrate on everything and make sure we do what we have to do to win the game."