World Cup 2014: Arjen Robben to escape punishment over 'dive'
Last updated on .From the section 2014 Fifa World Cup
Arjen Robben will avoid retrospective punishment from Fifa after he admitted diving in the Netherlands' 2-1 World Cup win over Mexico.
The 30-year-old said he did not cheat to win a decisive injury-time penalty but told Dutch TV: "In the first half I took a dive."
Netherlands officials have claimed his comments were misinterpreted.
Fifa, world football's governing body, have confirmed no action will be taken - stating that no rules were broken.
A spokesperson told BBC Sport that the conditions of article 77, which give Fifa's disciplinary committee responsibility for "sanctioning serious infringements which have escaped the match officials' attention" and "rectifying obvious errors in the referee's disciplinary decisions" are "not fulfilled" by the Robben situation.
They added: "Fifa strongly appeals to all World Cup participants to uphold the principles of fair play and we will continue to work with the match officials as part of their preparations and training to identify simulations and take appropriate measures during a match to discourage such behaviour."
At a news conference on Monday, Robben attempted to clarify his post-match comments.
"It's a shame because I was very honest," he said. "Maybe sometimes you are punished for honesty.
"I said there was one foul in the first half where I went to the ground because I thought he would tackle me, but he took his leg away at the last moment and I went to the ground without a touch. It was a stupid action for me, but it had no influence on the game.
"In the first half we should have had a penalty, and the one at the end was a clear foul and a penalty. That should be the end of the discussion."
In February, Fifa president Sepp Blatter called for retrospective action for players who dive, fake injuries and waste time.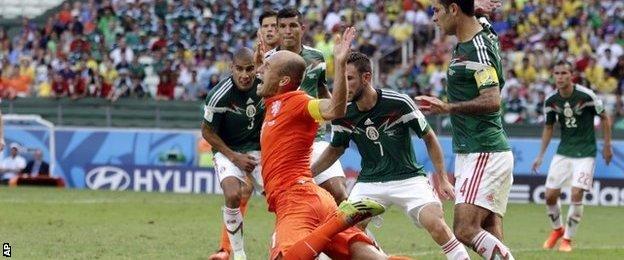 He wrote in the organisation's monthly magazine: "Video evidence can be used for serious breaches of the principle of fair play such as brawling, spitting at opponents, verbal insults and racist slurs, or for incorrectly awarded red or yellow cards.
"In cases such as these we must make use of the avenues already open to us and intervene after the event if necessary.
''In this context, we should include the faking of injury, intentional diving or time-wasting in our considerations."
Blatter expressed disappointment that existing bodies were not using the rules to take retrospective action.
For the best of BBC Sport's in-depth content and analysis, go to our features and video page.