Casey Stoney: Arjen Robben should be ashamed of his diving
Last updated on .From the section Football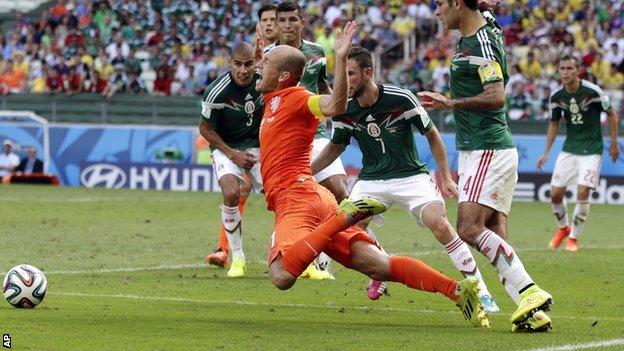 England and Arsenal Ladies defender Casey Stoney is writing a regular column for the BBC Sport website this season.
Like most football fans, I have been completely engulfed by the World Cup and the energy Brazil has for staging such an event. I don't think I have ever seen such a celebration of exciting football.
But now we have entered the knockout stages, the pressure is increasing and we have already seen that with the Netherlands reaching the quarter-finals in controversial circumstances.
Dutch winger Arjen Robben won what proved to be a crucial penalty after he was bought down by Mexican defender Rafael Marquez to help earn his team a 2-1 win. The incident and post-match comments from Robben have caused some debate about diving and its place in the game.
In my opinion there was contact and if you leave your foot in you are asking for trouble, but I don't think there was enough contact for him to go down in that manner. It's the theatrics which get me. I absolutely hate it, especially as a defender and especially because Robben is a world-class player.
Diving is an ugly side of the game that we need to get rid of. No wonder United States supporters can't understand why a 14-stone man rolls around on the floor trying to get an opponent booked.
You can dress it up any way you want to but in the end it is cheating and I am just thankful that you do not see that sort of thing in the women's game.
As I see it, the problems with diving are two-fold. If someone dives and earns a penalty, then it is giving licence to others to do the same. They see the reward and will repeat the action.
The same goes with children. I coach kids and there is a growing trend of them copying their role models and that applies to diving too.
That is why it is disappointing that retrospective action has not been introduced. It happens for elbows and off-the-ball violence, so why not for diving? If you get a three-game ban, you'd think twice about doing it again.
I understand that there is an added pressure to win in men's football because it is more established and at club level there is more money involved but I hope that women's football will remain honest, however professional it becomes.
There have actually been a couple of cases where players have been sent off for diving in the Women's Super League this season, which I think sets the right standard.
Fortunately, I've only seen diving a couple of times in women's football from other European nations, and I've never seen it from my team-mates. If I did, my first reaction would be to laugh because I find it embarrassing.
As far as I'm concerned, there is no place for it.
I want games to be won through great skill, technique or tactical awareness rather than blatant cheating. Robben is a world-class player and unplayable at times and when he dives it tarnishes his reputation.
He's such an incredible player that when he dives it just puts me off watching the game and in this World Cup I do not want to switch off.
Team GB in Rio 2016?
As a player, it makes me want to experience the atmosphere in Brazil.
This could happen in two years' time if Great Britain enters football teams into the 2016 Olympics in Rio de Janeiro.
In order to do so, England must reach the semi-finals of next year's World Cup and we still need a point to reach Canada 2015.
Then there are the discussions between the home nations to decide whether it might be possible. After what we have seen in Brazil, I can't think of a better incentive to make it happen.
Onwards at Arsenal
You may have seen my winning goal for Arsenal when we beat Liverpool on Sunday as the Women's Super League resumed.
Rather than being a Brazil-inspired stepover, I completely missed the ball near the goal-line and then knocked it in with my face.
My shame showed as I ran back to the halfway line and I've had no end of stick from my team-mates. But because it earned our first league win of the season and lifted us off the bottom of the table, I'm not too bothered.
It was a massive result to beat last season's WSL champions and at a time when the club continues to search for a new manager after Shelley Kerr's departure last month.
The club's centre of excellence technical director John Bayer has taken over in the meantime and I've really enjoyed working with him. Kelly Smith has taken a few sessions too and we are all just getting on with it after a tough start to the season.
It sounds like the club will take their time over the appointment of a new boss. The club has a lot of history and tradition and I think they want to ensure they get the right person to fit in with that.
I know we have had lots of applications for the job and some of the senior players have been involved in discussions as to how the club moves forward. Don't get me wrong, the players won't be choosing the new manager but it has been really positive seeing how the club works and making sure the next appointment is the correct one.
After winning the FA Cup, everyone is determined to turn our recent displays into a winning run.
Casey Stoney was talking to BBC Sport's Alistair Magowan