Luis Suarez sorry for Chiellini bite at World Cup 2014
Last updated on .From the section 2014 Fifa World Cup
Liverpool striker Luis Suarez has apologised to Giorgio Chiellini for the bite that earned him a nine-match and four-month
The Uruguay forward, 27, was suspended from all football for biting Italy's Chiellini in
"The truth is that my colleague Giorgio Chiellini suffered the physical result of a bite in the collision he suffered with me," said Suarez in a statement.
Suarez has previously said he and did not bite Chiellini.
It is his third career ban for biting after incidents with Chelsea's Branislav Ivanovic while at Liverpool in April 2013, and PSV's Otman Bakkal while at Ajax in 2010.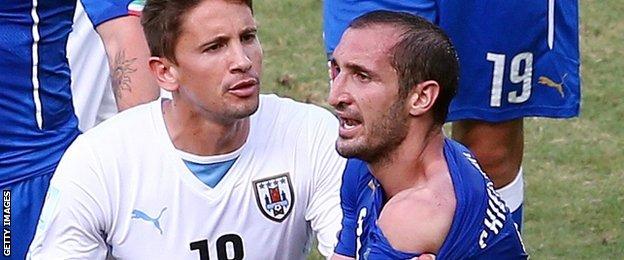 "I deeply regret what occurred," added Suarez. "I apologise to Giorgio Chiellini and the entire football family. I vow to the public that there will never again be another incident like this."
Chiellini had himself called the ban "excessive", while, in his written submission to Fifa, Suarez said: "I lost my balance, making my body unstable and falling on top of my opponent."
Responding to the statement, Chiellini sent Suarez a public message on Twitter, saying: "It's all forgotten. I hope Fifa will reduce your suspension."
Suarez will miss the first nine games of the Premier League season and return to football on 26 October.
He will have missed a total of 39 matches because of biting offences by the time he serves his latest suspension, having been banned for 10 games after the Ivanovic incident.
And his apology to the Chelsea defender in 2013, mirrored that of his latest statement.
"I am truly very sorry about the incident with Branislav Ivanovic," he said at the time.
"I hope that all the people who I offended at Anfield will grant me forgiveness and I again repeat my apology to Branislav. I acknowledge that my actions were not acceptable on the football pitch."
The latest ban was the biggest in World Cup history, eclipsing the eight games given to Italy's Mauro Tassotti for elbowing Spain's Luis Enrique in 1994.
Despite the incident in Brazil, Barcelona remain keen to sign the forward.
BBC Sport presenter Gary Lineker made reference to it in a BBC video and tweeted: "Suarez has finally apologised for biting saying it will never happen again. I hear that Barca insisted on apology if transfer is to proceed."