Exeter City manger Paul Tisdale facing 'simple' pre-season
Last updated on .From the section Exeter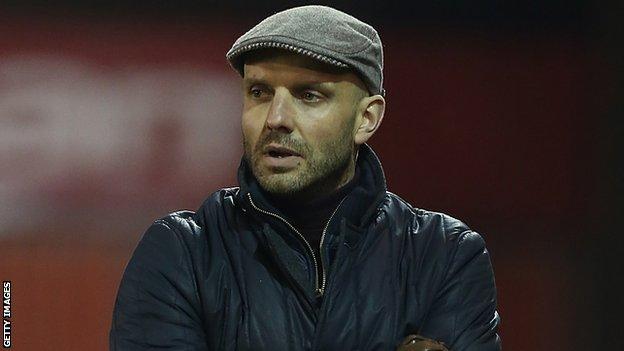 Exeter City manager Paul Tisdale says the club's transfer embargo has made his pre-season "simple".
The Grecians are barred from making new signings until they pay off a
The loan was needed after lower crowds last season affected finances.
"It makes life very simple because we're not actually out there making decisions and searching for players," Tisdale told BBC Radio Devon.
"It's simple but it's difficult in terms of the outlook, in terms of being able to refresh and strengthen the side."
The City boss but it is unlikely that he will be able to add to his squad until close to the start of the season, as the club are
"All the strength and improvement has to be made within, through the developing players and the increased efficiency of those players we already have," added Tisdale.
"It makes the coaching element and the analysis a lot more critical than we have had in the past.
"The club is working its damndest to get it paid back soon and we'll go again, whether we miss the boat with a player or two is another matter."
Tisdale says he expects to only bring in one or two players as he focuses on improving the talents of a number of the club's promising youngsters such as Ollie Watkins, Jordan Moore-Taylor and Christy Pym.
"The way it is this year whoever I bring in will come in late, it'll be in August," he said. "The weakness of that is they will miss a lot of the preparation.
"But we won't be bringing five or six players in.
"If we can bring in a centre forward, which is what my aim will be and there's no secret to that, it's obvious if you look at the squad.
"Although there's one or two people I've spoken to, they know the situation and it's unlikely that anybody will commit knowing they have to wait for a contract."