More lows than highs for Africa in Brazil
Last updated on .From the section Football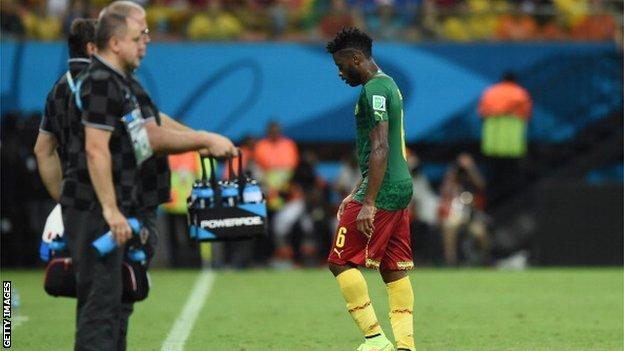 One step forward, many steps backwards for Africa.
Sadly, that is how the continent's 2014 World Cup campaign will be viewed by many.
Two African teams qualified from the group stage of football's biggest tournament for the first time but that achievement has been overshadowed by rows over bonuses, in-fighting and allegations of match-fixing.
Of the five African countries competing in Brazil, only two - Algeria and Ivory Coast - have emerged unscathed, with their reputations intact.
Indeed Algeria returned home as heroes after reaching the last-16 for the first time and giving Germany a huge scare, losing 2-1 after extra-time in a pulsating match they might have won had they turned their first half-dominance into a goal or two.
But the biggest headlines, debates and disappointments have been generated by Cameroon, Ghana and Nigeria.
All three countries were affected by player protests over while Cameroon team-mates clashed on the pitch and Ghana sent home for indiscipline.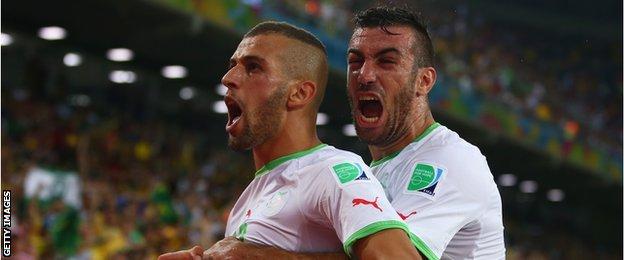 Ghana and Cameroon have announced they are conducting inquiries into their World Cup campaigns - with the latter now widening their investigations following allegations some of their players were involved in match-fixing in Brazil.
The saddest thing about all of is this is that this World Cup is widely being hailed as the greatest for many, many years. But it appears the gulf between African football and the rest of the world is growing.
Many of the continent's football associations are riddled with problems: poor organisation, bad management and administrative deficiencies. Inevitably it affects the teams' performances.
That two African nations made it through to the last 16 for the first time does not mask the mounting football crisis on the continent.
A look at the group stage statistics tell an interesting tale: African teams lost nine of their 15 games and won only three. They scored 18 goals between them and conceded 28.
Defence has long been said to be a problem for African sides but this World Cup will go down as the tournament that was full of indefensible moments from African sides.
Cameroon's coach Volke Finke even called described the behaviour of some of his players as "disgusting".
Yet is this the nadir for African football or a sign of things to come? And where does the blame lie?
There has long been a talent drain in operation that prevents African countries from fielding their strongest teams, with many players of African heritage pledging their allegiance elsewhere.
Quarter-finalists France, for example, have eight players in their squad who could have played for African nations.
In terms of football reasons - and leaving aside their personal feelings of belonging - it is easy to see why players would choose to play for France over some African countries and avoid the kind of problems that have blighted the continent at this year's finals.
And that is the most damning indictment of all.
For African football to move forward, it must find a way to forge an environment that looks after its players and has transparent and fair administration.
Proof of how this benefits the national team is provided by Algeria.
The Desert Foxes have been lauded for their style of play, their togetherness and spirit and they have won many new fans in Brazil.
Without doubt, their best performance at a World Cup owes much to a competent football federation, a stronger professional league and improving standards at grassroots level.
The most telling factor? Seventeen of the squad were born overseas but are of Algerian descent and chose to play for Algeria.
Talented but troubled just does not cut it any more - it is time for Africa to get its act together and start to fulfil its huge potential.