Guernsey FC blames travel costs for ticket price rises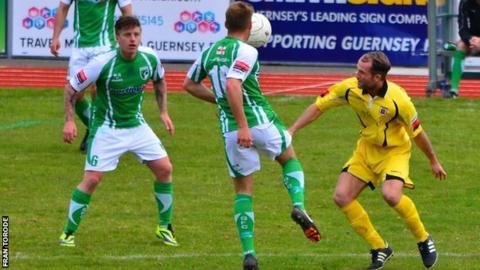 Guernsey FC has blamed the increased cost of covering opposing teams' travel to the Channel Islands for a 16% rise in season ticket prices.
Fans will have to pay £175 for a seat in the Garenne Stand at Footes Lane, having paid £150 last season.
The club, formed in 2011, has to pay costs for all teams coming to Guernsey.
"With our external costs increasing we have had to take all of this into account when determining our ticket prices," the club said in a statement.
"Despite our best efforts to negotiate otherwise, the rules of both the Ryman Isthmian Football League and the Football Association mean that we must continue to pay the ever increasing and not inconsiderable travel and accommodation costs of up to 30 members of visiting club parties to our island."
The club also has to meet the costs of all of its travel to England to play matches in both the Isthmian League and the FA Cup and FA Trophy.
Admission for individual games has risen by £1 to £9 per game for a seat and £6 per game for standing.
"We are also extremely conscious of the cost of entry to other games in our division of the Ryman League, as well as recognising the high quality of the product which we continue to bring to you, our loyal and valued supporters," the statement added.
A standing ticket at Footes Lane cost £5 last season, whereas the club says the equivalent price was at least £8 at every team they faced.