World Cup 2014: Arjen Robben tries to get penalties - Mourinho
Last updated on .From the section 2014 Fifa World Cup
Netherlands winger Arjen Robben tries to win penalties, according to his former Chelsea boss Jose Mourinho.
"Because of his speed and creativity, he is punished a lot with fouls by opponents who cannot stop him," said Mourinho.
"Sometimes he tries to get an advantage, or to get a penalty."
Robben was deemed to have been fouled by Mexico defender Rafael Marquez, with Klaas Jan Huntelaar converting the late penalty to secure a 2-1 win and a place in the quarter-finals against Costa Rica on Saturday.
The Bayern Munich man said it was "definitely a foul", but admitted he had taken a tumble earlier in the match. Netherlands officials claimed his comments were misinterpreted.
Mourinho managed Robben at Stamford Bridge, the forward having signed from PSV Eindhoven in the summer of 2004 before going on to win the Premier League twice, two League Cups and the FA Cup.
The Chelsea boss criticised players diving in the Premier League last season and has now repeated his calls for more video technology.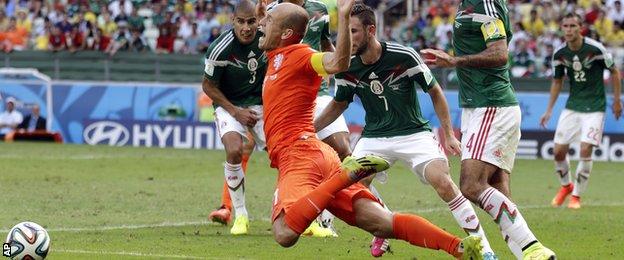 "I think it is important for players to help the referees and to be honest on the pitch," said Mourinho, who is Yahoo's Global Football Ambassador.
"But the reality is that not every player behaves that way and referees have a difficult job.
"If you have technology you can have a fourth official watching."