World Cup 2014: Nigel de Jong ruled out for Netherlands
Last updated on .From the section 2014 Fifa World Cup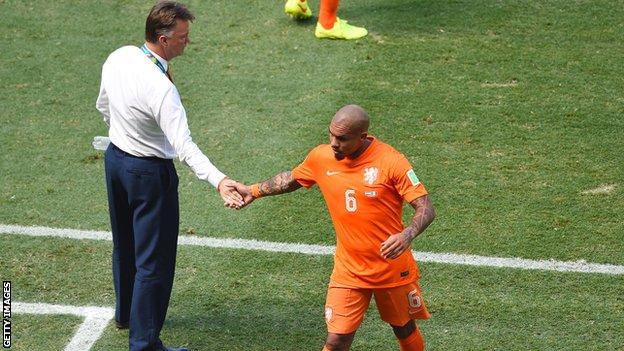 Netherlands midfielder Nigel de Jong has been ruled out of the remainder of the 2014 World Cup with a groin injury.
The Dutch face Costa Rica in the quarter-finals on Saturday, but will be without the AC Milan midfielder who had played all three of their group games.
The team announced on Twitter: "De Jong has a tear in his groin muscle. He's probably out for two to four weeks."
De Jong, who has 75 caps, will remain in Brazil for the remainder of the tournament to continue his rehabilitation.
"Devastated with the news about my injury," De Jong wrote on Twitter. "Sadly enough this is part of the sport as well. Will work hard on my recovery now and keep hope."
Manager Louis van Gaal described De Jong's absence from Saturday's quarter-final as a "big setback" a view shared by winger Arjen Robben, speaking before his team-mate was ruled out.
"It's a hard blow for us that Nigel has been injured," said Robben. "The possible absence of De Jong in the quarter-finals is a heavy loss.
"But our strength is that every player who comes off the bench on to the pitch manages to have a big impact on the match.
"The confidence within our team is very big, in spite of any absence."
For the best of BBC Sport's in-depth content and analysis, go to our features and video page.