Kevin Wilkin: Wrexham manager hoping to make more signings
Last updated on .From the section Football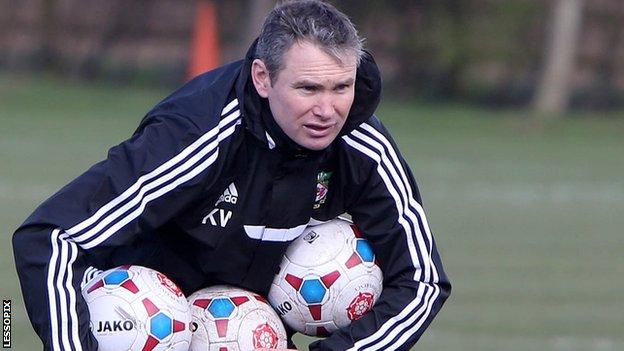 Manager Kevin Wilkin hopes to further strengthen Wrexham's squad to add to the three players already signed.
"There's a few more I'd like to bring in," he said.
"We're working at that but with the additions that I have made hopefully there will be an improvement about what we are."
Moult, 22, Wrexham's third signing of the summer, has joined from Nuneaton Town where he worked under Wilkin last season.
The former Stoke City forward scored 17 goals for Nuneaton last term and Wilkin believes the striker can develop further at Wrexham.
"He's proved he can get goals, he's got an eye for goal and very often scores quite spectacular goals," Wilkin added.
"It's for me to encourage him to get into the right areas and do what he's good at.
"He's hungry to do well and to progress his career and he had an opportunity with me last year at Nuneaton and for me this is another step up the ladder."
Johnny Hunt has left for Cambridge United but fellow midfielders Dean Keates,Mark Carrington and Joe Clarke have signed new contracts.
Despite Wrexham's disappointing campaign last season, Wilkin was eager to retain the services of a number of players.
"I've never been one for revolutionising sides as such, if I can evolve it I think I can progress players," Wilkin added.
"Clearly there issues that weren't right last year.
"But off the back of that I still feel there are some quality players already at the club and players that can go on and achieve a whole lot more.
"For everything that was wrong there was probably something that was right and I look at those players and I think they are good quality players."