Glenavon Europa League tie plans disrupted by flight cancellation
Last updated on .From the section Football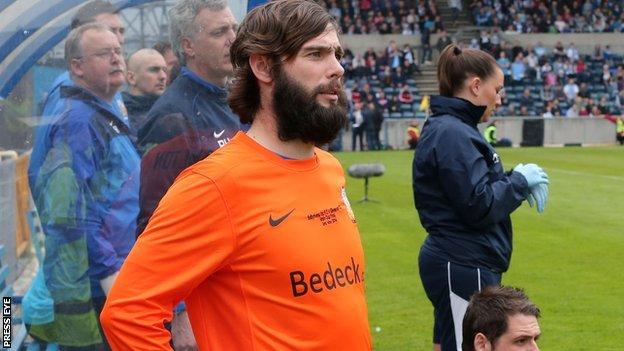 Glenavon's preparations for their Europa League first leg game against Halfnafjorder on Thursday have been disrupted by a flight cancellation.
The Lurgan Blues' flight to Birmingham on Tuesday teatime was cancelled because of a technical difficulty.
The party travelled later in the evening but will not be able to travel on a connecting charter flight to Reykjavik until Wednesday morning.
"It's a disaster and puts us behind in our schedule," said boss Gary Hamilton.
The Mourneview Park manager went to Iceland ahead of the players and is awaiting the arrival of his squad.
"The boys were due to get here at 12.30 Reykjavik time and that would have given them a good eight hour stretch to sleep but instead they have to be up at 04:00 BST on Wednesday morning to catch a flight. It's a shambles.
"It's already difficult enough to come here and get a result, considering that our opponents are in the middle of their season.
"We'll just have to get on with it, see what we can do and give it our best shot."
Uefa rules stipulate that the visiting team must arrive in the country a minimum of 24 hours before the kick-off time.
Glenavon will play the second leg of their first qualifying round tie at Mourneview Park next week.
The club are making their first foray into European football for some time thanks to their Irish Cup final victory over Ballymena United in May.