Rio Ferdinand: Paul Pogba will be world's best midfielder

By Rio Ferdinand
Former England captain
Last updated on .From the section 2014 Fifa World Cup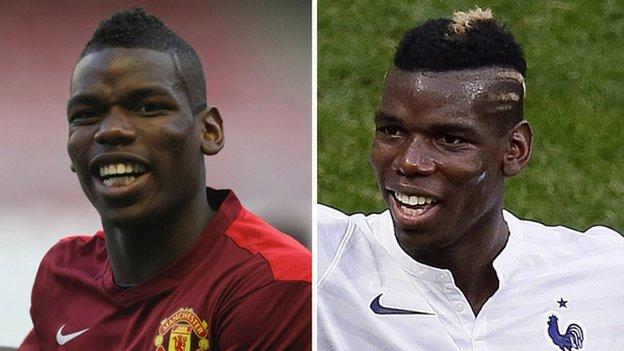 Young France midfielder Paul Pogba has been one of the stars of this World Cup but I am not surprised by his impressive form in Brazil.
Pogba did not play much during his time as a team-mate of mine at Old Trafford, but the things he did in training meant every member of Manchester United's first-team squad was in no doubt how good he was, and how good he could be.
It was a big disappointment when he left to join Juventus in 2012, and it was definitely a mistake by United to let him go.
Heading to the very top
I think he left because he felt disrespected that he did not play in a particular game when a few players were played out of position in midfield.
Paul told me before he left that he wanted to be "the best player in the world". I don't know whether that will happen, but he will definitely turn out to be the best midfielder in the world.
As well as his undoubted ability, his strength is definitely his self-belief, not just by statements like that but by how he backs them up.
He made the big bold move to leave United, the best club in the world in my eyes, at only 19 because he wanted opportunities. He backed himself to do it, which is a big thing to do for a kid of his age, and he has not looked back since.
You have to have that arrogance about you as a young player coming through at United, otherwise you sink. You won't make it.
The senior players sense it if you doubt yourself and, if they sense a weakness, their natural instinct is to see if you can push a player down now and again to see if they can come back up.
There was not a chance of that happening with Pogba. I remember Paul Scholes kicking the living daylights out of him in every single training session, every day.
But he earned our respect by never moaning, never shouting and never making a fuss. He always wanted the ball still and that kind of attitude has helped him progress.
He has great technique too. He is the same size as me, at over 6ft 1in, but he has great feet and silky skills. His touch is phenomenal, and he is a fantastic footballer.
Paul Pogba at Manchester United
Born: 15 March, 1993 Age: 21
Joined United's youth academy from Le Havre in 2009
Senior debut in Carling Cup v Leeds in September 2011 aged 18
Total Premier League starts: 0 (three sub appearances)
Total starts in other competitions: 0 (four sub appearances)
Left at the end of his United contract in July 2012, to join Juventus.
Humble Evra at heart of unified France
As well having talented players like Pogba in their team, France have benefited in Brazil from the togetherness in their squad.
From talking to another of my former United team-mates, Patrice Evra, I know that what happened to him and France at the 2010 World Cup is the biggest reason for that team spirit this time.
The unity we have seen from the French players during their journey to Friday's quarter-final against Germany in Rio is a million miles away from their mutiny as they went out in the group stage in South Africa.
Back then, Evra was captain and portrayed as the chief instigator when the team refused to train after striker Nicolas Anelka had been sent home.
Rightly or wrongly, Patrice got more of the blame than anyone else and he knew it had affected his reputation. Wisely, he never wanted to let that happen again.
He has had a bit of humility this time and realised that, whatever he believed and was fighting for before, now it is the team who comes first.
And it is not only him who thinks that. The France squad have come together in Brazil because none of them want to go down the route they did in 2010.
I am not surprised Patrice has played a big part.
Apparently he gave an inspirational speech at half-time of France's vital World Cup qualifier against Belarus in September.
That is not something he did a lot of when I played with him at United. He would shout a little bit before we went out for games but never really gave what you would call rallying cries.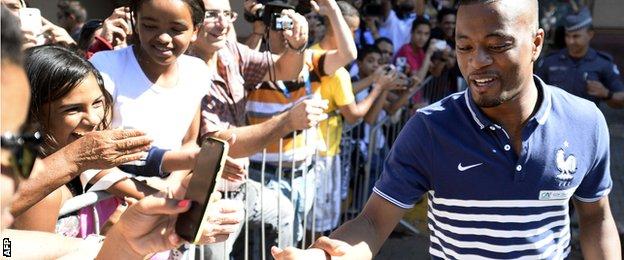 But what he was very good at was getting on with everybody.
Players sometimes hang around each other at clubs depending on their age or where they are from - at United you would have a Hispanic group, say, and a Brazilian one - but Patrice fitted in with everybody.
From ghost to United great
Evra does not give up easily either. I got to know his strength of character very soon after he arrived at Old Trafford in January 2006.
He only lasted 45 minutes of his debut, a 3-1 defeat by Manchester City at Etihad Stadium four days after he signed.
Patrice got subbed at half-time when we were 2-0 down. I looked at him in the changing room and he had this unbelievably pained look on his face, like he had seen a ghost.
But he is tough and that is one of his biggest strengths. If anything negative happens to him then he will use it to help him improve.
He turned into a fantastic player, who has won five Premier League titles and one Champions League since he has been at Old Trafford.
Patrice has just signed for another year at Old Trafford, and at 33 still has a lot to offer in the Premier League.
But, on the international stage, this will almost certainly be his last World Cup. He is a winner, and I know he was determined to go out on a high. Whatever happens to France now, he has achieved that.
Rio Ferdinand was speaking to BBC Sport's Chris Bevan in Rio de Janeiro.
For the best of BBC Sport's in-depth content and analysis, go to our features and video page.