Matt Grimes plans to stay at Exeter City despite top-flight rumours
Last updated on .From the section Football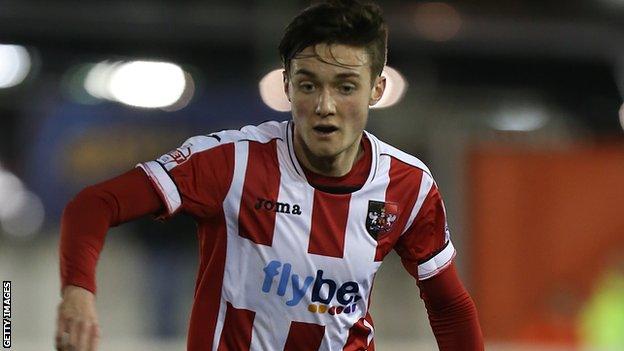 Exeter City midfielder Matt Grimes says he plans to stay at St James Park this year, despite reports he could leave for a Premier League club.
The 18-year-old impressed last season, winning the club's Player of the Year award in his debut campaign.
"I'm set on staying at Exeter this year and I'm happy," he told BBC Devon.
"For any player playing in League Two, and a young player like myself, it's about trying to get as many games as I can for now."
Grimes made his debut in the on 17 August and quickly established himself as a regular in the first team, making 23 starts and a further 13 substitute appearances.
"To be honest it's weird for me," Grimes said of stories linking him with top-flight sides.
"I never thought that last season would go how it did go. It's a strange feeling seeing your name here, there and everywhere.
"I just try and not take any notice and try and do what I do.
"You want to be playing in the Premiership or Championship and pushing to be the best you can be and play at the highest level you can."
But Grimes is quick to add that the extra attention on his performances has not, and will not, go to his head.
"I'm surrounded by really good people," he explained. "My family and friends all keep me down on the ground and if ever I strayed from there and got a little bit too big for my boots I'm sure my parents would have something to say and the lads around me would have something to say.
"I don't think it's too difficult, I just want to keep doing well and keep working hard."