World Cup quiz and other ways to fill a rest day
Last updated on .From the section 2014 Fifa World Cup66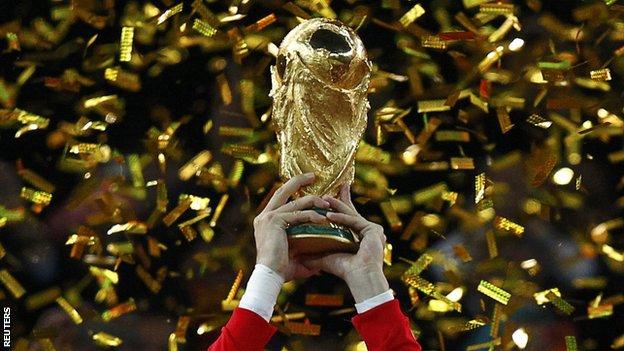 Sixty games, 159 goals and enough drama to fill an EastEnders omnibus... the 2014 World Cup has provided hours of thrills and spills.
But now it is the calm before the semi-final storm and a rest day as the four remaining teams ready themselves for one last push to reach Sunday's final.
Struggling to cope without any games today? Bored? Withdrawal symptoms? In need of a quick fix from Brazil?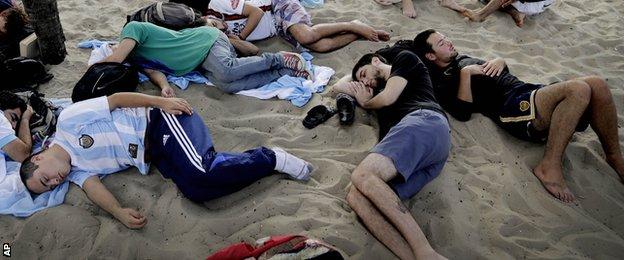 Don't worry - we're here to help. Sit back and kill an hour or two with BBC Sport's World Cup quiz - and plenty more besides.
Twenty teasers: Are you a World Cup boffin?
So, have you been paying attention over the past three and a bit weeks?
Think you're a World Cup wizard after endless hours in front of the TV watching Iran, South Korea and Honduras?
Then test your knowledge with these 20 questions.
The answers are below. Get 16-20 and you are world-champion standard; 11-15 and you've had a Chile - pretty impressive but just not quite good enough; 6-10 and you're basically Greece - solid, respectable but unspectacular; 0-5 and you've 'had an England'.
1. Who was the first player to be sent off at this tournament?
2. Name the World Cup venue that has seen the most goals.
3. Which match has attracted the biggest attendance so far?
4. Who became the oldest player in World Cup history after coming on as a substitute?
5. Which striker became the leading African goalscorer in World Cup history?
6. How many World Cup managers have left their roles since the tournament started?
7. Which international captains, who played in the Premier League last season, announced they were retiring following their teams' second-round exit in Brazil?
8. Which two teams have scored five goals in a single game at this tournament?
9. Which player scored the 50th hat-trick in World Cup history at this tournament?
10. Who scored the first World Cup goal to be given using goalline technology?
You've reached the halfway stage. In need of a cooling break?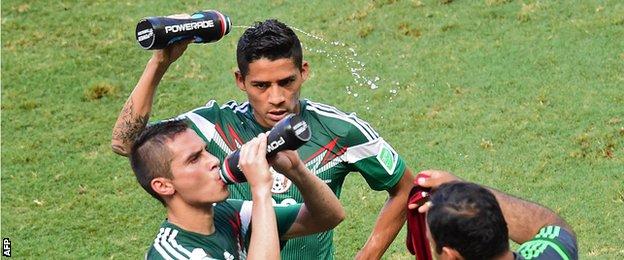 11. Which game featured the first cooling break of the tournament?
12. Name the two teams that finished bottom of their respective groups after conceding nine times in three games.
13. Who scored England's first goal in Brazil?
14. Name the oldest of the 32 managers at the tournament.
15. How many goalless draws have there been?
16. Who scored the tournament's first penalty?
17. Which striker said after a big group-stage win: "It was a crazy game. We could have scored five… oh right, we did score five, but we could have scored six, seven or eight."
18. Name the former Premier League forward who wanted a kiss on the cheek from the Queen if he scored against Costa Rica.
19. Which World Cup 2014 team does the flag below belong to?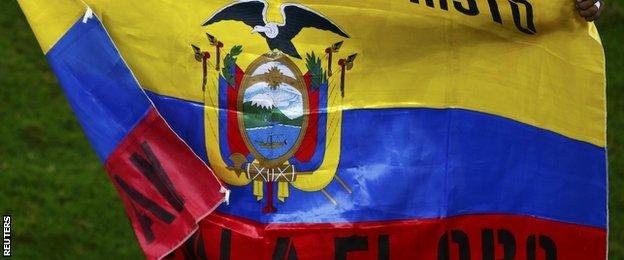 20. Name the first Premier League player to score at this World Cup.
Answers

1: Maxi Pereira

11: Netherlands v Mexico on 29 June

2: Arena Fonte Nova, Salvador, with 24

12: Cameroon and Australia

3: Argentina v Bosnia-Hercegovina, 74,738

13: Daniel Sturridge

4: Faryd Mondragon (Colombia)

14: Fabio Capello, 68, (Russia)

5: Asamoah Gyan (Ghana)

15: Six

6: Eight - Suarez (Honduras), Zaccheroni (Japan), Prandelli (Italy), Keshi (Nigeria), Hitzfeld (Switzerland), Lamouchi (Ivory Coast), Queiroz (Iran), Halihodzic (Algeria)

16: Neymar (Brazil)

7: Giorgos Karagounis (Greece), Joseph Yobo (Nigeria).

17: Robin van Persie (Netherlands)

8: Netherlands and France

18: Mario Balotelli (Italy)

9: Xherdan Shaqiri (Switzerland)

19: Ecuador

10: Noel Valladares

20: Oscar (Brazil)
What? That was too hard, you say. Want something a bit easier? Then see how you get on with the CBBC Newsround World Cup quiz for children. Now there are no excuses. . .
Relive the good, bad and ugly from Brazil
There have been mesmerising moments, moments that have gone bad, and moments when it has all been downright ugly.
Here, we delve deep into our vault to bring you a flavour of Brazil 2014.
We start with some boys who put smiles on everyone's faces.
*All videos are UK only
And the beat goes on...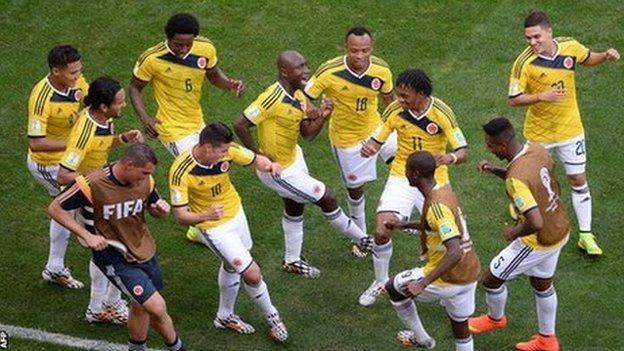 Tournaments down the years have often been as memorable for their clever and crazy celebrations as the actual trophy winners. And we've certainly seen some eye-catching routines in Brazil.
Colombia provided the 2014 Fifa World Cup with one such classic. And the dances kept on coming as they stormed through to the last eight for the first time.
But how do Colombia's moves compare to the best celebrations in World Cup history?
Watch our video to find out. WARNING: Don't try Julius Aghahowa's somersaults at home!
Show off!
We all love a bit of showboating, and there's been plenty at this tournament.
From Neymar to Angel Di Maria, they've all been at it.
Even one referee got in on the act - as our video demonstrates.
What's been your favourite showboating moment? Post a comment at the bottom of this page.
Box of tricks...
He might have struggled for fitness, he might even have struggled for goals.
But Cristiano Ronaldo's outrageous piece of trickery for Portugal against USA puts him at the top of Fifa's top 10 skills of the World Cup so far.
It probably wasn't the title CR7 was hoping to bring back with him from Brazil, but it might provide some small crumbs of comfort.
Oh stop it!
It's not all about the attacking players, you know.
From Mexico's Guillermo Ochoa to Costa Rica's Keylor Navas, this World Cup has seen some memorable goalkeeping displays.
But can anyone match the impact of Tim Krul, a last-minute substitute in extra time who came on to help his team win a shootout against Costa Rica?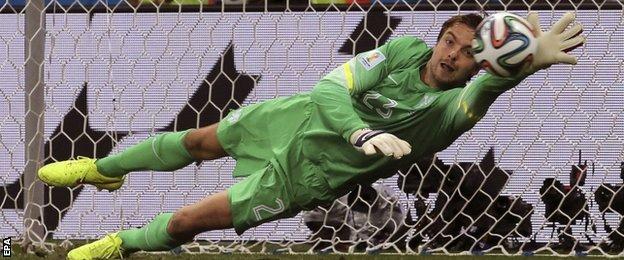 Ten World Cup facts to impress your mates
1. There have been a record 27 goals scored by substitutes at this World Cup.
2. Before Costa Rica's defeat by Netherlands, the previous eight World Cup shootouts had been won by the team going first.
3. USA midfielder Michael Bradley (pictured below) covered 54.7km (34 miles) in 390 minutes of World Cup action in Brazil and reached a top speed of 30.9 km/h. (19.2mph) You can see how much ground he covers by watching USA v Germany here.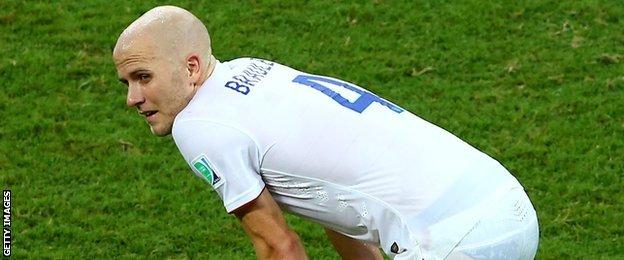 4. The Netherlands have converted all nine World Cup penalties they have taken (excluding shootouts).
5. Colombia's James Rodriguez is the first player to score in his opening five World Cup appearances (within a single tournament) since Gerd Muller in 1970 (scored 10 goals in five matches then failed to score in the sixth game).
6. Germany have reached the last eight of the World Cup 16 times in succession - the last time they did not was in 1950, when they were banned from the tournament following World War Two.
7 . The earliest dismissal in a 2014 World Cup match? 37 minutes - Pepe of Portugal against Germany.
8. Brazil are unbeaten in 42 successive matches on home soil, with their last defeat coming against Paraguay (1-0 in a friendly) in August 2002.
9. France and Netherlands have hit the woodwork in Brazil six times - more than any other team.
10. Spain used 22 of their 23-man squad during the tournament. The only player they did not use was goalkeeper David De Gea.
World Cup goodies
More? You want more? Then you're in the right place.
In this section you can learn how to take the perfect penalty, pick your all-time World Cup XI and learn about the superstitions Brazil fans perform before a match.
There's also an alternative World Cup toy for you to enjoy.
Paying the penalty
Chile and Greece are both back home after being eliminated on penalties.
If they had cast their eyes over BBC Sport's guide to what makes the perfect World Cup shootout penalty, they might still be in Brazil.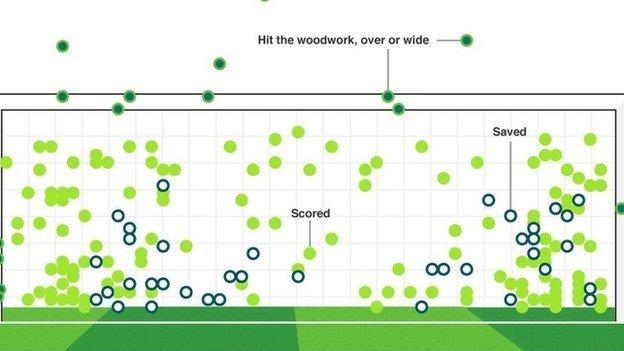 "All you need to do is walk 50 yards, take a penalty and score," writes former England defender Stuart Pearce in his autobiography, but it is not always so easy.
Read our guide on all 204 penalties taken before the start of this World Cup. More stats than a night out with John Motson.
The alternative World Cup
Ever wondered how the World Cup would play out if the 32 countries who qualified were competing in things other than football?
Wonder no more.
Those enterprising journalists at the New York-based Wall Street Journal newspaper have produced a "World Cup of everything else" guide.
Belgium, with an average of 72.9 inches, boast the tallest squad at the tournament, while the country with the highest inflation rate is Iran.
Click on the Wall Street Journal website for more fascinating alternative facts featuring the nations who qualified for the 2014 tournament.
Who is in your all-time World Cup XI?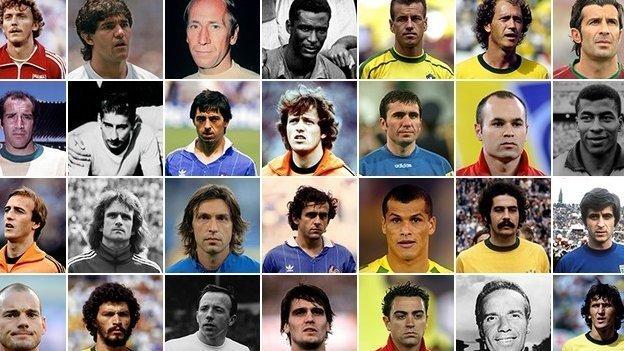 Before the 2014 tournament, BBC Sport came up with a list of 110 of the greatest players in the history of the Fifa World Cup.
We invited you to select your favourite team.
But with the tournament drawing to a close, has anyone done well - or badly - enough to make you change your side?
Do Carles Puyol, Andres Iniesta and Cristiano Ronaldo still deserve a place?
Click here to pick your favourite team.
World Cup superstitions
Some Brazil fans say their personal rituals have a direct impact on their team's success. But what superstitions do they perform before each game?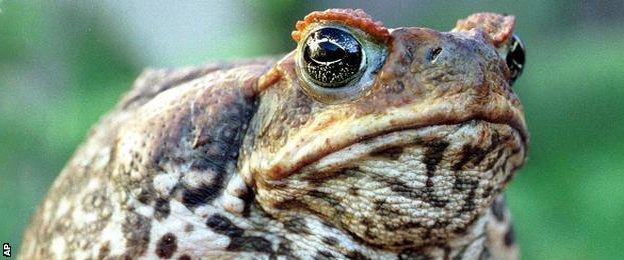 From killing chickens to putting the name of their team in the mouth of a toad, the answers are somewhat surprising, as the New York Times has been finding out.
And finally...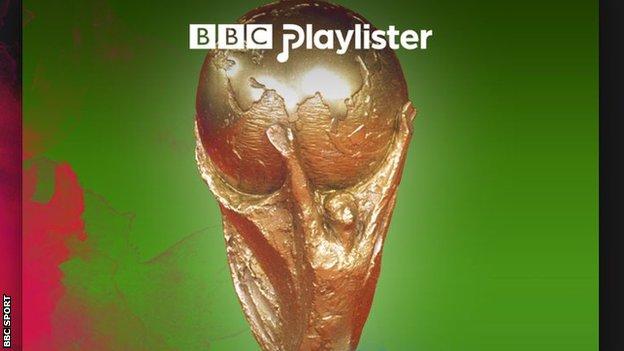 Stevie Wonder's song Another Star - the theme tune for the BBC's 2014 World Cup coverage - has become as familiar to Match of the Day viewers as Gary Lineker.
And now all the music in the BBC's 2014 Fifa World Cup coverage, including Oasis and DJ Shadow, is instantly available from a Spotify playlist.
Users can add tracks to their personal playlist and export the songs into iTunes, Spotify, YouTube or Deezer.
The list of stirring tunes is available courtesy of BBC Playlister, a new music service which allows access to music used across the BBC television and radio programmes.
So how did you get on in the quiz? Let us know below. Where does this World Cup rank with others you have seen? What's been your favourite moment? Who is the unsung hero of the tournament and who will be lifting the World Cup trophy on Sunday?
Still don't know what to do with yourself?
Why not head over to the BBC iPlayer where you can relive loads of the action from Brazil. Or you can watch England v Italy here.
And don't worry, the next match of this thrilling tournament is almost upon us.