Guernsey FC get FA Cup dispensation over gate receipts
Last updated on .From the section Football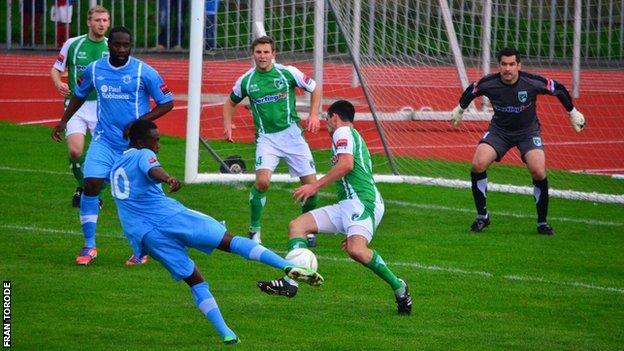 Guernsey FC have been given special dispensation by the Football Association to take a contribution to team travel costs from their FA Cup gate receipts this season.
The Green Lions will now be able to set aside 25% of ticket money to put towards travel and accommodation costs.
The club has to meet all the costs of teams visiting the island as part of their agreement to play in the FA Cup.
They lost to Dover Athletic in the last season.
Guernsey will also have to ensure that all their home ties kick off at 13:00 and will have to arrange neutral venues in the UK if they are initially drawn away and force a replay, or a match at Footes Lane is postponed.
Last season, the club over demands from the FA, but backed down.
"We put our case forward to the Football Association and we will have to accept these terms again if we want to play in these competitions,' Guernsey FC director Mark Le Tissier said.
"To bring over the teams and officials costs us about £6,000.
"Allowing us to use 25% of the travel and accommodation costs as a match expense to offset against the gate receipts is a help, but it still means that we'll have to have a crowd of more than 1,500 fans just to break even and our opponents will still leave with a healthy profit."
Guernsey will also have to play in the FA Trophy, under the same rules, in order to be allowed to compete in the FA Cup.