World Cup 2014: James Rodriguez closing gap on Shakira

By Phil McNulty
Chief football writer at the Estadio do Maracana
Last updated on .From the section 2014 Fifa World Cup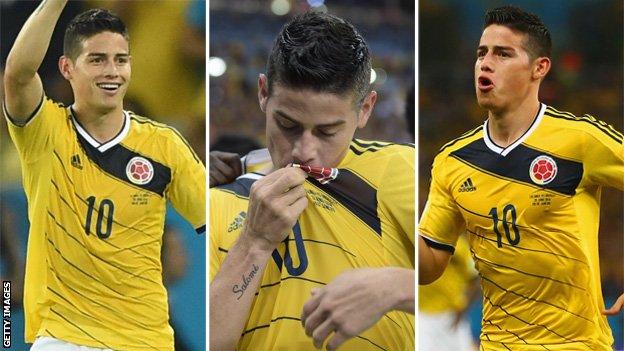 From Fortaleza
James Rodriguez's fresh-faced smile has become one of this World Cup's most memorable images as he makes up a golden trinity of 'Perfect 10s' alongside Argentina's Lionel Messi and the hope of all Brazil, Neymar.
Colombia's new idol has taken Brazil by storm with five goals - including the goal of the tournament so far with a breathtaking 25-yard volley against Uruguay - and performances that have attracted the attention of Real Madrid.
Behind the clean-cut exterior, however, lurks a danger that threatens the hopes of a nation when Colombia face hosts Brazil in the World Cup quarter-final in Fortaleza on Friday.
Uruguay coach Oscar Tabarez was moved to place the 22-year-old in the elite company of Diego Maradona and Messi after his two goals in Rio set up what is being seen here as a head-to-head with Neymar in the fight to reach the last four.
As the Brazil and Colombia teams established camp in the steamy heat of Fortaleza on Thursday, the focus was firmly fixed on the players who have become the shining symbols of their campaigns to make it to the World Cup final.
The mood was summed up by Jose Alberto Santos de Andrade, from Radio Gaucha, who told BBC Sport: "Brazil fans are worried. They are afraid of James Rodriguez because he is the most dangerous player against us but our coach Luiz Felipe Scolari and the players also say it is important to be careful with Juan Cuadrado.
"For Brazilians, Neymar is better but they are different. Neymar is more individual and technical, more spectacular, while Rodriguez is a more collective player with his colleagues.
"At the moment in this World Cup, though, they are at the same level. He is very dangerous and we know it."

While there is excitement, there is poignancy in the air here too.
Colombians are marking the 20th anniversary of the murder of defender Andres Escobar, shot in Medellin just days after scoring an own goal against the United States at the 1994 World Cup.
It was a time of extreme lawlessness in Colombia, although the precise motives for Escobar's murder remain unknown. The player's sister Maria Ester and brother Jose will be at the quarter-final in Fortaleza wearing a number 2 shirt bearing the name "Escobar" in his honour.
Rodriguez is the new touchstone and great hope for thousands of Colombia supporters flooding into Brazil's fifth largest city in the north-east of the country, a three-hour flight from Rio.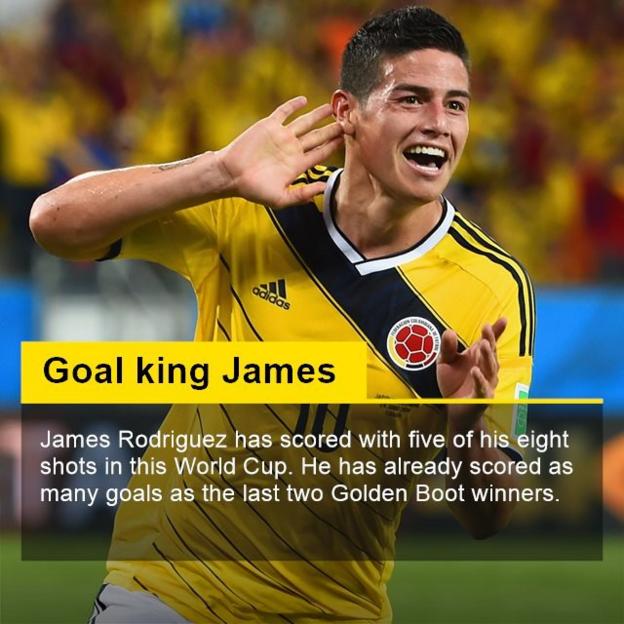 His balance, grace and natural scoring ability have captured the attention of Brazil and it is Rodriguez's face that beams out of television screens when the main threat to an uncertain defence is being discussed.
James Rodriguez facts
Born on 12 July 1991 in Cucuta, Colombia
Began career at Envigado, joined Argentine club Banfield in 2009 and moved to Europe with Porto the following year
Won the Portuguese Golden Ball (best player in the league) in 2012 aged 20 - the youngest player to do so
Had won three successive league titles with Porto by the age of 21
Moved to Monaco for £38.5m in 2013, making him the second-most expensive Colombian in history, after Radamel Falcao
It has brought to prominence a gifted youngster who made his way to the world stage via Colombia, Argentina, Portugal and last summer's £38.5m move to Monaco after reportedly twice being overlooked by Manchester United.
Rodriguez's background is a humble one. He was born in Cucuta on the Venezuelan border and his father, Wilson James Sr, was an ex-footballer who played in the same Colombia youth team as Rene Higuita, the goalkeeper known as 'El Loco' and famous for his 'Scorpion' kick save from England's Jamie Redknapp in a Wembley friendly in 1995.
When he moved homes with his mother and grandmother to Ibague, his passion for football was indulged by living opposite the training ground for second division side Cooperamos Tolima, where the young Rodriguez would try to join training sessions.
He started his career with Colombian second division side Envigado before moving to the tough proving ground of Argentina with Banfield at 17, where he helped them win the Primera Division. Further successes came after a move to Porto with three successive titles, as well as winning the Portuguese Golden Ball (for the best player in the league) at the age of 20.
Rodriguez's popularity and profile in his homeland has increased with every goal, as has the weight of responsibility to fill the gap left by injured national icon Radamel Falcao and the inheritance of Colombia's number 10 shirt worn with such distinction by 'El Pibe' Carlos Valderrama, 'The Kid'.
Rodriguez at the 2014 World Cup

Rodriguez is the first player to score in the first four games of a World Cup since Brazil's Ronaldo and Rivaldo in 2002.

Rodriguez is also the first player to score in each of his first four World Cup games since Italy's Christian Vieri in 1998.
Bogota-based journalist Carl Worswick has tracked Rodriguez's journey to his current status and said: "Before the World Cup, Falcao was of course Colombia's biggest star and media icon. He is the sponsor for a long line of Colombian international companies and is even the public face for quite a few of the government's advertising campaigns such as anti-drugs and drink driving.
"James is five years younger and had only made his senior national team debut at the start of the qualifiers. While he was seen as somebody with a lot of promise, he was still quite a way behind Falcao, who had a long record of achievement with River Plate, Porto and Atletico Madrid.
"Before the World Cup there was no other sportsman who got even close to being as popular as Falcao. I'd even go as far as to say only the recently deceased novelist Gabriel Garcia Marquez and the singer Shakira could compete with him as Colombia's most famous person - since Brazil and James's performances, however, I imagine that gap has narrowed quite a bit."

He added: "Colombia have never had a footballer who has been considered the best in the world - not even Carlos Valderrama - so I would think James has now shifted up alongside Falcao as the country's biggest sports star."
The period in Argentina is regarded as a crucial part of Rodriguez's development, as Worswick explained: "Still only a teenager, he had to go and live in a different country without his family. He found it hard but just knuckled down and got on with it."
Rodriguez, who will celebrate his 23rd birthday on the eve of the final, has taken the adulation in his stride. He is mature beyond his years and already settled down with wife Daniela, the sister of Colombia goalkeeper David Ospina, and the couple have a one-year-old daughter Salome.

Colombia's media has become infatuated with Rodriguez's feats in Brazil as their team emerge as serious contenders with genuine hopes of victory in Fortaleza, a result that would break the hearts of a nation banking on reclaiming the World Cup on home soil.
And he is regarded as the perfect role model, with Worswick adding: "A bit like Falcao, James is marked by his maturity, professionalism and for being level-headed. Neither has ever been involved in a scandal or had off-the-field problems.
"It is quite the contrast to the team of the 90s. Back then Faustino Asprilla, in particular, was forever storming out of the team because he didn't get his own way."
Most Colombians, despite the excitement surrounding Rodriguez, agree he is only at the start of the journey to rivalling the legendary figure of Valderrama, whose approach to football was as spectacular as his famous shaggy hair.
"Most Colombians mention the 'mystique' of Valderrama and his longevity in playing three World Cups," said Worswick.
"We'll have to let the dust settle on this tournament before we can truly tell if James is a genuine rival to Pibe's crown as their best ever player.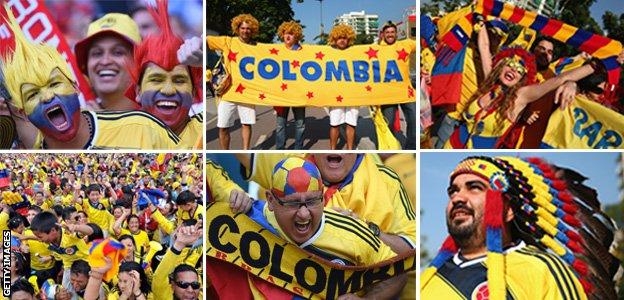 "As most important, most Colombians have no doubt that James has already assumed that mantle. If Colombia do the unthinkable and beat Brazil, his hand will only be strengthened."
And it is this incentive that worries Brazil, as Santos de Andrade added: "Rodriguez is a very good player. We knew that he was a very good player, but here has been a very, very good player. He is one of the best at the World Cup.
"He is the best player for Colombia."
And while Brazil's fans may fear Rodriguez, coach Scolari is in no mood to make any special plans to curb his influence.
In a strangely tetchy media briefing in Fortaleza, where Scolari told those who do not like his methods they "can go to hell", he said: "We are going to be marking Colombia not Rodriguez. We are not going to be doing any special markings, we are going to be playing sectors as we have always done."
But there is still a hidden worry for those Brazilians, and there are many, who remain to be convinced by Scolari's side.
Santos de Andrade said: "When Neymar does not play Brazil does not play. Colombia have Rodriguez and other players as well - but we are still not sure about Brazil."
Rodriguez has made a huge impact on the World Cup stage - the quarter-final against hosts Brazil offers him the chance to make his most powerful statement yet.