Swindon Town chairman Lee Power warns of budget cuts
Last updated on .From the section Football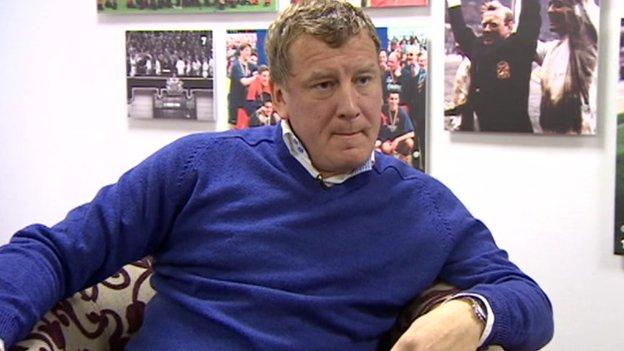 Swindon's £1.8m playing budget may be reduced if income continues to decline, according to chairman Lee Power.
Power has invested over £2m into the League One outfit since his appointment on the board last year.
However, he says sponsorship and season ticket revenue has dropped dramatically because of his recent court battle with ex-chairman Jed McCrory.
In an open letter to fans, Power said: "I need your help, I am not the richest man in the world, far from it."
He continued: "It has cost me personally well in excess of £2m in the last 12 months, but I cannot keep funding the club at anywhere near that rate.
"So, in order for us to have a competitive budget - which I have allowed £1.8m for this season - we need the income to remain at the levels it has been, or the budget will have come down accordingly.
"I don't apologise for this because I believe a club should be self-sustainable for the long-term good of the club."
Power and his Swinton Reds 20 firm took control of the club from McCrory's Seebeck 87 company in December, but McCrory disputed the manner of the takeover and commenced legal action.
On Tuesday, a High Court judge ruled Power's takeover was carried out properly and he became majority shareholder with immediate effect, and McCrory is now facing a £50,000 in legal fees.
Power believes the case "dragged the name of the club through the mud", as fans were unsure who was in charge, and he has now asked for their support.
"I need your help. It is your football club and we need to unite together to make this club successful," he added.