Glasgow City: Amy McDonald made first full-time head of youth
Last updated on .From the section Football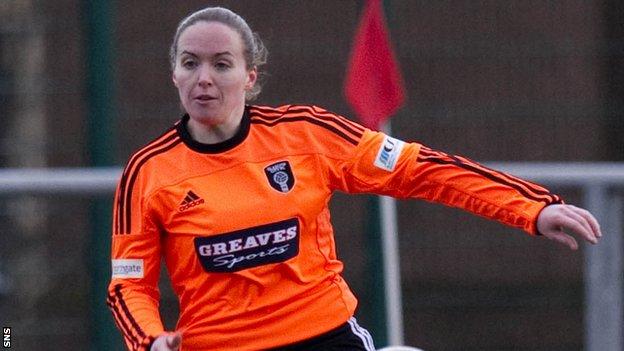 Glasgow City have appointed Amy McDonald as the first full-time head of youth in Scottish womens club football.
The announcement comes a day after McDonald was named the Scottish FA's West Region Girls' and Women's Football Volunteer of the year.
"She has not only done the job brilliantly, but she has exceeded our expectations," said club manager Laura Montgomery.
"Our Youth Academy is absolutely vital to our club."
Manager Eddie Wolecki Black signed McDonald from Celtic in 2011 before appointing her as youth coach on a volunteer basis a year later.
"Amy as everyone knows was a very talented footballer who competed at the highest level," said Montgomery. "Sadly during her time at the club, she suffered a career threatening injury and I think it speaks volumes of her as a person that rather than reflecting negatively on this, she turned her energy and drive into the youth of our game.
"Two years ago, we asked her to take on the role of head of youth - a brand new role we were creating - based on how impressed and confident we were with her ability to make this role her own.
"We are incredibly proud of our youth academy and this is down to Amy and her team of highly qualified coaches who are helping to develop not only very talented players, but fantastic young, confident women.
"Amy's full time role will include not only being head of youth but also, in time, being in charge of our planned new charitable trust which we are creating to deliver our community values and programmes throughout the city.
"It is an extremely exciting time for our club and we are thrilled to have secured someone with the skills of Amy to lead a vital part of our future."
City are currently five points clear at the top of the Scottish Women's Premier League as they chase their eighth consecutive league title in a row.
"I am absolutely delighted to have been offered this position with Glasgow City on a full-time basis," said McDonald.
"I certainly never thought when I joined the club as a player that a few years later I would be working full-time in my dream job for the best women's football club in the country. I have thoroughly enjoyed my role over the last two years and I am very excited about the future for what we can achieve."