Hereford United's Edgar Street shut due to safety fears
Last updated on .From the section Football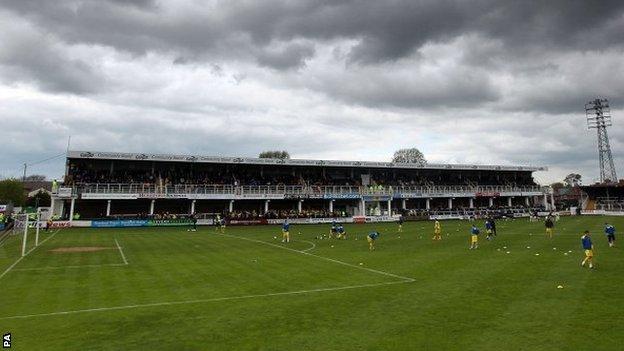 Hereford United's Edgar Street home has been prevented from hosting matches because of crowd safety concerns.
After two emergency meetings with the club this week, Herefordshire Council have postponed a charity game on 6 July and a friendly with Cardiff on 11 July.
It said: "The council is not satisfied the club can currently meet the requirements of the safety certificate.
"No football matches are to be held in front of spectators at Edgar Street until this has been addressed."
Despite avoiding relegation on the final day of the season, Hereford were expelled from the Football Conference in June after failing to meet a deadline to pay their football creditors a combined total of £148,000.
They are due to start the new season in the Southern League.
"We are trying to support the current ownership to play football at Edgar Street," Herefordshire Council's head of environmental health and development management Marc Willimont told the BBC.
Hereford have also been advised that their scheduled pre-season friendly with Plymouth Argyle on 2 August has had to be cancelled - as the Bulls will no longer be able to provide sufficiently testing enough opposition for the Pilgrims just a week before the new Football League season kicks off.
Argyle will instead visit Conference South side Weston-super-Mare.
"The Bulls were a Conference side at the time the Edgar Street match was arranged but have since been demoted," said a statement on the Argyle website. "Consequently, it was felt that they would not be able to provide a suitably high standard of opposition so close to the start of the season."