Ashley Williams is one of the Premier League's best - Monk
Last updated on .From the section Football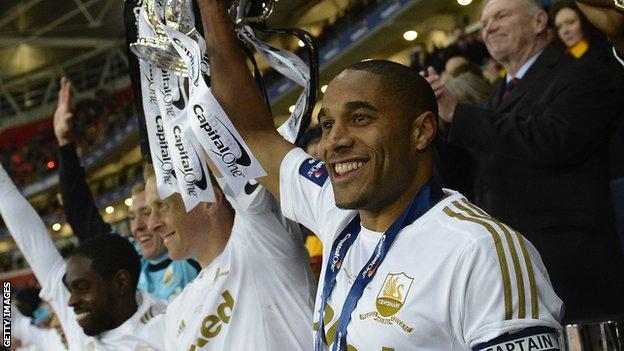 Swansea boss Garry Monk says it was important for the club to extend the contract of captain Ashley Williams by three years.
The 29-year-old's deal with the club was due to expire at the end of the 2014-15 season.
Wales skipper Williams agreed terms on Friday and Monk is delighted.
"He's an established player in the Premier League and one of the best centre halves in the league," said Monk.
"He' a quality player. He's aggressive [and a] very good defender on the floor.
"[He's] organised and leads. He can pass the ball with both feet which is important for the way we play."
Williams, who joined Swansea from Stockport for £400,000 in 2008, had been linked with a possible move to Sunderland.
But Monk says the defender's future at the club was never in doubt.
"Thankfully it was never in question through my conversations with Ash," said Monk, "and we've managed to come to an agreement and it's great to have him."
Williams forged a central defensive partnership with Monk, as the club rose up the leagues to claim a place in the top flight in 2011.
The pair lifted the 2013 League Cup together, as the Swans won their first major domestic trophy.
Williams says Monk, who was appointed manager on a full-time basis in April, was an "important" factor in his decision to stay at the Liberty Stadium.
Monk has signed four players so far this summer and says tying down Williams was an "integral" part of his plans.
"It's key that you have a player like that [Williams] beside you," said Monk.
"Not just because he knows me and we've got a good relationship.
"But he understands the way that I want to work and take the club forward.
"I think he saw that and wants to be part of that going forward and he buys into that whole way of working.
"He's a big part of the spine of the team and the squad and the other bit of it which is great is that he doesn't have to worry about what's happening and what's going on.
"He can just concentrate on the football."