World Cup 2014: BBC pundits on Brazil's progress to semi-final
By Chris Bevan
BBC Sport in Rio de Janeiro
Last updated on .From the section 2014 Fifa World Cup
Brazil's ruthless approach would make them "the worst team to win a World Cup" if they triumph in their home tournament, according to former England winger Chris Waddle.
Brazil committed 31 fouls as they edged a 2-1 win over Colombia in Fortaleza to set up a semi-final against Germany. Their South American rivals made 23 fouls in a scrappy game.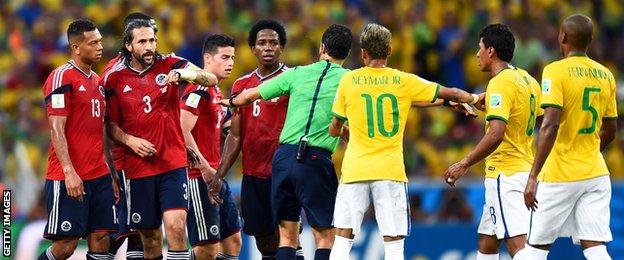 BBC's South American football correspondent Tim Vickery said: "I wonder how many friends they are losing around the world, who have grown up with a cavalier image of Brazilian football."
Thiago Silva's booking means he is suspended for Tuesday's showdown with Germany, while Brazil talisman Neymar has been ruled out of the tournament with a fractured vertebra suffered against Colombia.
BBC football pundit Mark Lawrenson added: "If you asked Brazil coach Luiz Felipe Scolari who are the two players you cannot do without most, it would be those two."
BBC Sport's World Cup pundits give their verdict on a night of mixed emotions for the hosts, and their chances of reaching the final at the Maracana on 13 July.
Match stats

Brazil

Colombia

50.5%

Possession

49.5%

293

Passes

274

79.2%

Pass success

74.5%

27

Tackles

17

70%

Tackle success

88%

12

Shots

6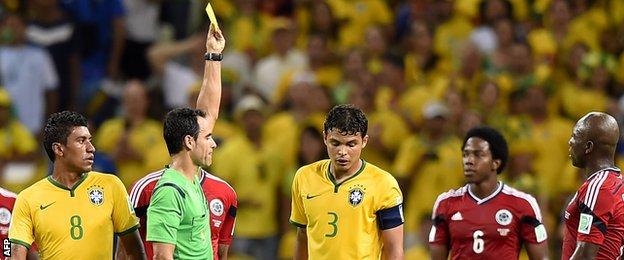 Are Brazil bending the rules?
Chris Waddle - former England winger
"They don't let anybody start passing the ball. They just stop the game when they think there is going to be a problem and they will go and obstruct the opposition.
"They should have had at least five yellow cards instead of the two they picked up, and they got off very lightly.
"Yes, Thiago Silva's booking means he is banned from the semi-final, but rightly so. Brazil foul all the time and they were getting away with murder."
Tim Vickery - BBC South American football correspondent
"This Brazil team do not beat you on flow; they beat you on moments.
"They had their two moments from set-pieces to score both their goals against Colombia, and they had no flow at all in the second half but worked like mad to stop Colombia having any either.
"There were constant interruptions to what was a scrappy game.
"It meant Brazil have achieved their objective, because they are into the semi-finals and they keep winning games.
"They can still win games, but many of their millions of admirers are going to be a little bit disappointed with what they are seeing at this World Cup."
Danny Mills - former England defender
"The South American way is 'win at all costs'. Winning is everything and we saw that from Brazil.
"Yes, they gave away lots of fouls and were fortunate to get away with them at times.
"But if they win ugly, nobody cares. If Brazil play like that in the next two games, win them both and win the World Cup, no-one will be bothered. If they lose, that's a completely different story.
"As a professional footballer, you are not bothered when people say you win ugly. You think 'we won'. Nobody cares how you have played.
"The Brazil players want to win - they want a World Cup winners' medal and they will do everything possible to get one.
"Leaving a bad taste in people's mouths does not matter. They will cheat and bend the rules if they have to."
Can Brazil beat Germany?
Tim Vickery: "To take on Germany without Thiago Silva and Neymar is a very tall order indeed. They are probably the two most important players in the team.
"Brazil beat teams on moments, and it is Neymar who provides those moments, either scoring himself or winning those dangerous set-pieces, so it is a huge loss.
"But it is a game we want to see. The two nations have only met once in all the World Cup's history - the final in 2002 - and Germany now have a chance to gain revenge for that defeat."
Chris Waddle: "Every team has a flaw. Germany are square and high; they play a little bit like Barcelona under Pep Guardiola.
"They like to keep possession but they have no pace in the team. If Brazil play with a high tempo and press quite high up the park, they have a chance of getting in behind them and getting chances."
Mark Lawrenson: "We know Thiago Silva and Neymar are definitely out. Without them, I would expect Germany to beat Brazil."