World Cup 2014: Colombia's James Rodriguez criticises referee
Last updated on .From the section 2014 Fifa World Cup
Colombia's James Rodriguez claims the referee in charge of their World Cup quarter-final defeat by Brazil had a decisive influence on the outcome.
The match had a Brazil 2014 high of 54 fouls - but only four bookings - with Rodriguez, who scored his sixth goal of the tournament, fouled six times.
"Carlos Velasco Carballo didn't help a lot," said Rodriguez, 22.
"I think the referee influenced the game a lot, but that is how it is and we need to look forward."
Hosts Brazil committed 31 fouls to Colombia's 23, with two yellow cards for each side.
However, there was no booking for Colombia full-back Juan Zuniga, whose knee in the back of Neymar resulted in a fractured vertebra in the Brazilian's spine.
The Brazil forward was carried off on a stretcher in the 88th minute and taken to hospital, with the country's football federation declaring he would miss the rest of the World Cup.
Brazil were holding on to their narrow lead at that stage. Thiago Silva and David Luiz had given the host nation a 2-0 advantage in Fortaleza, before Rodriguez reduced the deficit from the penalty spot with 10 minutes remaining.
"We are sad because we wanted to go further in the World Cup. That is what hurts most, but Brazil are a good team," added Monaco attacking midfielder Rodriguez, who is the current top scorer in the tournament.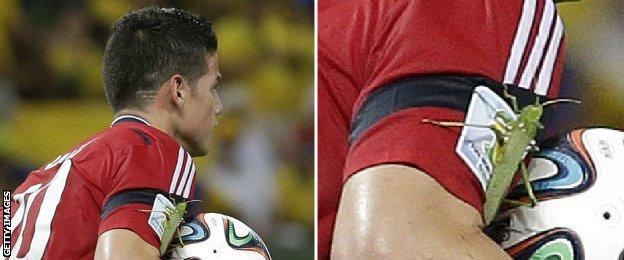 "I want to thank the people of Colombia because they have always been there for us and had faith."
Colombia coach Jose Pekerman refused to criticise the Spanish referee.
"It was a match in which there was balance and very good players on both sides and when that happens, it produces friction due to competitiveness because each player wants to win their individual battle," he said.
"The tension was very high. Brazil needed to win and we always aspired to win so there was a lot of intensity."
For the best of BBC Sport's in-depth content and analysis, go to our features and video page.