World Cup 2014: Neymar - Brazil can make me a world champion
Last updated on .From the section 2014 Fifa World Cup
Brazil forward Neymar says his dream of being a world champion is not over despite being ruled out of the rest of the World Cup because of a back injury.
The Barcelona player said his dream was "interrupted... but it continues".
He added: "I'm certain my team-mates will do everything so my dream, which is to be a champion, comes true."
The hosts' victory over Colombia set up a semi-final clash with Germany, but their progression was marred by Neymar's injury.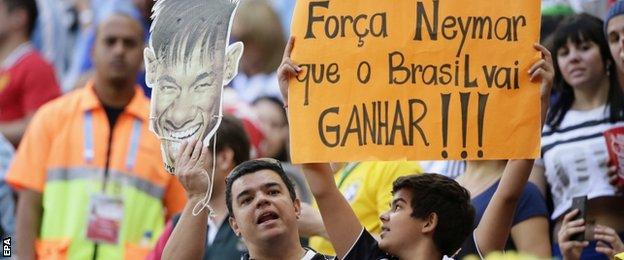 Neymar, speaking in a video released by the Brazilian Soccer Federation, added: "My dream was also to play in a World Cup final, but this time it didn't work out.
"I am sure they will win this Cup and be champions, and I will be with them, and all Brazilians will soon be celebrating all of that.
"It's a very difficult moment, I have no words to translate what is going through my head and my heart. I'd just like to say I will be back as quickly as possible; when you least expect it, I'll be back."
Brazil's team doctor Jose Luiz Runco said there are no neurological issues and no permanent issues that may lead to future complications.
"The only thing he needs is time for the fracture to consolidate, after which he will return to the pitch," Runco said.
The Brazil playmaker, 22, left the field in tears on a stretcher in the closing stages after taking a knee in the back from Zuniga, who has since apologised for the challenge.
He left the stadium on a drip, with another Brazil doctor, Rodrigo Lasmar, saying he had sustained a fractured vertebra that will end his World Cup.
Fifa's disciplinary committee could take action against Zuniga for the challenge, while coach Luiz Felipe Scolari said Neymar had been "hunted" for three matches.
Crowds gathered outside Sao Carlos Hospital in Fortaleza, where he was treated before flying back to Rio with his team-mates on Friday night. He was then taken by ambulance to the team's training camp in the mountain city of Teresopolis.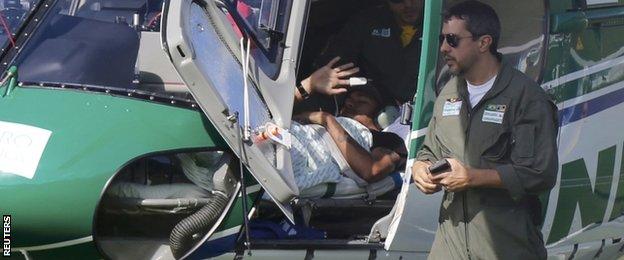 Footage released by the Brazilian FA shows Neymar in a wheelchair on the tarmac at Rio airport with his emotional team-mates giving him their best wishes. He left Brazil's camp by helicopter on Saturday.
Brazil president Dilma Rousseff tweeted a message of support on Saturday and also sent a letter to the national football team, stating how the entire country is following their campaign.
She said: "Your painful expression yesterday on the pitch at the Castelao [stadium] wounded my heart, along with that of all Brazilians.
"But what we saw was the extraordinary force of a great warrior who, even injured, will not allow himself to be disheartened."
During half-time of Argentina's quarter-final win over Belgium in Brasilia, Brazilian TV interrupted coverage of the game to beam live pictures of Neymar leaving the Brazil camp north of Rio by helicopter.
Headlines in Brazil's Saturday newspapers focused on the injury rather than the victory over Colombia.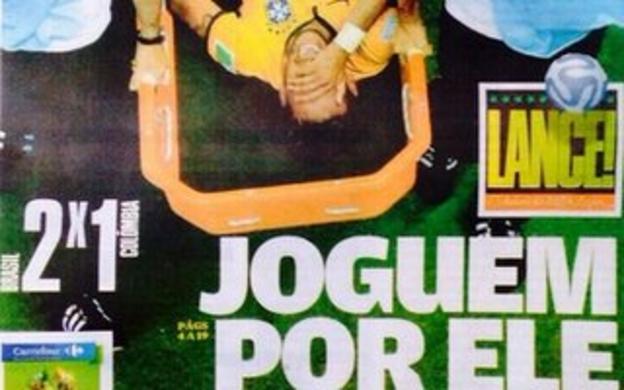 "A beating for Brazil," O Globo's sports section said. "Is it possible without him?" Folha de S. Paulo asked.
The Barcelona forward featured in all five of Brazil's matches at the 2014 Fifa World Cup so far and is their top scorer with four goals.
Brazil legend Pele believes the Selecao can still win the World Cup for a record-extending sixth time, pointing to his own experience in 1962.
He said on Twitter: "Neymar was raised in my Santos FC and it hurts our hearts to know that he can no longer defend Brazil in the World Cup.
"I was also injured during the 1962 World Cup in Chile, and I was out for the rest of the tournament, but God helped Brazil continue on to win the championship."
Former Brazil players Roberto Carlos, Kaka and Gilberto Silva have also sent supportive messages, along with some of his current team-mates.
Captain Thiago Silva urged Brazil's players to win the World Cup for Neymar.
Former Brazil striker Ronaldo, who said Zuniga meant to hurt the forward, revealed he had also sent a message of support to Neymar, saying the country would dedicate a World Cup win to him.
"He has suffered a very heavy blow and I told him the whole country is proud of him, and that every effort will be made to win the World Cup in Brazil and dedicate it to him," he said.
After Argentina's quarter-final win over Belgium, coach Alejandro Sabella said he "shed tears with Neymar", and that he "sends him a hug and wishes him a speedy recovery".
BBC pundit reaction
Former Liverpool and Scotland defender Alan Hansen: "It's bad for the tournament, terrible for Brazil and devastating for the boy himself. Last night in the first half was the best I've seen Brazil play and it came through him and it was the first time I thought they might go on to win the tournament. He's unlucky because 99 times out of 100 the guy who gets the knee in the back is able to get up and get on with the game."

Former England captain Alan Shearer: "It's one of those things. I don't think there was any intent. The referee should have stamped out the bad tackles earlier in the game. It's a disaster for Brazil - Neymar is the one person in the Brazil team that can create that piece of magic to win a game."
Former England striker and Match of the Day presenter Gary Lineker on Twitter: "World Cups are uncompromising, brutal, emotional affairs that invariably end in heartbreak for all but a few. But that's why we love them."
Tim Vickery, South American football expert: "Brazil will be without their two most important players - leading scorer Neymar and captain Thiago Silva - against Germany. Neymar is a huge loss but it opens up a chance for someone else and I would expect Chelsea forward Willian to get his opportunity now."
Social media reaction
Brazil and Chelsea midfielder Willian tweeted: "Have strength brother. Neymar we are together with you, we love you."
Brazil striker Jo, formerly of Manchester City and Everton, on Twitter: "We had a great victory but also a great loss. Have strength Neymar, we partner with you always!"
Brazil striker Fred on Facebook: "We have one more reason to play with heart in this cup. Neymar, rest assured that our group loves you and give life to win this title for you. You were and continue to be the ace and the soul of our team. The whole of Brazil is praying for you!"
Former Brazil international Kaka on Twitter: "My brother Neymar - me, Luca, my family and a lot of people in this world are praying and hoping for your fast recovery!!"
Arsenal and Germany striker Lukas Podolski, whose side play Brazil in the semi-final, on Twitter: "Happy with our victory today, can't wait to face Brazil, sad for Neymar hope you get better soon #ForcaNeymar."
Italy striker Mario Balotelli on Twitter: "Neymar brother! I am with you! Force!"
Germany midfielder Mesut Ozil on Twitter: "Neymar, I am unhappy. get well soon."
Argentina midfielder Lionel Messi posted on Facebook: "Neymar, I hope you recover very soon friend!"
QPR midfielder Joey Barton on Twitter: "As much as I think Neymar is overrated, I am genuinely gutted for him. Hearing the news somebody's World Cup is over due to stupid challenge is a sickener. Wish him a full and speedy recovery. Huge blow to Brazil as they have nothing in forward areas now. German should progress."