World Cup 2014: Lionel Messi's star shines brightest in Brazil

By Ben Smith
BBC Sport in Brasilia
Last updated on .From the section 2014 Fifa World Cup
Neymar left the World Cup on a stretcher, James Rodriguez in tears. Luis Suarez was thrown out in disgrace. Cristiano Ronaldo and Wayne Rooney failed to sparkle and Zlatan stayed at home.
But Lionel Messi, arguably the biggest star of them all, is still standing, still sparkling and within two victories of cementing his status among the very best to have played the game.
Without ever approaching his unplayable best, the Barcelona forward drove Argentina a step closer to history, as they reached a first semi-final since 1990 with a 1-0 victory over Belgium.
"He was our water in the desert," said Argentina coach Alejandro Sabella. "When the terrain was dry, he, once again, gave us a chance to breathe fresh air."
On the day he won his 91st cap to draw level with Diego Maradona, the last Argentina No 10 to reach this stage of a World Cup, comparisons were understandable.
This performance was not on the same level as his predecessor's the last time these two nations met - in the semi-final in Mexico City in 1986 - but it was more than good enough to draw parallels from all corners.
The image of Messi wriggling away from five Belgians to win a first-half free-kick on the edge of the penalty area brought echoes of that iconic image of Maradona on the ball in 1982, with six Belgians wondering what to do.
As then, Belgium were drawn to Argentina's No 10 like iron filings to a magnet. Kevin de Bruyne and Marouane Fellaini fell foul in the build-up to Gonzalo Higuain's goal. There were many other occasions, too. "Messi was wonderful," Sabella said.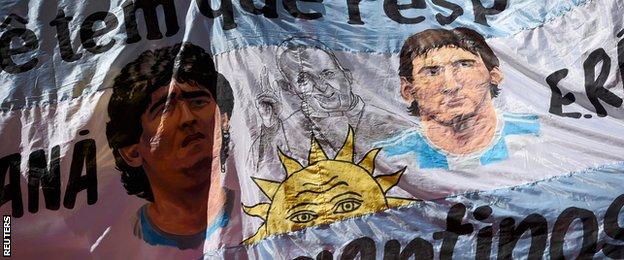 "It is not only about scoring goals, he draws three or four opponents towards him. He is a sign of hope for us, he endangers the opponent, the influence he has is decisive. We truly value him."
As do the tens of thousands of travelling Argentina fans. On Saturday night there was a sense the blue and white tide is spreading across Brazil.
There is a tangible confidence, a swagger, a belief going with it. In Brasilia they sang 'Brasil, decime que se siente' - 'Brazil how does it feel' (to be bossed around in your own back yard). The thousands of Brazil fans in the stadium chanted 'Penta champion' - 'five times champions' - in response.
All the talk is of a final between the South American superpowers in Rio next Sunday. That is coupled with a fear in Brazil that this hard-nosed Argentina side are coming again, coming to spoil their party.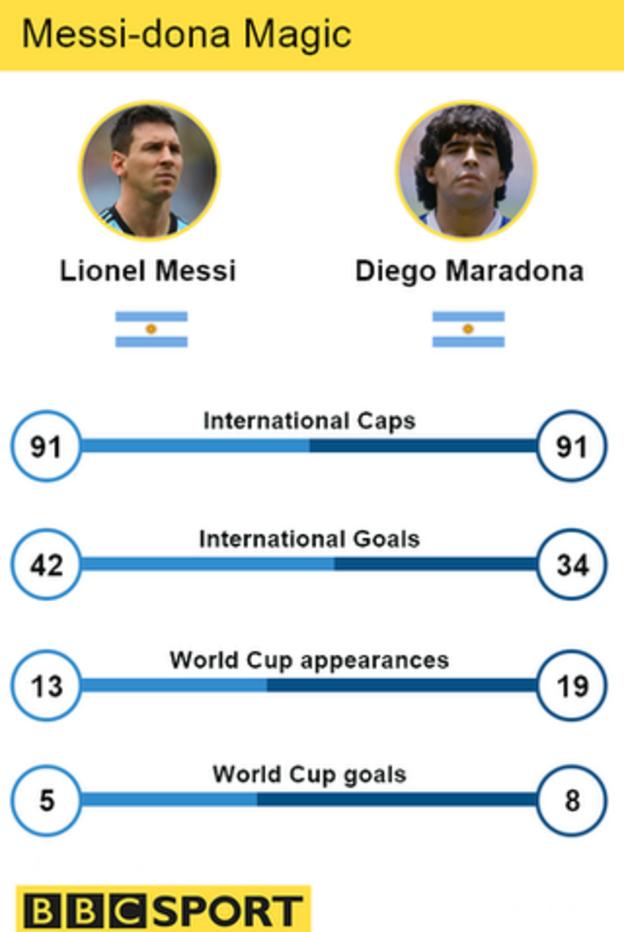 Messi will not be able to do it alone. Part of the reason he did not have to drag his team-mates over the line against Belgium is because Argentina's supporting cast stepped up when they had to. Higuain answered his critics with a tremendous goal, this was a team effort.
And Argentina celebrated like a team, with Messi looking relaxed and comfortable as his team-mates danced and waved their arms in front of their fans at the final whistle.
There was total joy, relief and hope all wrapped into one. Argentina looked like they had won a World Cup.
"We talked about 1990, the 24 years, before the game," said defender Pablo Zabaleta.
"It has been a very long time. Argentina is always one of the favourites for every World Cup but we know how difficult it is to reach the final or a semi-final. We want more now."
And yet, there is a sense that Argentina remain a team yet to hit their stride. This was a fifth win in this tournament by a single goal.
Against Belgium they only hit the target with two shots and had less of the ball and less of the territorial dominance. Red Devils coach Marc Wilmots was far from convinced.
"They are an ordinary team," he said. "Everybody knows Messi is an extraordinary player.
"He, once again, showed his capacity to keep the ball, let his team-mates breathe. If we had equalised in the last minute, they were finished. I am not saying they can't win just that they're not great."
Messi's scoring record

Barcelona

381 goals in 466 matches

Argentina
42 goals in 91 games
Wilmots insisted he did not want to be a "sore loser" or a "cry baby" but very few teams who reach the last four of a Word Cup are truly ordinary.
While much of the attention was taken by Messi's pirouettes, body swerves and delightfully clipped passes, Argentina are a team that know how to disrupt rhythm and dismantle systems.
Javier Mascherano provides the bite, to Messi's ballet, in midfield. They are also defensively sound, they can battle, they can play. It was testament to their defensive solidity that Belgium resorted to aiming long balls at Fellaini and Daniel van Buyten in a desperate final 10 minutes.
There will be some concerns for Sabella, not least the injury to Angel Di Maria, who will have tests on Monday on a thigh problem. "Angel is one of the key figures in this team," he said.
"He is a player we depend on, a player who attracts attention like Messi. He tackles, he works hard. We hope he will recover in time to play in the semi-final."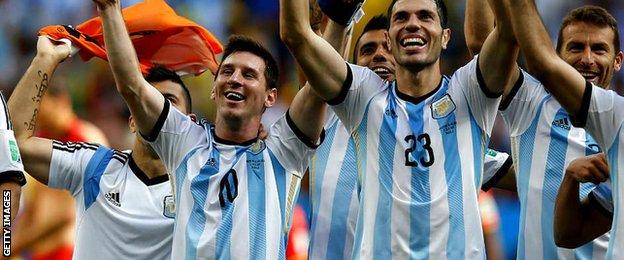 Another worry might be fatigue, not just for Sabella but each of the four remaining teams in the tournament.
"The most important thing now is to recover well," Zabaleta said. "We know we don't have the time we might want to be ready, so mentally and physically it is very important to be 100% in the semi-final. It will be something fantastic."
The pace of this tournament has been unrelenting from the very start. It has been brilliant, breathless stuff over three wonderful weeks. The question now is whether that is beginning to take its toll.
This was a game in which both sides lacked vim and vigour. That was also the case when Germany beat France and when the Netherlands ousted Costa Rica on penalties. The world must hope this is the calm before the storm.
Argentina World Cup facts
Argentina have netted in eight of their past nine World Cup knockout matches.
Each of Argentina's five wins at this tournament have come by a single goal.
Argentina have kept just two clean sheets in their past 11 World Cup knockout matches, but they have come in their past two games.
This is the first time since 1986, when they beat England, that Argentina have won a quarter-final outright in 90 minutes.
Argentina, if they didn't already, will now demand respect from Netherlands. In Messi, they have the one player in the tournament the rest will fear more than any other.
It remains to be seen if he can inspire Argentina to escape the ghosts of the past and match the achievements of Maradona and the heroes of '86.
That Argentina side was not a one-man team, even if history may often make it feel like it, nor is the 2014 side.
And yet, as they did in the past, when Argentina and their fans need inspiration, they will all look to the man with 10 on his back.