Nigeria federation voted out of office as Fifa ban looms
By Oluwashina Okeleji
BBC Sport
Last updated on .From the section Football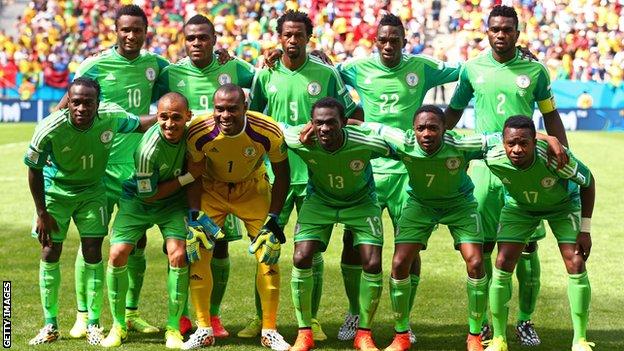 Nigeria have gone against a Fifa directive after the Nigeria football federation (NFF) was voted out of office on Saturday having been accused of derailing the country's World Cup campaign in Brazil.
And football's world governing body gave Nigeria's government until 8 July to reinstate the sacked NFF executive committee.
But an extraordinary general assembly of the federation went ahead in Abuja on Saturday despite Fifa's warning of a possible suspension for the West African country if it did not restore the old leadership to power.
All this comes in the wake of a high court ruling which granted 'an interlocutory injunction' to suspend the country's football chief Aminu Maigari, his executive committee and the NFF congress.
The situation was compounded 24 hours later when Maigari was arrested upon his return from the World Cup but later released.
A regional high court had earlier this week ordered the dismissal of the Nigerian Football Federation (NFF) executive and also mandated the sports minister to appoint a caretaker administrator, who swiftly called new elections.
Fifa, however, took a dim view of the development and warned that Nigeria risked suspension from all international football activities if the sacked officials are not reinstated to their posts by Tuesday.
"The NFF has been asked to relay Fifa's position to the relevant authorities and inform them that if the aforementioned NFF officials are not fully reinstated by Tuesday 8 July 2014 the case will be referred to the appropriate Fifa bodies for sanctions, including the potential suspension of the NFF," the Zurich-based governing body said in a statement.
But Saturday's assembly endorsed the sacking of Maigari and his executive and the termination of the employment of all management staff at the NFF.
"The Congress bemoaned the unfortunate incident of the international embarrassment caused by failure of the Aminu Maigari-led NFF to fully and firmly resolve issues of finance with the Super Eagles ahead of the championship," a statement from the congress said.
"The Extraordinary Congress unanimously endorsed the dissolution of the Aminu Maigari-led NFF executive committee, and immediate termination of the employment of all management Staff.
"Congress approved the appointment of Mr. Lawrence Katken as Acting General Secretary of the Nigeria Football Federation, pending the appointment of a substantive General Secretary."
NFF spokesperson Ademola Olajire told BBC Sport that they were in the process of writing to Fifa with the latest development.
Fifa rules protect its members from government interference, and a suspension bars teams and officials from taking part in international matches and meetings.