World Cup 2014: 'Traditional strikers out of fashion in Brazil'
Last updated on .From the section 2014 Fifa World Cup

This World Cup has been full of goals and exhilarating attacking play but traditional centre-forwards seem to be a dying breed.
When you look at the list of the tournament's top scorers, then none of them are what you would describe as a classic number nine, the way I played.
That sort of goal-getter has not featured prominently in Brazil. The playmaker, or number 10, is in fashion here.
Top goalscorers at the 2014 World Cup

Player

Minutes Played

Goals

Assists

Total shots

Shots on target

1. James Rodriguez (Col)

400

6

2

9

8

2. Thomas Muller (Ger)

472

4

2

12

6

3. Lionel Messi (Arg)

453

4

1

15

7

4. Neymar (Brz)

457

4

1

14

9

5. Karim Benzema (Fra)

450

3

2

22

15

6. Arjen Robben (Ned)

362

3

1

9

8

See table below for how each country's centre-forward compares
The likes of Lionel Messi, Neymar, Thomas Muller and James Rodriguez have been the stars of this World Cup and not just because they are making goals; they are the players scoring the most goals too.
Role reversal for strikers and support men
In my days playing for England, I was the finisher and the focal point of the team and the job of the number 10 was to make things easier for me.
That was certainly the case when I played alongside Teddy Sheringham. He would drop deep and leave the space in behind the opposition defence for me to run into, or for him to play a pass into.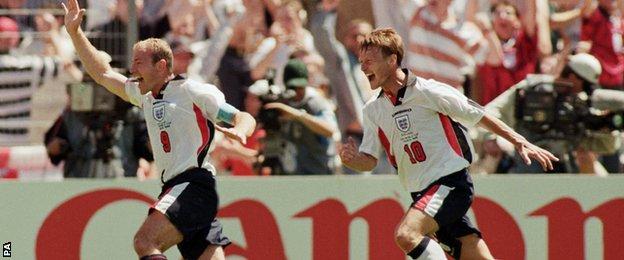 He had the passing skills and vision to play through lots of clever balls from his withdrawn striker's role and often it seemed he would get more satisfaction in creating goals for me than from scoring them himself.
My role as the main striker for club and country was to lead the line and get on the end of things. I was judged on the number of goals I scored, and also the number I didn't.
From that point of view, things are very different at this World Cup.
The number 10 is still the man you want on the ball as much as possible but he is now expected to score the goals as well as find the killer pass and create something out of nothing.
If there is a number nine like me in the team, then he is now the guy being asked to create space for the number 10, to hold the ball up for him and bring him into play in the opposition half, and to give him the chances to score.
Holding the ball up and linking play was always part of my job too but it was obviously mainly about scoring goals.
The number nines at this World Cup have not been doing that, and none of them are realistically in the race for the Golden Boot.
Enner Valencia scored three goals for Ecuador in the group stage but they are out. Only Robin van Persie is in with a chance and, although he leads the Dutch attack, he is not really a traditional centre-forward either.
How the centre-forwards compare

Player

Minutes Played

Goals

Assists

Total shots

Shots on target

Robin van Persie (Ned)

480

3

0

13

10

Jackson Martinez (Col)

194

2

0

5

2

Gonzalo Higuain (Arg)

412

1

1

11

4

Oliver Giroud (Fra)

165

1

1

7

2

Fred (Brz)

402

1

0

11

4

Miroslav Klose (Ger)

35

1

0

3

1

Table only lists centre-forwards from countries who have a player in top-scorer list
Things could not be more different to the World Cups I watched when I was a boy.
My first World Cup memory was 1982 when I was 12, and was glued to the TV to watch Paolo Rossi score a hat-trick against Brazil and end up as the tournament's top scorer.
I grew up wanting to become a striker like him but now it seems everybody wants to be the playmaker, not the goalscorer.
Poor service does not help
Part of the reason traditional centre-forwards have not stood out at this World Cup can be put down to their lack of quality compared to the number 10s.
Fred for Brazil, for example, has not shown enough work-rate or mobility, let alone a killer instinct in front of goal.
Even if you could argue that his main job in the team was to help Neymar - before his tournament was ended by injury - rather than score goals himself, then he did not do that well enough.
But there are class strikers out there.
Gonzalo Higuain showed us that with his winner for Argentina against Belgium in the quarter-finals.
It was an instinctive finish that was just brilliant to watch, but there have not been many moments like that from players like him.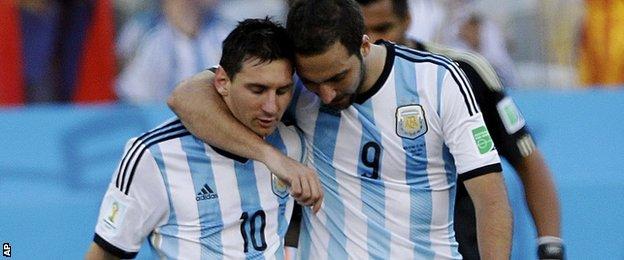 We have seen lots of other great goals in Brazil, of course, but what has not helped the out-and-out frontmen is that sometimes the final ball for them has been poor.
They rely on service because, unlike the number 10s, they cannot make chances for themselves.
But, too many times, teams have got into great positions in the final third but then could not find their centre-forward.
As a striker who loved to get on the end of balls into the box it is something I have noticed happen a lot in Brazil.
Teams not set up to service strikers
This tournament is not the first where centre-forwards have not been the stars.
Go back through World Cup history and Maradona was a number 10, while Pele could play anywhere he wanted to along the front line - something he told my son Will last week, which was the highlight of his life.
More recently, the fact traditional strikers are out of fashion has a lot to do with Spain, and the way they played without a focal point to their team with such success at the three major tournaments they won before this one.
In Brazil, Germany have done something similar by playing for the majority of time without a striker.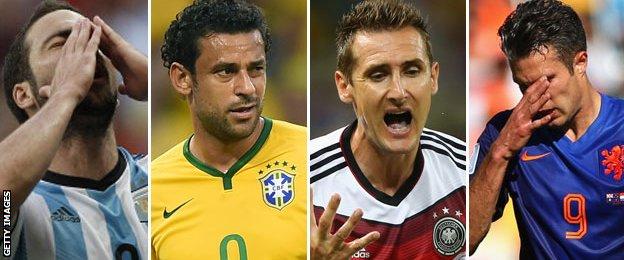 They think that is the most effective way of using Thomas Muller, who is their furthest man forward but drifts in from wide areas. He does that so well, he got the Golden Boot in South Africa four years ago.
And of course some teams are set up to get the best out of their best player, which in the case of Brazil, Argentina and the Netherlands, has been Neymar, Messi and Robben. All three countries are in the semi-finals, so it has worked.
I have not got an issue with coaches building their teams around their star man, because he has to perform. If he doesn't, then the team's chances of winning are slimmer.
But out-and-out goalscorers can make a difference too.
The games have tightened up since the knock-out stages began and, in the semi-finals, the traditional strikers need to do more than just enable their number 10 to get on the ball.
It looks unlikely that an old-fashioned number nine will be remembered as the player of the tournament or get the Golden Boot this time, but one of them might still decide who wins this World Cup.
Alan Shearer was speaking to Chris Bevan in Rio de Janeiro.