Hereford United granted third adjournment over winding-up order
Last updated on .From the section Football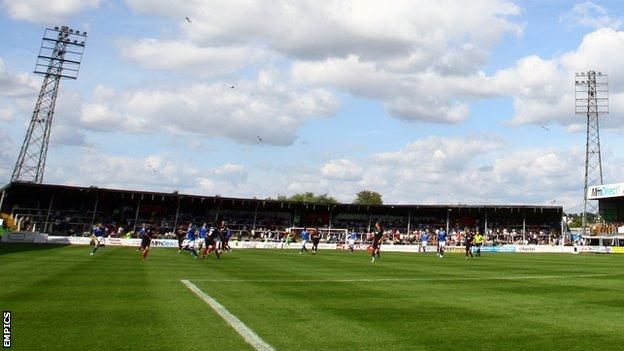 Crisis club Hereford United have had their latest winding-up petition adjourned for another 21 days at the Royal Courts of Justice in London.
It is the third time the action, brought by former Bulls boss Martin Foyle, has been postponed.
It will now be heard on Monday, 28 July, 12 days before the scheduled start of the Southern League season.
The club will use the next three weeks to arrange a Company Voluntary Arrangement to help clear their debts.
Foyle, who left the club in March, is one of several creditors - including players and another former manager Peter Beadle - owed money by the Bulls who must now hope enough of them agree to the CVA in order for the club to survive.
Hereford's financial problems have already cost them their place in the Conference Premier, but the club have been accepted into the Southern Premier for 2014-15, with fixtures due to be released on 17 July.
However, they currently do not have anywhere to play after their Edgar Street ground was closed on safety grounds, leading to a number of pre-season friendlies being cancelled.
Concerns over the Bulls' situation has also led to away matches being postponed, with Gloucester City the latest to pull-out of a scheduled match on 22 July.
However, an offer has been made to Herefordshire Council by a group of local businessmen to keep the club at Edgar Street with the formation of a new football company.