Alfedo Di Stefano influenced Scots managers says Sir Alex Ferguson
Last updated on .From the section Football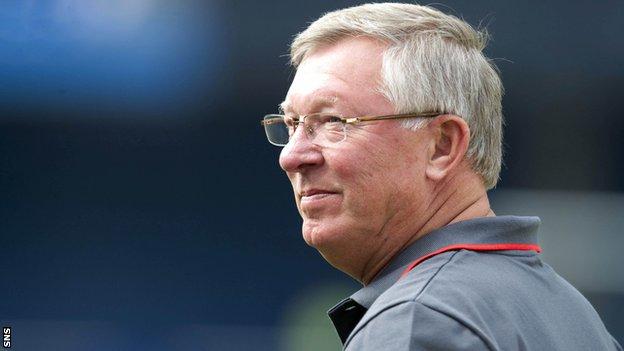 Sir Alex Ferguson said Alfredo Di Stefano helped influence Scottish football as he paid tribute to the Real Madrid great who died at the age of 88.
He was part of the Real Madrid side that won five European Cups in a row including the 1960 final in front of over 127,000 at Hampden.
Di Stefano scored a hat-trick as Real Madrid beat Eintracht Frankfurt 7-3.
"They [Real] were a great influence on all of the coaches, particularly Jock Stein," Ferguson told Radio Five live.
"Stein and Willie Waddell went out to see Real Madrid train, and various teams throughout Europe. It was a big influence in Scottish football at that time."
Regarded as one of the greatest players of all time, Di Stefano also manager Real Madrid against Ferguson's Aberdeen in the 1983 European Cup Winners Cup final in Gothenburg.
"I had the pleasure of growing up while he was at his peak and was at the 1960 final at Hampden Park," said the former Manchester United boss. "I don't think you'll get score-lines like that today.
"Bearing in mind I was a Rangers fan, and in the semi-final Eintracht Frankfurt beat Rangers 6-1 and 6-3 and we looked on them as almost certain to win the cup.
"But, of course, Real Madrid were a special team and I had the pleasure as a young man of being influenced by the great Real Madrid and Di Stefano.
"He had wonderful balance and poise. His head was always up all the time. [He was a] beautiful mover, grace, and he was such a fantastic footballer.
"They talk about the greats of the game, and of course there's a few in the phalanx of that like [Johann] Cruyff, [Diego] Maradona, Pele, and [Franz] Beckenbauer, quite rightly players that are in that standard of player, but Di Stefano without question was in that group of great, great players."
He continued: "For me the biggest experience that I had with Alfredo was meeting Real Madrid in the Cup Winners Cup final in 1983 when he was coach of Real Madrid.
"To be honest I was quite apprehensive about meeting this great man. The training session the night before the match we were second to them - they were training first. Out of respect to him I brought a bottle of Scottish malt whisky to give to him and he was actually quite taken aback.
"He didn't speak English, I didn't speak Spanish, but there was an accord that told you he really appreciated the gesture.
"His generosity after they lost the game to us was outstanding when he said Aberdeen were a team that money can't buy; they had a soul, they had a spirit built on family values.
"I think that was as generous a comment as you could possibly make for a losing manager. I thought it was absolutely wonderfully generous of him."