Luis Suarez: Barcelona get their man, Liverpool get their money

Last updated on .From the section Football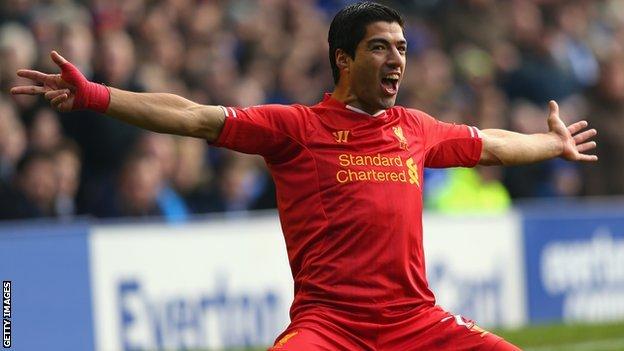 Luis Suarez made up his mind to leave Liverpool long before the World Cup, long before those goals against England, long before that bite on Giorgio Chiellini.
Even as the Uruguayan - who Barcelona have agreed to sign for about £75m - left his Merseyside home in May and boarded a plane to prepare for the tournament in Brazil, he suspected he, his wife Sofia and their two children might not return.
A few days earlier, he had played the final game of what was an astonishing season.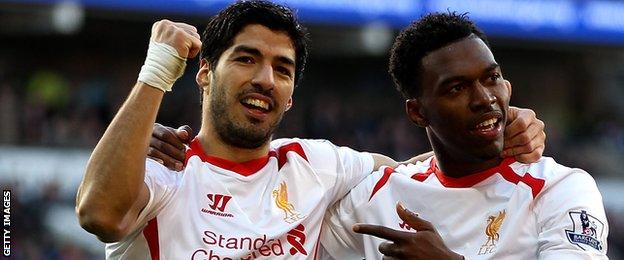 Not only had he inspired Liverpool to heights of which few had thought them capable, he had been the clear choice for the player of the year awards given by both the Professional Footballers' Association and the Football Writers' Association.
It had been a season in which he had repaired some of the damage he had done to his reputation over three controversial years in England. His deep feeling for Liverpool and its fans was intact, even if the same could not be said of his view of the British media.
But what was on his mind - and had been for some time - was the chance of a career-defining move to Real Madrid or Barcelona.
Senior figures at Liverpool were aware that an offer from either of the two Spanish giants would give them a problem.
Last summer, Barcelona bought Neymar from Brazilian side Santos for about £49m and Real signed Gareth Bale from Spurs for a world-record £85m. There had long been a feeling that, this summer, Suarez was high on both their lists. The La Liga pair were top of his.
Since joining Liverpool from Ajax for £22.7m in 2011, Suarez had made no secret of his desire to play in Spain at some point. Reds director of football Damien Comolli had warned then-manager Kenny Dalglish shortly after Liverpool signed him; Suarez had told players and staff. It was an open secret.
Luis Suarez controversies

June 2014

Banned for four months from any football-related activity, and nine international matches, for biting Italy defender Giorgio Chiellini.

April 2013
Handed a 10-game ban for biting Chelsea defender Branislav Ivanovic. Apologises for his "inexcusable behaviour".

Dec 2011

Given eight-match suspension and fined £40,000 for racially abusing Manchester United's Patrice Evra.

Nov 2010
Receives seven-match ban for biting PSV Eindhoven's Otman Bakkal on the shoulder while playing for Ajax.
Captain Steven Gerrard spent much of last summer attempting to persuade his team-mate not to join Arsenal. This time he knew there was no point. He knew a move to Barcelona was the fulfilment of a dream for Suarez.
Liverpool knew that too. Much was made of the disputed £40m and £1 clause in his previous contract last summer, but another clause was inserted into the new deal Suarez signed in December.
Chief executive Ian Ayre plus owners John Henry and Tom Werner realised their star striker would not commit to another contract without a clause allowing him to speak to big foreign clubs, such as Real Madrid or Barcelona, if they agreed to pay a figure of about £75m.
There was another clause in that deal, this time designed to protect Liverpool by preventing Suarez from joining a domestic rival, as he almost did last summer.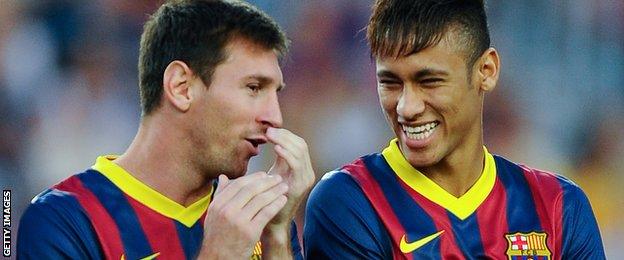 It was clever business by the club. They have secured a record fee for a player who will turn 28 this season - and has the remainder of a four-month ban to serve - and secured a vast sum of money for a striker who has always longed to play in Spain. It is a deal that suits all parties.
Even after the infamous third bite of his career during Uruguay's World Cup game against Italy, Liverpool did not want to lose Suarez. But there was no great panic at Anfield.
The player's representatives had already let it be known that an offer from Barcelona would be forthcoming, and that Suarez wanted to go.
Liverpool agreed to meet Barcelona officials in London, and went into the meeting determined to stress that there was only one way Suarez would be sold - if the Catalan giants met his release clause.
Barca quickly agreed, and it became clear a deal would be done. The Spanish club had been concerned by the bite on Chiellini but not for a moment were they deterred in their pursuit of their number-one summer target.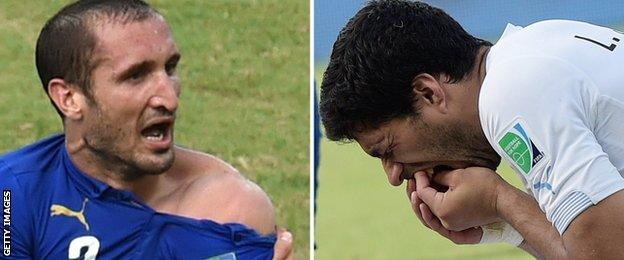 Messages were relayed to the Suarez camp that a public apology would, in their eyes, be enough to smooth the way. The statement released by Suarez did not mention Liverpool or express regret to the club's fans. It was purely for Barca's benefit.
Real Madrid had long been interested in the striker and held the upper hand in the early summer. But when Barca declared their interest, Suarez was immediately sold on the move.
Suarez's wife has family in the Catalan city and is known to miss the Latin culture and climate.
Barcelona is already home from home for the family - they have a house there and often visit the city when the striker has time off. His daughter was born there, his agent is based there.
Since Suarez was thrown out of the World Cup, the move to Spain has occupied his mind. Weeks ago he was telling friends of his excitement that the deal was done and that he had been promised the Barca number nine shirt, worn by Chile winger Alexis Sanchez last season.
True, Suarez will not find a team built around him at Barca, and nor are the fans likely to be as tolerant of his every move on and off the field, but it is hard to deny that the move makes sense for the player.
There was a delay in the deal as Liverpool attempted to persuade Sanchez - a target even before Suarez decided to leave - to join the Reds in part-exchange, but the 25-year-old joined Arsenal instead.
Liverpool have lost one of the most creative, yet controversial, players the club has ever had. He cannot be easily replaced - a 31-goal void will take time to fill. But they have lost him on their terms, to a club that always get their man.