World Cup 2014: Attacking wing-backs make for open tournament
Last updated on .From the section 2014 Fifa World Cup

Argentina's win over the Netherlands in Wednesday's semi-final did not live up to the high standards in entertainment set in this World Cup.
But this will still be a tournament remembered for lots of goals and exciting games.
People have pointed at poor defending as a reason why there have been so many goals - 167 so far - scored in Brazil.
Yes, centre-backs have often been exposed in one-on-one situations but, for me, that is more down to the attacking outlook that teams have generally shown and also what defenders - specifically the full-backs - are being asked to do.

Major tournaments always throw up a tactical innovation or trend and this one has been no different.
This time, we have seen full-backs asked to become wing-backs, and I would expect the flexible formations and counter-attacking we have seen so much of at this World Cup to be happening more and more in the Premier League next season too.
Wing-backs are the way forward
Wing-backs are nothing new, of course, but we are used to seeing them used in a 3-5-2 system, or similar.
In Brazil, there are only four teams who have played a 3-5-2 formation: the Netherlands - at times - and Mexico, Chile and Costa Rica.
The most popular system has been 4-2-3-1, the same as it was in South Africa four years ago, but what has changed is how flexible the players have to be in that formation.
When they have possession, some of those teams playing four at the back send their full-backs forward as if they were wing-backs.
They split their two centre-backs and have a midfield player dropping back between them to give them a three-man defence.
4-2-3-1 FORMATION

Without the ball

With the ball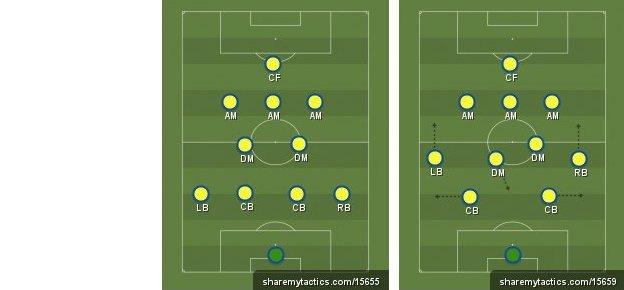 The best example of that over the course of the tournament is probably Luiz Gustavo for Brazil.
He drops into the back four, allowing David Luiz and Thiago Silva to play wider and letting Marcelo and Dani Alves or Maicon play like wing-backs.
Leaving gaps for counter-attacks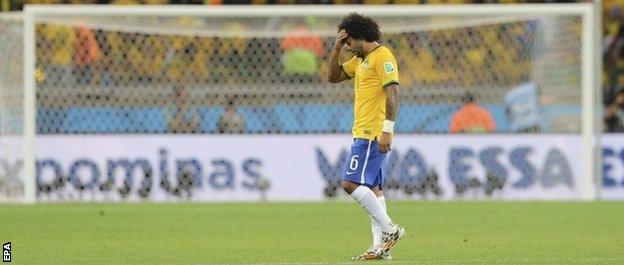 As we saw in Brazil's collapse in their semi-final against Germany, what can be an attempt to make you more of a threat going forward can leave you vulnerable at the other end.
Marcelo was not the only Brazil player to have a night to forget, and the defeat was certainly not all down to him, but Germany ruthlessly capitalised on his attempts to get forward by making the most of the gaps he left behind.
That has been one of the themes of the tournament, with teams pushing men forward and leaving lots of space for the opposition to break into - with their centre-backs isolated, and often defending in wide areas which they are not comfortable in.
There have been a lot of one-on-one or two-versus-two situations when teams have counter-attacked, and centre-backs have also been exposed by diagonal balls played behind them or crosses to the far post where full-backs should be covering, but aren't there.
It has all been a long way from what we are used to seeing in tight games in the Premier League, where we like to play with cover.
Teams line up in two banks of four, and those two banks shuffle across the pitch together, with the full-backs staying on the shoulder of the centre-backs.
In Brazil those full-backs have been bombing forward whenever their team is in possession.
Chile the team to surprise me the most
They went out in the last 16 but Chile were the team that surprised and impressed me most with the way they played.
They do not have a lot of household names apart from Alexis Sanchez but they did not come to Brazil to defend. They went toe-to-toe with the Dutch and got the better of current world champions Spain.
They had the kind of no-fear approach that we got used to seeing in the group stage.
Pace and speed for the Premier League
It ended in tears for Brazil but almost every team has tried to get their full-backs forward, and many have done it with some success.
The Dutch have been lethal on the counter-attack without compromising their defence, and Germany the same.
When the French were flying, they were probably the best example - for the third goal of their 5-2 win over Switzerland in the group stage, they broke lightning fast from a Swiss corner and, bang, Olivier Giroud crossed for Mathieu Valbuena to score.
At times the pace of the attacks has been scintillating and, to play that way effectively, you need genuine speed in your team.
That is the most impressive thing I have seen in this World Cup - the speed on the break of some of these teams, and the energy from people like Cristian Gamboa for Costa Rica and Juan Cuadrado for Colombia.
You always see trends from major tournaments carry on into the following league season and, if counter-attacking catches on more in the Premier League next season, I think that speed is going to be something we see a lot of teams focus on more than before.
We have seen in Brazil how effective it can be - if you get it right.
Phil Neville was speaking to BBC Sport's Chris Bevan.