World Cup 2014: Brazil must learn lessons from Germany humiliation
By Tim Vickery
BBC Sport's South American football expert in Rio
Last updated on .From the section 2014 Fifa World Cup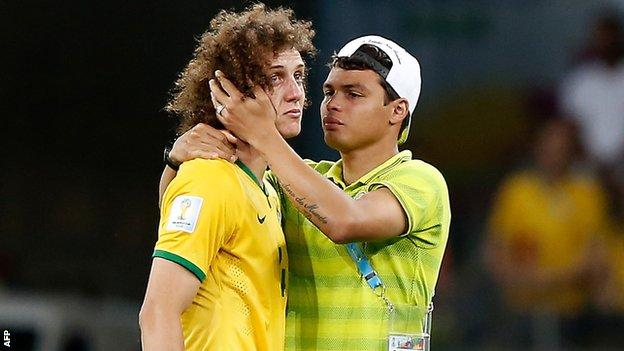 Zizinho, the idol of the young Pele, was chosen as the best player of the 1950 World Cup, staged in Brazil, when the hosts went down 2-1 to Uruguay in the final game.
"I played for 19 years," he wrote on the first page of his autobiography. "I won a few titles and yet, together with the other players in that campaign, I'm remembered as a loser."
Still embittered decades afterwards, Zizinho and company paid an absurdly high price for an ill-fated few minutes.
In the build-up to Brazil's second home World Cup, it seemed highly unlikely Luiz Felipe Scolari's men would have to cope with anything similar. Defeat would be unfortunate, but it could hardly have anything like the impact as the one of 64 years ago. After all, Brazil have won the World Cup five times since 1950 - the stakes could not be as high this time.
That was until Brazil went down to perhaps the most crushing defeat in the history of the tournament.
Former Brazil midfielder Juninho on MOTD
"Germany taught us how to play football. They played the way we liked to play so we need to sit back, see what is wrong with Brazilian football - especially in the academies, the way we teach them to play. A lot of change will need to come."
Tuesday's 7-1 semi-final thrashing at the hands of Germany is a result so astonishing it will leave a permanent scar on the lives of those who were on the receiving end.
Many years from now, some of those Brazilian players will still be looking back ruefully on the events of Belo Horizonte on 8 July 2014. It is cruel medicine - but perhaps necessary.
There is now no hiding place. Even the most blinkered Brazil fan can no longer point to the triumphs of the past and pretend there are no problems with the country's football.
The Brazilian club game is currently a shambles, both in terms of organisation off the field and ideas on it.
The country's economic boom and the strength of the currency left clubs paying wages that are massively higher than elsewhere in South America. But this huge pay differential is hard to detect when watching the Copa Libertadores, the continent's equivalent of the Champions League.
True, Brazilian clubs have won the competition in each of the past four years, but without ever dominating - and bar the compact, European-style Corinthians of 2012, all have come back from the World Club Cup with their tail between their legs.
This year Brazil has not managed to qualify a single team for the Libertadores semi-finals - a failing that is scarcely credible given the country's financial advantage.
Some feared that success for the national team in the World Cup would paper over the cracks. They need fear no more.

They may now even be able to rejoice that an age of extreme pragmatism has suffered a mortal blow.
For some time Brazil's coaches have argued that the type of football played by their much-loved 1982 side was no longer possible. Their justification was rooted in the physical development of the game. Players, especially central midfielders, needed to be bigger and stronger.
There was no point in playing a possession-based game. Instead matches would be decided on counter-attacks and set pieces. Where once Brazil beat their opponents with flow, now they won games on moments.
And then all such thinking was disproved by the Spain/Barcelona school.
As Pep Guardiola commented after his Barcelona side had thrashed Santos of Brazil in 2011, his team treated the ball the way his grandfathers told him that Brazil used to do.
With their little ball players wreaking havoc, Barcelona raised the bar.
Aspects of their game were assimilated - by the Germans, for example. Others concentrated on how to deal with them, using methods more imaginative than repeated fouling.
And while the game developed, Brazilian football stood aloof, staring at its own belly button, polishing its medals, encircled by its own certainties.

Only one thing is certain now - there is room for improvement.
Brazil's unlovely, unloved 2014 side have hit an all-time low. As former Brazil and Lyon midfielder Juninho Pernambucano said after the Germany game, something is wrong if their playmaker is the centre-back. It is all very well for David Luiz to be able to hit long, diagonal balls. But the absence of anyone in front of him to orchestrate the midfield passing is truly depressing - this, after all, is the country that produced Didi and Gerson, Toninho Cerezo and Falcao.
A landmark day for Brazil
It is the first time since 1938 that Brazil have lost a World Cup semi-final - they have progressed in their previous six.
Brazil failed to have a shot on target in the first half.
This game equalled Brazil's all-time biggest margin of defeat (they lost 6-0 to Uruguay in 1920).
Germany have now scored 223 World Cup goals, two more than Brazil who are in second place.
Over the next few days Brazil will lick its wounds and conduct its post-mortems.
But as soon as the Fifa circus leaves town the local championship starts up again - after a seven-week pause for the World Cup, the domestic action resumes next Wednesday.
Some might enjoy the change, convincing themselves that everything is all right with the world as long as, say, Flamengo are beating Botafogo.
But this is not a moment for denial.
It is a time for Brazilian football to rethink itself, to recapture parts of its historic identity and reframe them in a modern, global context - much as their conquerors in Belo Horizonte did after losing 5-1 at home to England in 2001.
The date 8 July 2014 was clearly a significant day for Brazilian football.
But only time will tell if it will go down as a sporting calamity, or the moment the greatest footballing power of all began to go in search of its missing mojo.
For the best of BBC Sport's in-depth content and analysis, go to our features and video page.