John Sheridan happy to wait for right Plymouth Argyle signing
Last updated on .From the section Football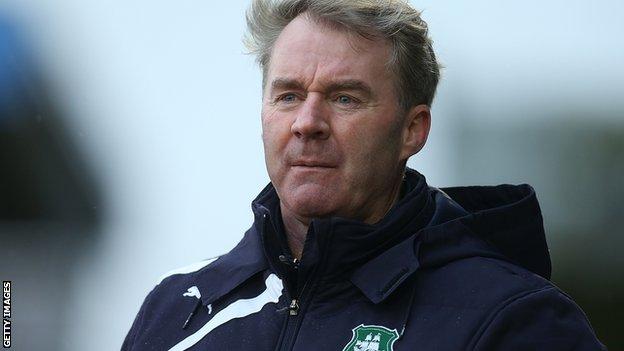 Plymouth Argyle manager John Sheridan says he is waiting for the right player to come along to replace former captain Conor Hourihane.
The 23-year-old last month.
"When you're talking to one or two they're still asking for the money that they were on at their last club," Sheridan told BBC Radio Devon.
"That's not the situation anymore - I've got a budget I have to stick to and a type of player I can afford."
Having as cover for goalkeeper Luke McCormick on Tuesday, central midfield is the only remaining area Sheridan sees as a priority to strengthen before the start of the season.
Alongside Bittner, Sheridan has brought in six other new faces to Home Park as the club look to mount a serious bid at making the League Two play-offs.
But the Argyle boss says he has not been helped by Plymouth's faraway location, which scuppered a season-long loan deal for a midfielder based in the north of England earlier this month.
"I'm getting a few knockbacks, but we'll carry on," Sheridan explained. "A lad we thought we were going to get, but the distance and where we are in the country has put him off.
"I understand that - it's a shame because I would have liked him to come. It would have been a loan deal for a year, but he's at his club and he wants to stay there.
"It's a lovely place to come, but you've got to want to play football.
"If you're married it's very difficult to come to an area.
"In football you're not going to stay at a club for five, six or seven years and that's the way football's gone.
"If you knew you were going to settle somewhere you might uproot and move the family, but it's very difficulty nowadays.
"You get your knockbacks but you just keep trying and try and get the right player you want."