Hibs fans' group eyes takeover bid
Last updated on .From the section Football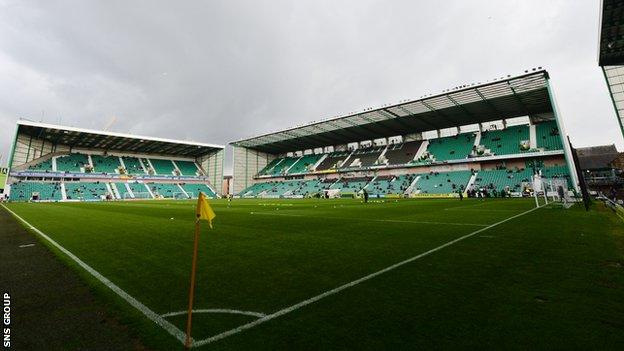 A group of Hibernian supporters aim to explore the possibility of fan control at Easter Road.
Having had their proposal turned down by club owner Sir Tom Farmer, those spearheading the campaign want to raise funds for a takeover.
The 'Forever Hibernian' project has set a target for supporters owning a 51% stake through a membership scheme.
Former midfielder Paul Kane is involved and said: "We are confident we can build a new future for Hibs."
Kane, who played close to 300 games for the Edinburgh club, was at the forefront of the drive to remove Rod Petrie from office following relegation to the Championship.
However, attempts to oust the chairman have proved unsuccessful.
Farmer has owned Hibs since 1991 when he stepped in to safeguard the future of the club after a takeover attempt from then Hearts chairman Wallace Mercer, who had hoped to merge the rival teams.
"We met with Sir Tom Farmer a couple of weeks ago and put in a proposal," said Kane. "That has been rejected at this stage, but the door has not been closed.
"We are now drawing up a proposal for a Newco Hibernian Fans Co-Operative to own the club and the stadium.
"The key point is the fans will own a 51% majority shareholding through a membership scheme and we will attract finance for the other 49%.
"We have already talked to potential investors in the business community who are Hibs supporters as well as other potential investors.
"We know we are going in the right direction and can reach an agreement with the club owner with both parties acting in good faith.
"Sir Tom Farmer has always said he saved Hibs for the community. Now is the time to establish his legacy for Hibs with the fans at the very heart of the club.
"We will present more details to the fans as soon as we can in the near future about the membership scheme. Overall, we are in for the long haul."