James Bittner: Plymouth Argyle deal is 'chance of a lifetime'
By Brent Pilnick
BBC Sport
Last updated on .From the section Football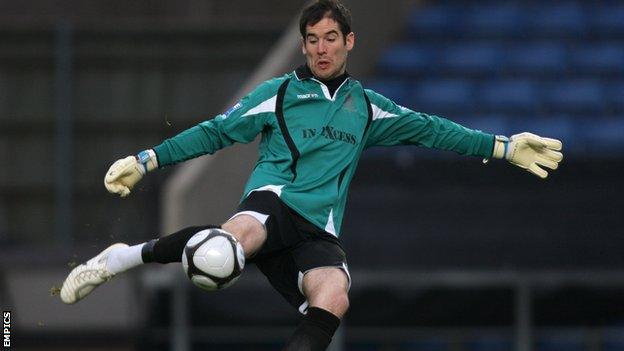 This summer has seen its fair share of multi-million pound transfers with Adam Lallana, and all commanding eight-figure transfer fees, and wages which are not far behind.
But what about those players lower down the leagues who are out of contract and just trying to get a role with a club which will pay the bills and put food on the table?
The summer can be the hardest time for an out of contract player, and one that knows that more than most is James Bittner.
The goalkeeper has been on the books of nine different clubs in the bottom two divisions of the Football League and the Conference, and has managed to get himself another year of work as back-up to first choice Luke McCormick.
"It's been a tough 12 months for me on the football stage so I'm dying to start and hopefully have a good year," said Bittner.
"It was a case of being a builder or being a coach. Trying to find a playing contract mid-season is an absolute nightmare.
"I enjoyed it, but the plan was to always try and get back to be a player.
"When I got the phone call last week it was the chance of a lifetime, back in the league and back at a big club like Plymouth as well."
After starting last season on a Bittner was forced to leave the club when their first-choice goalkeepers returned to fitness.
He eventually who have since as goalkeeping coach, a role he held until their untimely demise earlier this summer.
His summer is not unusual among footballers lower down the leagues as finances are squeezed ever tighter.
Fewer and fewer get deals that last longer than a season, meaning the summer is not just uncertain from a footballing point of view, but from a financial one as well.
"I've got a partner and two young kids," Bittner says.
"The bigger teams are getting bigger and the smaller teams are getting smaller.
"It's getting harder and harder each year for lower league footballers to find new contracts and find new clubs. It's getting to a point now where you're thinking, 'where will the next contract come from?'.
"Leaving Newport mid-season I found it so hard finding a playing contract it was a case of getting a 'normal' job or luckily I had the option of being a coach as well, so I took the coaching opportunity."
Bittner has played 255 games in a professional career that started 13 years ago.
He has often struggled to make his way into the first team - at three of the clubs he signed for, Bournemouth, Torquay United and Newport County, he never played a match.
But he has had experience, playing almost the entire season for Hereford in the Conference Premier in 2012-13 before
"Everyone wants to be a player for as long as they can and 32 is still relatively young for a goalkeeper, hopefully," he added.
"I played 40-odd games for Hereford the year before last and have played games recently."
But he faces a tough fight if he is to figure in Argyle's first team, with McCormick established as the number one between the posts.
"Luke's a hero here and he's been here for years and played in League Two, League One and the Championship," said Bittner.
"He's a great goalkeeper, a fan's favourite and also a nice lad as well. He'll start as first choice and my role is to push Luke and compete with Luke.
"But if I can impress I might get a chance."
And it is a chance that Bittner will try and grab with both hands, for while he has security for now, with just a 12-month deal at Home Park, come next summer who is to say he will not have to contemplate that move into the building trade once again?