Nigeria suspended from international football by Fifa
Last updated on .From the section Football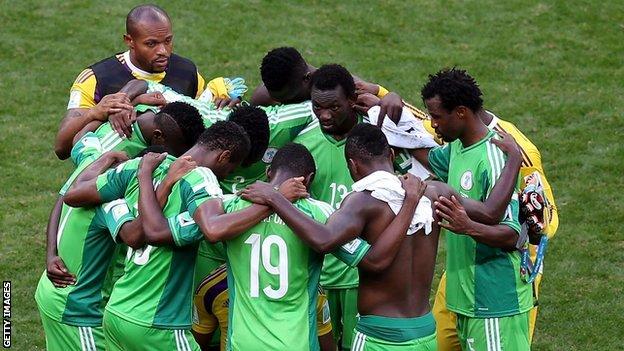 Nigeria have been suspended from all international football by Fifa amid allegations of government interference in its football federation.
The ban means no Nigerian team - including club sides - can play internationally.
Fifa had given Nigeria's government until Tuesday to reinstate the sacked Nigeria Football Federation (NFF) executive committee.
The NFF was dissolved last week and replaced by a sole administrator.
In a statement, Fifa - world football's governing body - said the suspension will be lifted once the "properly elected NFF executive committee, the NFF general assembly and the NFF administration are able to work without any interference in their affairs".
Fifa statement
"During the period of suspension, the NFF may not be represented in any regional, continental or international competitions, including at club level, or in friendly matches."
The most immediate effect is that Nigeria will not be entitled to participate in the upcoming Under-20 Women's World Cup, which starts on 5 August - should the suspension not be lifted by 15 July.
Nigeria's government had said their move was essential while legal proceedings against the country's football authority were ongoing, with NFF president Aminu Maigari arrested upon his return from the World Cup.
All this comes in the wake of a high court ruling which granted "an interlocutory injunction" to suspend Maigari, his executive committee and the NFF congress.
An extraordinary general assembly of the federation went ahead in Abuja on Saturday, which voted out the NFF leadership who have been accused of derailing the country's World Cup campaign in Brazil, despite Fifa's warning of a possible suspension.
The government says the NFF have sent documents to show that the general assembly was held according to Fifa statutes and so the vote to remove the board at that meeting should stand.
African champions Nigeria reached the second round of the World Cup in Brazil for only the third time in their history, after they also did so in 1994 and 1998.