World Cup 2014: Luiz Felipe Scolari undecided on Brazil future
Last updated on .From the section 2014 Fifa World Cup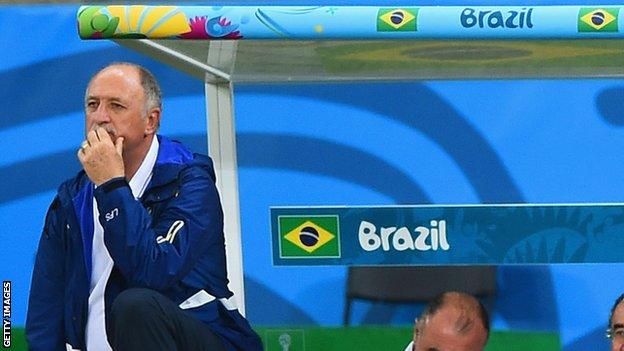 Luiz Felipe Scolari says there will be no decision on his future as Brazil coach until after the World Cup.
But he insists he will only think about his future after Saturday's third-place play-off in Brasilia.
"We still have work. We have a commitment with the CBF (Brazilian Football Confederation) until the end of the World Cup," Scolari said.
"And the end of the World Cup is Saturday. It is only after this game we will talk with the direction of the CBF, that's when we will decide."
Scolari, who led his country to the World Cup in 2002 before returning as coach in December 2012, has faced strong criticism after Tuesday's defeat in Belo Horizonte - Brazil's heaviest loss since they were beaten 6-0 by Uruguay in 1920.
"Go To Hell, Felipao," read the headline on the front of the daily O Dia newspaper, which printed a photograph of the manager holding up seven fingers during the game.
"He was responsible for the worst humiliation of the national team in its century-old history," read the accompanying article, noting that Scolari had once said that those who don't like his style can "go to hell".
Former Brazil winger Jairzinho, a prominent member of his country's 1970 World Cup win, told BBC Sport: "This is not my team. I don't like Filipao. He is not my favourite coach.
"It is not a good system. The team play a long ball every time. They are too defensive. It's impossible."
Brazil were 5-0 down at half-time after conceding four goals in six minutes.
"We had a disaster in six minutes but it happened," Scolari said. "Let's work for Saturday's game.
"If I could explain what happened in those six minutes I would answer but I do not know.
"I cannot explain, I will not justify. An error occurred and this error was fatal."
For the best of BBC Sport's in-depth content and analysis, go to our features and video page.