World Cup 2014: How Argentina crushed Dutch dreams
Last updated on .From the section 2014 Fifa World Cup
The first World Cup semi-final to end goalless at least afforded the spectacle of a nerve-jangling penalty shootout.
Dutch manager Louis van Gaal admitted he wanted to call on substitute goalkeeper Tim Krul, as he had done in the quarter-final victory over Costa Rica, but had used all three replacements.
The result was a fourth win in five World Cup shootouts for Argentina, who will meet Germany in a repeat of the finals of 1986 and 1990.
Here is the story of the shootout told through the eyes of BBC Sport's punditry team.
Ron Vlaar's effort saved - 0-0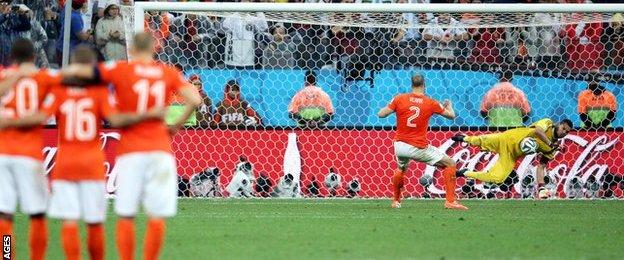 Chris Waddle: "I've got to say I feel for Ron Vlaar because he had an excellent game at centre-back."
Martin Keown: "You just knew Vlaar was going to miss. You would expect Romero to save it."
South American football expert Tim Vickery: "Sergio Romero has been a reserve all season at Monaco, and his selection was one of the controversies of Alejandro Sabella's team. Romero is untidy but he has come up big in the big moments in this tournament, especially in this penalty shootout."
Messi beats Cillessen - 1-0 to Argentina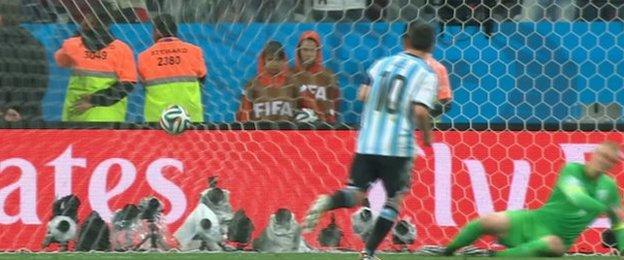 Chris Waddle: "Lionel Messi had a quiet game but he was very cool. He sent the keeper the wrong way and just passed the ball into the net, as he normally does."
Mark Lawrenson: "I felt that Messi almost waited for Cillessen to make his move."
Arjen Robben fizzes home - 1-1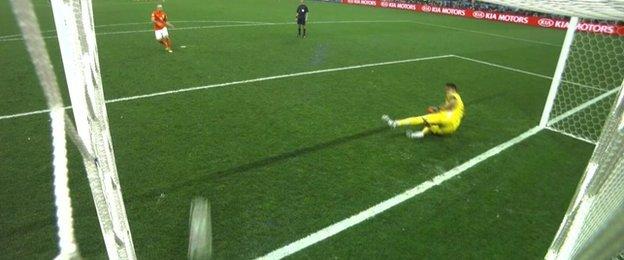 Chris Waddle: "That was quality by Arjen Robben. He sent the keeper the wrong way."
Ezequiel Garay's thumper - 2-1 to Argentina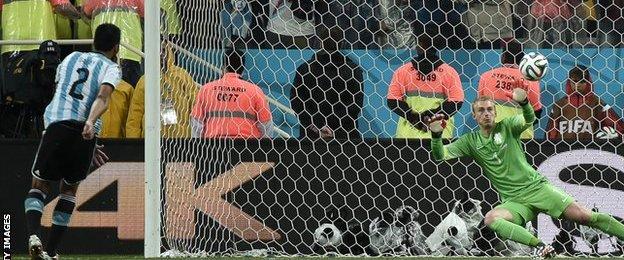 Chris Waddle: "You have to say that was top class. Garay went up there and put his foot straight through it. He smashed it into the roof of the net and nobody was going to save that."
Mark Lawrenson: "You just do not save those - he smashed it into the roof of the net."
Romero's stunning Sneijder save - 2-1 to Argentina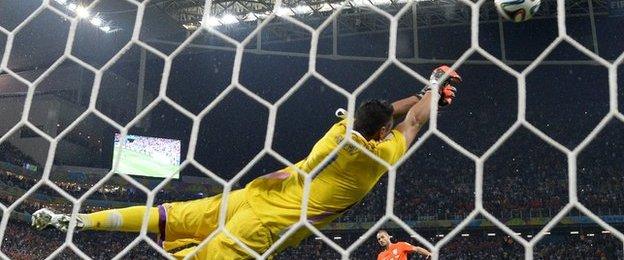 Chris Waddle: "Wesley Sneijder went the same way in the shootout against Costa Rica in the last round and I wonder if Sergio Romero watched the videos of that and gambled on him going there again. Maybe they did their homework on him."
Mark Lawrenson: "Sneijder took only four steps to the ball, I wonder if that had anything to do with the fact it was saved. Once you dive the right way, that is a great height for a goalkeeper."
Aguero keeps his nerve - 3-1 to Argentina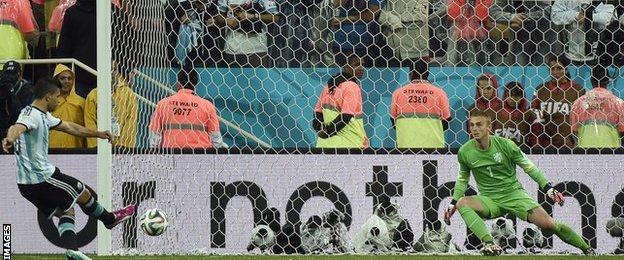 Mark Lawrenson: "Cillessen dived over it and he will feel he should have saved it."
Martin Keown: "Cillessen wanted that big save, and it wasn't there. He was hurt badly when he was taken out of the penalty shootout against Costa Rica."
Kuyt refuses to buckle - 3-2 to Argentina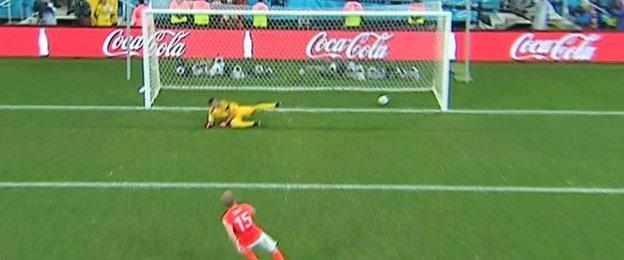 Chris Waddle: "That was class. A lot of pressure on Dirk Kuyt but he kept his head and side-footed to send the keeper the wrong way."
Relaxed Rodriguez seals final spot - 4-2 to Argentina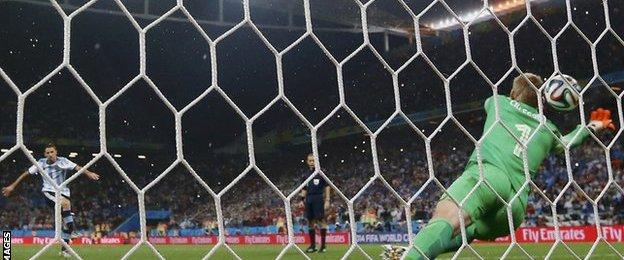 Chris Waddle: "The keeper will be disappointed because that was the one he could have saved, with strong wrists. It is the end for Holland, who came so close again. They always seem to get near but they have let themselves down again.
"Argentina did not play well but I just don't think the Dutch had anything in the tank. Their big stars - Arjen Robben and Wesley Sneijder - looked leggy, and Robin van Persie never looked right."
Would Tim Krul have saved the Dutch?
"I would have done it but I had already used my three substitutes so I couldn't do it," said van Gaal when asked if he'd thought about bringing on Krul.
The Newcastle keeper saved two penalties against Costa Rica in the quarter-final and Cillessen, who plays for Ajax, has faced eight penalties in the Dutch League, three in the Champions League and six in World Cup football but has saved none of them.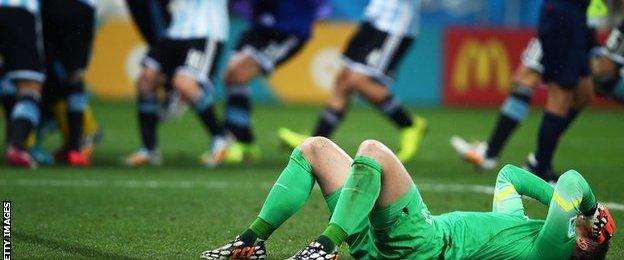 Martin Keown: "Tim Krul in the last shootout was in the players' faces. Cillessen seems like a nice boy and got on with the job. It is a bit of gamesmanship, annoying for the penalty taker and it worked for Tim Krul. I feel if Tim Krul had been in goal, Holland would have gone through."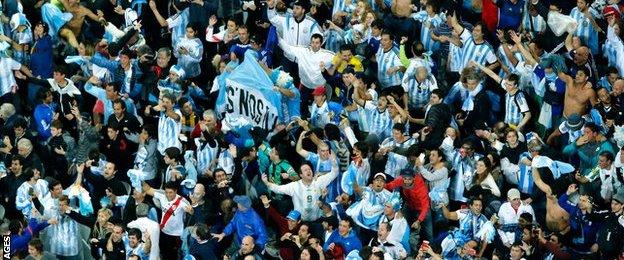 Germany v Argentina - Sunday, 13 July
Chris Waddle: "You have got to favour Germany now - there has been extra time and travelling for Argentina, who have played a day later anyway. It's definitely there for Germany to win.
"The way Argentina play, they don't get best out of Lionel Messi because he's always too deep. They need him to play at number nine like he does at Barcelona. Let him play right up against centre-halves because he has got that bit of magic.
"For Argentina, he seems to pick up the ball in areas where there are lots of people around him and he does not seem to be able to get away from people."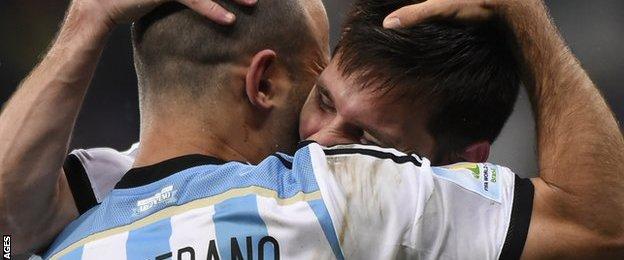 Global reaction to Argentina's penalty joy
The Brazilian media concentrated on the fact that their bitter rivals Argentina are in the final, and signalled their support for Germany in Sunday's game in Rio's Maracana.
"The nightmare continues," wrote O Dia newspaper in its online edition.
"In addition to not being able to dream about a sixth title, Brazilians will have to live with the real possibility of one of its main rivals triumphing in the ultimate football temple," it said.
The sports daily Lance used a Twitter-like hashtag for its headline, #SomosTodosAlemanha! - which translates as "We Are All Germany".