World Cup 2014: Argentina victory would complete Brazil's humiliation

By Phil McNulty
BBC Sport chief football writer in Sao Paulo
Last updated on .From the section 2014 Fifa World Cup903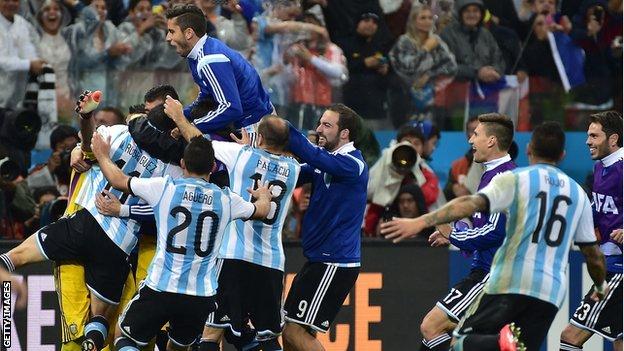 If Brazil thought the country's World Cup wounds could not go any deeper, that the sense of national despair could not become more acute, the cheers echoing around the concourses of Arena de Sao Paulo sounded a warning that the worst may be yet to come.
As the rain finally ceased and Argentina won their World Cup semi-final against the Netherlands on penalties, the celebrations were in full swing with sights fully set on Sunday's meeting with Germany.
The South American side's fans repeatedly counted in increasingly deafening volume to seven - the number now synonymous with Brazil's humiliation after their worst ever defeat in that 7-1 loss to Germany in Belo Horizonte.
Hastily assembled banners repeating the insult were in evidence in Argentina's section of support in Sao Paulo on Wednesday. They do not intend to let their fiercest rivals forget that day in a hurry - and winning the World Cup at the Maracana would only serve as another painful reminder for the hosts.
There was no mistaking the added pleasure the prospect of their captain Lionel Messi lifting the World Cup in Brazil's own iconic arena would give Argentina. It would be a show of sporting strength on enemy territory that would sustain them for generations.
And for the Barcelona forward and Argentine talisman to lead his country to their first World Cup triumph since the 1986 win in Mexico's Aztec Stadium against West Germany would also be heavy with symbolism given the tribal rivalry with Brazil's own favoured son Neymar.
Neither set of supporters would ever forget the image of Messi taking possession of the World Cup in an arena rich in the history of Brazil's own number 10s such as Pele, Zico and latterly Neymar. It would be as close to perfection as was winning it in their own River Plate Stadium against the Dutch in 1978.
Miguel Angel Vicente, from Buenos Aires-based newspaper Diario Clarin, told BBC Sport: "Of course it is a special feeling to win the World Cup - but to come to a rival like Brazil and win in their country would be extra special.
Match facts

Argentina have progressed from all four of their World Cup semi-finals.

Argentina have not trailed at any point during this World Cup.

Argentina have now won four of their five penalty shootouts at World Cup finals.

It will be the third time that Argentina and Germany have contested the World Cup final (as West Germany in 1986 and 1990) - a record.

Lionel Messi did not touch the ball in the penalty area during the 120 minutes against the Dutch.

Seven of the 14 knockout games at this tournament so far have gone to extra time, the most since 1990 when eight did.
"In Argentina, the fans have taken pleasure from the progress of the team. It is not a great team and we think Germany is the best team at the World Cup but this is one match - the dream lives on and to win the World Cup in Brazil would make the whole nation very proud."
He added: "Argentina's supporters will enjoy being in the World Cup final in Brazil when Brazil are not there."
There were other inspiring factors at work for Argentina too. There was a moment of appreciation for the legendary Argentina-born Alfredo Di Stefano, who died this week aged 88.
Coach Alejandro Sabella also spoke of the "tragic event" that was the death of Argentine journalist Jorge "Topo" Lopez from La Red Radio, who died on Wednesday when the taxi he was travelling in was hit by a stolen vehicle in Sao Paulo.
The World Cup now moves on to its conclusion - and judging from the noise generated by Argentina fans as their players addressed the media in Sao Paulo, they cannot wait to return to Rio.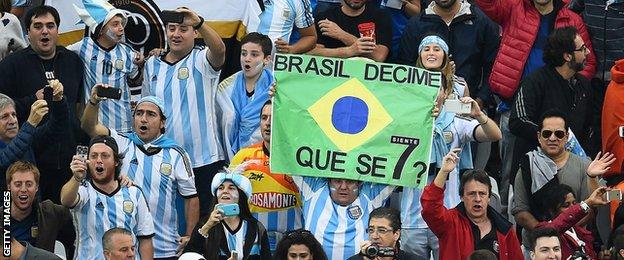 Demand for a place inside the Maracana will be high on Sunday and just minutes after the final whistle on Wednesday there was talk of tickets costing $20,000 (£11,500) in secondary markets.
Sabella's side finally overcame their Dutch opponents to set up a repeat of the 1986 and 1990 World Cup finals (the latter the most recent occasion that Germany - albeit pre-unification - have lifted the trophy) on a night that could not have not have been in sharper contrast to the seismic events at the Estadio Mineirao 24 hours early.
While Brazil's thrashing by Germany offered goals, drama, and the full range of human emotions, this was a night for attrition, much of it dull.
It was a night for the tough tackling of defensive midfielder Javier Mascherano rather than the inspiration of his Barca team-mate Messi - graft in the Sao Paulo rain rather than flowing football in the warmth of Belo Horizonte. Inside Arena de Sao Paulo, Brazil's famous yellow colours - so prominent at almost every game - appeared to have been airbrushed out of the scene. Their party is over.
And in a tactical battle that only added to the entertainment deficit, Dutch coach Louis van Gaal's plan to subdue Messi by shadowing him with first Nigel de Jong and then Jordy Clasie was so successful that the Argentine captain did not touch the ball in the penalty area through the 120 minutes before penalties.
So Germany will be favourites on Sunday - but Argentina have a tough spine to complement the brilliance of Messi. They have progressed from all four of their World Cup semi-finals and have never trailed at this tournament.
For Van Gaal and the Dutch, there was only sadness. After losing to Spain in the final four years ago, they are the nearly men again.
There was sympathy in particular for Aston Villa defender Ron Vlaar, whose magnificent performance did not deserve the fate of missing the first Dutch penalty, especially as Van Gaal seemed to suggest the dubious honour only befell him because two other unnamed team-mates declined.
And the struggles of Robin van Persie, who looked short of fitness, meant he had to be removed, denying Van Gaal the option of introducing substitute goalkeeper Tim Krul in the hope he could repeat his penalty shootout heroics against Costa Rica. First-choice keeper Jasper Cillessen had never saved a professional penalty before the shoot-out - he is still waiting.
As Van Gaal prepares for the meaningless World Cup window dressing of Saturday's third-place play-off against Brazil in Brasilia before he takes up the manager's role at Manchester United, the World Cup reaches its climax.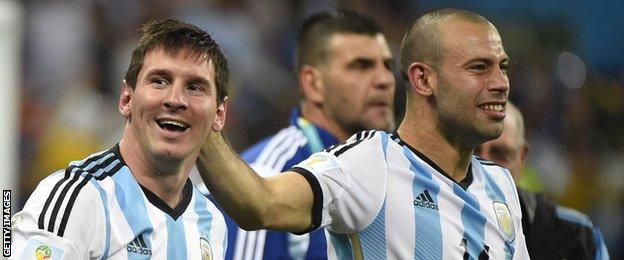 And for Messi, in particular, this is the stage to confirm his status as the world's greatest player. Some still questioned him, wrongly, before this World Cup on the grounds he had never quite distinguished himself at a major tournament. Winning one closes the debate.
He did, however, look jaded against the Dutch, as Argentine journalist Vicente acknowledged.
"We need Messi in his best condition," he said. "Now he is tired. In the first three matches of the World Cup he was very important but now he is not the same. Mascherano is the support for the team."
And would a win place him alongside Maradona, who also won one World Cup in Mexico in 1986?
"It is a very difficult question. They are different players. Maradona has different characteristics but I think Messi needs this title."
The elements are in place for the finale this World Cup deserves but for Brazil there is still that lingering fear that their pain may not be over.