World Cup 2014: Study reveals how teams have been perceived
Last updated on .From the section 2014 Fifa World Cup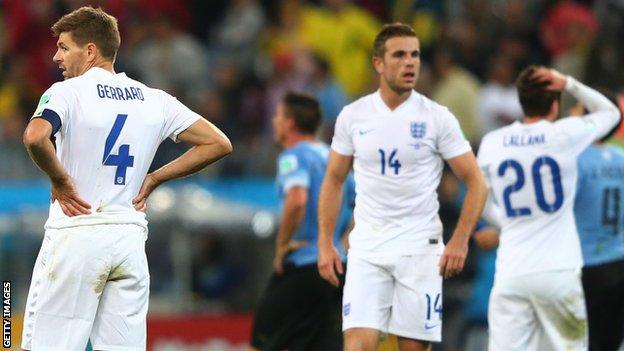 Experts have compiled a database which reveals the words most frequently used to describe countries at the World Cup.
The Cambridge University Press study of a range of media sources found the words most associated with England were 'exciting', 'disappointing' and 'inexperienced'.
Germany were described as 'powerful', 'focused' and 'committed', with their fellow finalists Argentina being labelled 'confident' and 'unconvincing'. Hosts Brazil were 'emotional', 'popular' and 'desperate'.
The multi-billion word database of written and spoken English language was designed to give an indication of how each team was perceived by media and fans alike.
Earlier research by the organisation found that confidence levels in England were rated at 77 out of 100 on the day of their opening match, which ended in a 2-1 defeat by Italy.
Words used the most to describe countries

Team

Word 1

Word 2

Word 3

Algeria

determined

pride

together

Argentina

confident

flair

unconvincing

Australia

positive

effort

spirited

Belgium

flair

dark horse

talent

Bosnia and Hercegovina

injustice

defensive

forceful

Brazil

emotional

popular

desperate

Cameroon

hapless

battle

chaotic

Chile

attacking

tactical

thrilling

Colombia

unpredictable

exciting

attacking

Costa Rica

dynamic

pace

battle

Croatia

dangerous

tactical

competitive

Ecuador

inconsistent

strong

potential

England

exciting

inexperienced

disappointing

France

organised

defensive

exciting

Germany

powerful

focused

committed

Ghana

money

strike

powerful

Greece

defensive

cautious

stubborn

Honduras

physical

spirit

robust

Iran

defend

hope

drought

Italy

slow

vulnerable

pessimism

Ivory Coast

pace

physical

struggle

Japan

possession

disappointing

frustrated

Mexico

determined

tactical

talented

Netherlands

rampaging

strategy

stunning

Nigeria

inexperienced

speed

tough

Portugal

frustration

ego

disappointing

Russia

drab

error

mediocre

South Korea

woeful

failure

embarrassing

Spain

defensive

poor

humiliation

Switzerland

pace

difficult

talented

United States

determined

heroic

courageous

Uruguay

bite

disgrace

do-or-die

Source: Cambridge University Press