Nigerian sports ministry rejects Fifa's reasoning for ban
Last updated on .From the section Football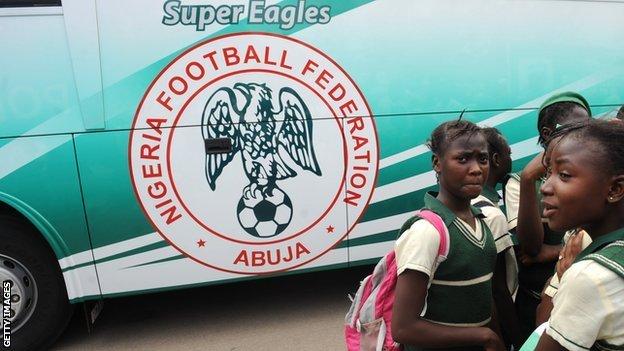 Nigeria's sports ministry has rejected Fifa's assessment that the government has interfered with the running of the country's football federation.
Fifa has given Nigeria's government until Tuesday to reinstate sacked Nigerian Football Federation members.
But Nigeria's National Sports Commission (NSC) said on Thursday that the issue is a result of a court action and "nothing to do with government".
It stated: "The National Sports Commission has received the news of the suspension of the NFF by Fifa on the grounds of an alleged court order which the world football body has interpreted as government interference in the affairs of the football house.
"The National Sports Commission wishes to state that the said court action brought against the NFF followed an internal crisis within the football family and has nothing to do with government.
"While Fifa has stated that unless the court action is withdrawn, the suspension of the NFF will not be lifted, it is pertinent to state that neither the NSC nor government is involved in the court process."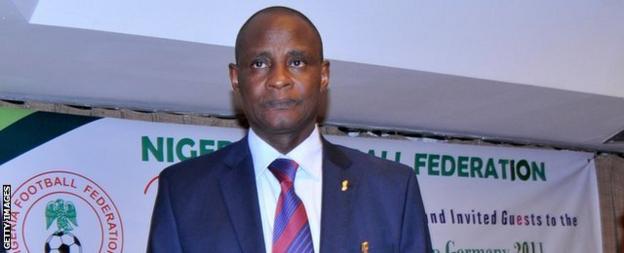 The NSC added that it believes the ban is "a procedural practice by Fifa each time it feels that there is an alleged interference by government".
It also urged "Nigerians to remain calm as efforts are being made to ensure that the suspension is lifted as soon as possible; as appropriate representation has been made to Fifa to present the true situation of the crisis within the football family".
The NFF is currently under the control of a sole administrator, a move the government said was essential while legal proceedings against the country's football authority were ongoing, with NFF president Aminu Maigari arrested upon his return from the World Cup.
It followed a high court ruling which granted "an interlocutory injunction" to suspend Maigari, his executive committee and the NFF congress.
An extraordinary general assembly of the federation went ahead in Abuja on Saturday, which voted out the NFF leadership who have been accused of derailing the country's World Cup campaign in Brazil, despite Fifa's warning of a possible suspension.
The government says the NFF have sent documents to show that the general assembly was held according to Fifa statutes and so the vote to remove the board at that meeting should stand.