World Cup 2014 Argentina v Germany: Penalty shootout trends
Last updated on .From the section 2014 Fifa World Cup
Germany and Argentina face each other in Sunday's World Cup final knowing there is a chance a penalty shootout could decide the destination of the famous gold trophy.
There have already been four shootouts in the 2014 World Cup in Brazil, a joint record along with Italia 1990 and Germany 2006. Another one in the final at the Maracana would make finals history.
Argentina have played in the most World Cup shootouts, winning four of their five, while Germany have a 100% record, with four wins from four.
BBC Sport analyses the penalty shootouts in Brazil 2014 and compares them with historic shootout data to see what the sides would need to do to win should the final be decided from 12 yards.
Where to put your penalty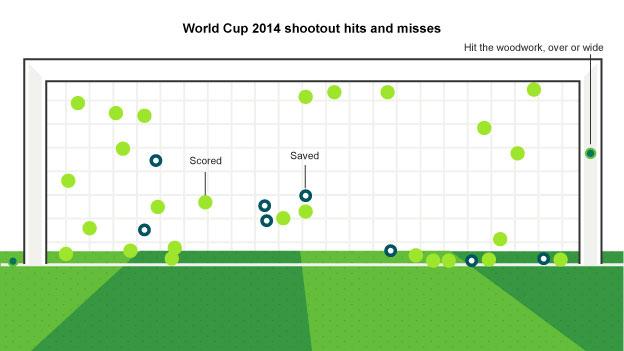 How hard can it be? With a goal standing eight feet high and eight yards wide just 12 yards away from you, surely a professional footballer would be able to confidently step up and fire the ball past the goalkeeper? With as many as 29.2% of penalties missed in shootouts since their introduction to the World Cup in 1978, it would seem not.
One place not to put the ball is wide of the goal, as Willian found out to his peril earlier in this tournament. The Brazil midfielder was the only player to roll a penalty wide this tournament when he missed the target in the last-16 tie against Chile. The only other player to be off radar in Brazil was Chile's Gonzalo Jara in the same match, when his decisive kick struck the post to send Brazil through.
World Cup penalty shootouts

Team

Played

Won

Lost

Argentina

5

4

1

Germany

4

4

0
The only other player in World Cup history to shoot wide in a penalty shootout was Spain's Juanfran in the last 16 against the Republic of Ireland in 2002 in South Korea and Japan. Like Willian's it didn't prove too costly as Spain went on to progress.
If Argentina and Germany study previous penalty shootouts in the World Cup they will see the place to put the ball is high into the net. In previous tournaments though, 6.3% of penalties were aimed too high and either went over or hit the bar - remember Italy's Roberto Baggio in the 1994 final - but so far in Brazil no one has skied their penalty.
Find the corner and you find the back of the net almost without fail, while it seems keeping the ball low does not guarantee success. Goalkeepers in Brazil have dealt well with penalties aimed down the middle, while they have made more saves to their right.
So the perfect penalty? High into the net or in the very corner of the net. Anywhere else and you have to hope the goalkeeper goes the wrong way.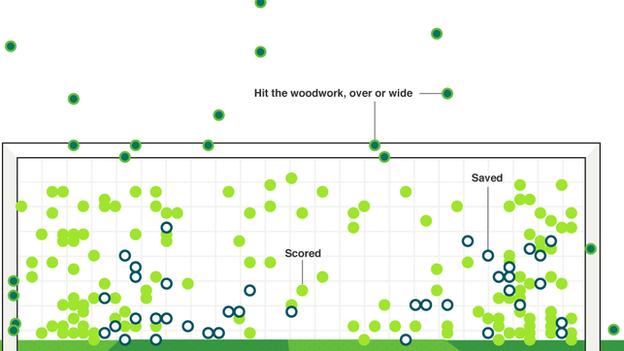 Listen to an expert
Former England striker Alan Shearer: "You're representing your country and the whole nation is watching you. The pressure is huge.
"Your mind starts to play tricks on you. That walk is a long walk and a million things go through your mind. You heart beats faster but you've got to believe in what you've trained to do.
"The goalkeeper will play mind games, which we saw with Tim Krul. If I'd been in that situation against Krul I'd have waited 10 yards outside the box until he was back on his line - you've got to stay in control of the situation.
"I used to line the ball up, look at the opposite side to where I was going to put it. And you should never, ever change your mind.
"The last thing that goes through your mind? Don't miss."
| Brazil 2014 | Scored | Missed | Success rate |
| --- | --- | --- | --- |
| Right foot penalty | 17 | 8 | 68% |
| Left foot penalty | 9 | 2 | 82% |
Keep your nerve
So is it all in the mind? The statistics surrounding the decisive penalty kicks would suggest some players simply can't take the pressure.
In this tournament the Netherlands' Dirk Kuyt was the only player to score from the spot when missing would lead to his side's elimination. The other two players who needed to score to keep their country in with a chance, Chile's Gonzalo Jara and Costa Rica's Michael Umana, both had their penalties saved.
This is in line with the historic data, as prior to Brazil 2014 only 44% of penalties were scored when missing would ensure elimination.
Meanwhile this tournament has seen a 100% conversion rate when scoring a penalty would win the shootout. Both Costa Rica's Umana and Argentina's Maxi Rodriguez kept their cool to take the glory by sending their team through. Before the 2014 World Cup, 93% of penalties were successful when scoring would win the shootout.
Give a player a sniff a glory and they are more than likely to take it. A whiff of failure though and that long walk from the halfway line looks as though it suddenly becomes a lot harder.
Penalty facts

Of the opening 10 kicks, the third penalty has been missed most in this tournament. Prior to 2014 the eighth penalty had been missed most.

European teams have won five out of 13 penalty shootouts against countries from other continents.

Two World Cup finals have been decided on penalties, with Brazil winning in 1994 and Italy victorious in 2006.

19.7% of all knockout World Cup matches since 1978 have been decided by penalty kicks.
Go first or second?
Prior to Brazil 2014, any manager with a knowledge of previous tournaments would have been desperate to win the toss and opt to take the first kick in the shootout.
The last seven shootouts, before this tournament had all been won by the team going first. The last team to win when going second were Spain against the Republic of Ireland in 2002.
It looked as though that pattern would continue when Brazil and Costa Rica won shootouts in the last 16 after taking the first penalty but the Netherlands and Argentina have disproved that theory, winning the last two shootouts after taking the second penalty.
Having said that, with 82% of the last 11 shootouts won by the team going first, it could still be a good toss to win.
World Cup penalty shootouts

Year

Number of shootouts

Penalty success rate

1978

0

N/A

1982

1

75%

1986

3

77.8%

1990

4

73.7%

1994

3

62.1%

1998

3

71.4%

2002

2

68.4%

2006

4

63.6%

2010

2

77.8%

2014

4

72.2%
Bring on a substitute goalkeeper?
Brazil 2014 saw a first in the history of World Cup penalty shootouts when Netherlands coach Louis van Gaal took the unprecedented step of substituting his goalkeeper, Ajax's Jasper Cillessen, and sending on Newcastle's Tim Krul at the end of extra time in the quarter-final against Costa Rica.
Krul, who is 6ft 4in compared to Cillessen's 6ft 2in, then saved two spot-kicks as the Dutch won the shootout 4-3.
Match of the Day presenter Gary Lineker, said: "What a performance, and what a piece of management by Louis van Gaal. We said he would live or die by that decision, well he lives and he lives into the semi-finals."
Van Gaal wanted to do the same in the semi-final against Argentina but had already used his three substitutes as his side lost the shootout, with Cillessen not making a save.
So will Argentina or Germany be warming their substitute goalkeepers up if Sunday's final edges towards the dreaded penalties? With both understudies smaller than their side's number ones you would expect not.
The shootouts in 2014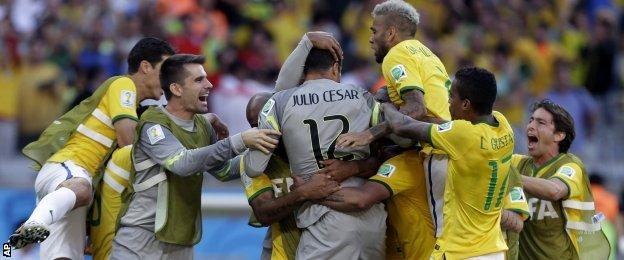 Brazil 1-1 Chile (3-2 pens): Brazil secured a dramatic penalty shootout win against Chile to reach the last eight and set up an all-South American quarter-final against Colombia.
Goalkeeper Julio Cesar was the hero, making two crucial spot-kick saves, to thwart a relentless Chile side who were denied victory themselves by the woodwork with seconds to spare in extra time. Read the full report here.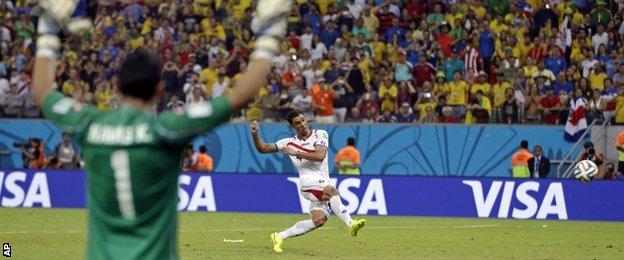 Costa Rica 1-1 Greece (5-3 pens): Costa Rica reached the quarter-finals of the World Cup for the first time in their history after beating Greece 5-3 in a penalty shootout in Recife.
Costa Rica, down to 10 men for almost an hour after Oscar Duarte's dismissal, scored their first four spot-kicks. Theofanis Gekas missed for Greece, and Michael Umana settled the tie. Read the full report here.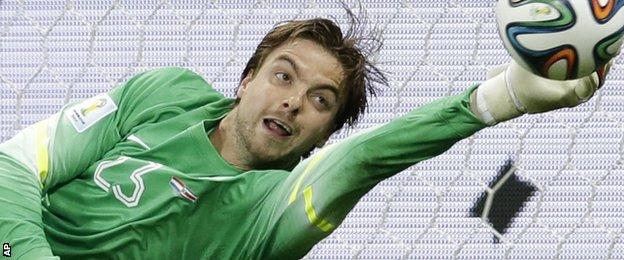 Netherlands 0-0 Costa Rica (4-3 pens): Goalkeeper Tim Krul came off the bench late in extra time and saved two penalties as the Netherlands beat Costa Rica in a shootout to set up a World Cup semi-final against Argentina.
Newcastle's Krul saved from Bryan Ruiz and Michael Umana to send the Dutch through after the game finished 0-0. Read the full report here.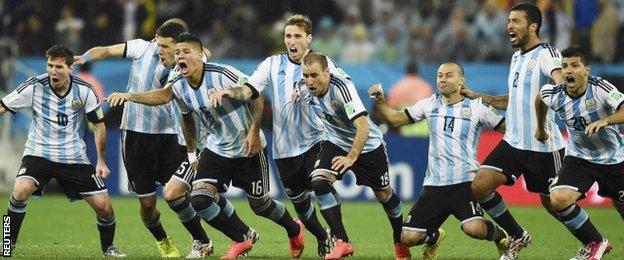 Netherlands 0-0 Argentina (2-4 pens): Argentina set up a World Cup final against Germany at the Maracana after winning a penalty shootout to eliminate the Netherlands.
Goalkeeper Sergio Romero was the hero with penalty saves from Ron Vlaar and Wesley Sneijder, while opposite number Jasper Cillessen was unable to repeat the feats of his deputy, Tim Krul, in the quarter-final win against Costa Rica. Read the full report here.
You can read a guide on how to take the perfect penalty here.