Bangor City's Neville Powell calls for Welsh Premier changes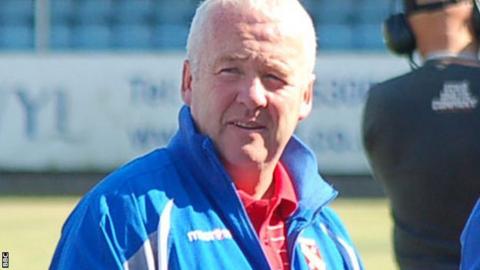 Bangor City boss Neville Powell says the Welsh Premier should start every year in July, not August, following his side's Europa League exit.
The Citizens were beaten 8-0 on aggregate by Iceland's Stjarnan in the first qualifying round.
Aberystwyth and Airbus UK also bowed out and Powell believes changes are required,
"I think you've got to look at changing something, whether it's starting the league six weeks earlier," he said.
"I've been managing and playing for 30 years and we've played through the winter, but I think football's changing now and sometimes you've got to maybe change with it."
Powell's side lost 4-0 in the second leg of their first qualifying round against the Icelandic side who had won by the same scoreline in the first leg a week earlier.
Airbus UK Broughton lost 3-2 on aggregate to FK Haugesund of Norway while Derry City beat Aberystwyth Town 5-0 to complete a 9-0 aggregate win.
Aberystwyth manager Ian Hughes had said before the game that the Welsh Premier League should consider moving to the summer to help clubs playing in European competitions.
Attempts to change the Welsh Premier League's season have previously been resisted by member clubs.
League secretary Gwyn Derfel said any changes would take a while to implement.
"Now might be the time to consider a change if that's the general consensus of the clubs," he said.
"But one thing as the league secretary I will say is it's not going to be change in the very near future.
"If we do come to a collective decision then we're going to make sure that the change is done professionally and properly and there is no knee-jerk reaction.
"The [Europa League] results were not good at all, but we have a responsibility as the association and as the clubs to do what's best for our member clubs."