Alan Hansen: TV pundit bows out following World Cup final
Last updated on .From the section Football
Legendary football pundit Alan Hansen made his final appearance for the BBC on Sunday during the World Cup final in Rio, which saw Germany beat Argentina 1-0.
During the period, Hansen has worked with presenters and pundits including Des Lynam, Gary Lineker, Mark Lawrenson and Jimmy Hill, becoming a voice of authority on the English game in the process.
A distinguished Liverpool career over 14 years, including eight league titles, two FA Cups and three European Cups, left the Scottish-born defender thinking he would have plenty of career options upon retiring from football.
He had told Liverpool he was not interested in succeeding Kenny Dalglish as manager after his departure in 1991, despite being on the club's shortlist.
His reluctance was born out of the extreme tension he felt as a player and a concern that the intensity of such emotion would only increase with a move into management.
Despite openly admitting he did not like football pundits, a move into the media arrived without planning and his place on Britain's most-watched football show was as consistent as his playing career, which started at Partick Thistle in 1973.
During a special documentary to mark his retirement, Hansen sheds light on the trauma of captaining Liverpool through the Hillsborough tragedy, homesickness and how his punditry career sky-rocketed with the uttering of a certain line in 1995.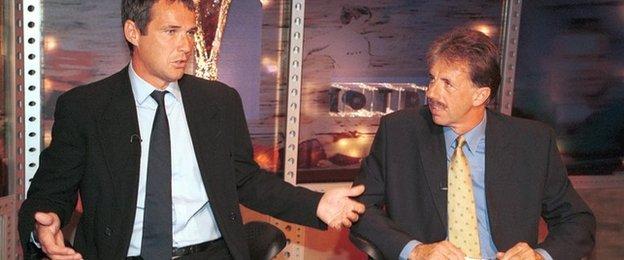 What they think of Hansen
Des Lynam: "I couldn't believe how nervous he was. This great star of football who had won the league championship untold times. He came on the show as nervous as a cat. I think he's been the star of the show down the years."
"Match of the Day is such an important show and you always felt that what Alan Hansen said was the final word, that was the authority," said former Manchester United defender Gary Neville. "You almost forget he was a player with how important he has been to television."
Jamie Redknapp: "If Alan were to say after a game 'Jamie Redknapp played well' I was so happy. That made me feel a million dollars. It was an acknowledgement that you had done well, it would mean so much."
"He will be remembered for his deep voice and that shrewd observation of football and also for his opinions," said BBC commentator John Motson. "They were hard and firm and he never bottled it."
Phil Neville: "He is an iconic figure at the BBC and one that every pundit getting into the game aspires to be like."
"I think Alan could have made a good manager," said Crystal Palace manager Tony Pulis. "His knowledge of the game, the way he puts himself across, is absolutely first class. He is one of the people who when I sit down at home and watch Match of the Day, I will listen to."
Hansen's guide to no-nonsense football terms

"Indecision is final"

"Terrible defending"

"Power pace and passion"

"Effort, attitude and commitment"

"Diabolical"

"Abysmal"
Hansen on management
Hansen turned down the chance to manage Manchester City in 1995 but it was following the resignation of Dalglish at Liverpool in 1991 which made a natural progression into a managerial role seem odds on.
"I came back to the training ground and I was 6-4 on for the job," he says. "I spoke to the chief executive Peter Robinson and said am I in the frame. He said 'yes' and I said well I don't want it. I just never fancied it.
"I had realised at the time that if I was feeling the pressure as much as I did, as a manager you can multiply that by a hundred."
Choosing football over golf: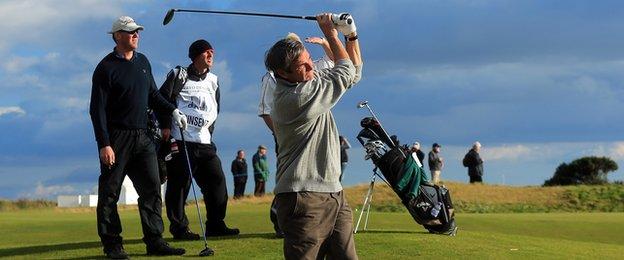 "Golf has always been my first love. I stopped playing football between the ages of 15 and 17 to concentrate on playing golf. My brother was playing football at the time and he thought I was crazy. My father wanted me to be a footballer so just to placate him I went on trial at Hibs when I was 17. It was a week before I was playing in the Scottish Boys' Strokeplay at Montrose.
"Eddie Turnbull, who was the Hibs manager, brought me into his office after five days and said he wanted to sign me on professional terms. I said: 'What, I'll just pack in playing golf? I'm going to Montrose to play in the Scottish Boys' Strokeplay, I'm never playing football again.' He said: 'Are you an idiot?'"
Scared at Liverpool: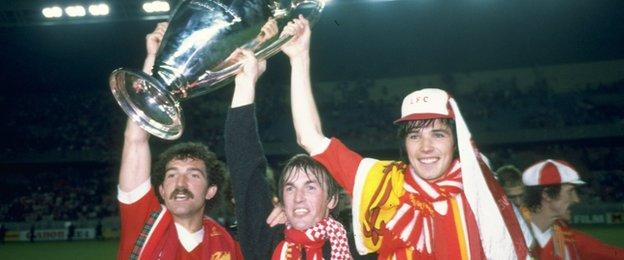 "I went to Liverpool at 21. I was totally inadequate. I felt out of my depth and I was so nervous about going there, I didn't want to be there. I didn't want to leave Scotland.
"The more experience I got at Liverpool the more I thought the nerves would disappear. They didn't, they got worse. In 1977 they thought I was the coolest character. I never warmed up and I'd sit in the dressing room holding the programme singing the Billy Joel song Don't Go Changing It. They'd look at me and go: 'That's unreal for a kid,' but underneath I was scared. As soon as I got down the tunnel and touched the 'This is Anfield' sign there wasn't a nerve in my body."
On Match of the Day: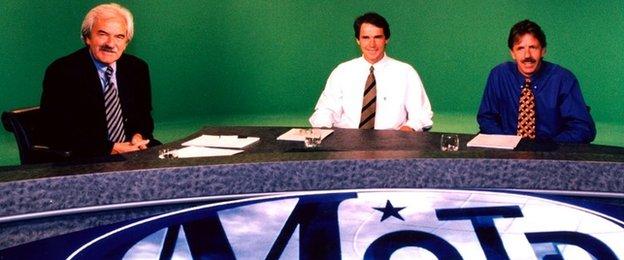 "I worked with a lot of good people. Des Lynam was the best, I was fortunate to have him.
"As a pundit it helps if you've been a top-class player and won a bit, it also helps if you're forthright and you speak your mind. Before I became a pundit I never liked any of them. I always thought they never knew what they were talking about.
"I thought I wasn't going to like Jimmy Hill, but within five minutes I loved him."
You can't win anything with kids...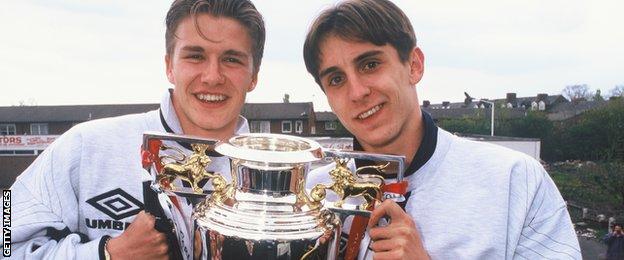 Hansen in 1995: "I think they've [Manchester United] got problems. I wouldn't say they have got major problems. Obviously three players have departed and the trick is buy when you are strong. So he needs to buy players. You can't win anything with kids."
"He almost ruined my night that night," added Phil Neville. "We had been beaten 3-0 by Aston Villa and I came home to watch Match of the Day with my mum and dad and when he speaks, the country listens."
Hansen now: "It was the line that made me. I'd be at Euston station or Heathrow airport and they'd be shouting it at me. To this day, I stand by that line. How many times have you seen a manager pick experience over youth, it happens all the time."
Hansen's final word
"Twenty-two years on an iconic programme, with the best people working for the best organisation, it can't get much better than that."