Salisbury City: Demoted club taken over by consortium
Last updated on .From the section Football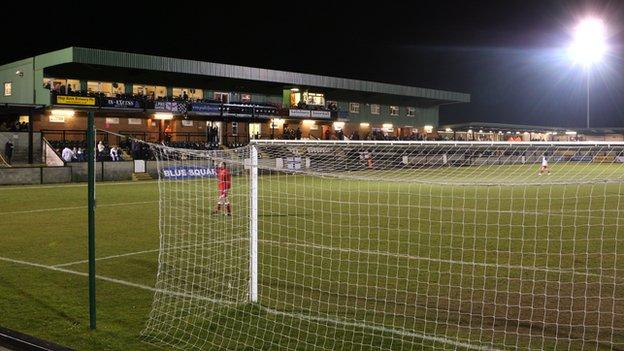 Outail Touzar's ownership of demoted Salisbury City has been overturned and the Whites have now been taken over by a new consortium.
The Moroccan businessman came in as the club's co-owner in May, but has been forced out for failing to put money into the club.
The action was taken by ex-Salisbury chairman William Harrison-Allan, who sold him the club.
Harrison-Allan regained control before selling to the consortium on Friday.
The group, who have taken on the club's existing debt, is made up of local business people and includes Touzar's former co-owner Mark Winter.
Salisbury's story
June 2010: Forced into double demotion after missing a deadline to pay creditors and therefore breaking Conference rules.
May 2011: Promoted to Blue Square Bet South via play-offs.
May 2013: Promoted back to Conference Premier via Blue Square Bet South play-offs.
December 2013: Club officially comes out of administration.
April 2014: Club put under transfer embargo. Chairman William Harrison-Allan appeals for funds to sustain the Whites next season.
May 2014: Mark Winter and Outail Touzar complete takeover, taking on £150,000 debt.
June 2014: Major backer Winter takes legal action to overturn Touzar's ownership and eventually quits. Club are demoted to Conference South.
July 2014: Salisbury expelled from the Football Conference after failing to pay outstanding debts. Consortium claim to have taken over, ousting Touzar from the club.
In a statement, the consortium confirmed they are to appeal the club's demotion from the Football Conference, which occurred last week after they failed to meet deadlines to pay outstanding football debt.
Touzar has yet to directly respond to being ousted from his role.
Salisbury were in financial difficulty when they were taken over by Winter and Touzar, with the pair becoming responsible for the club's debts.
Winter had paid around £75,000 of his own money to try to save the club while Touzar, who owned a 98% stake, had not provided any investment.
During his brief tenure, Touzar had announced the signings of two overseas players - Prince Khalid Bin Bader Alsaud and Faisal Khalil - despite Salisbury being under a transfer embargo.
Winter went on to "ban" Touzar in an attempt to overturn his ownership and eventually quit as co-owner because of the Moroccan's reluctance to hand over his stake in the club.
And because of their financial instability, Salisbury were demoted one division to Conference South, before being thrown out of the league completely earlier this month.
The club are also without a manager after Mikey Harris left to join Portsmouth as youth-team coach, and they only have four first-team players from last season remaining on their books.