Luis Suarez's lawyer to appeal to Cas over 'draconian' ban
Last updated on .From the section European Football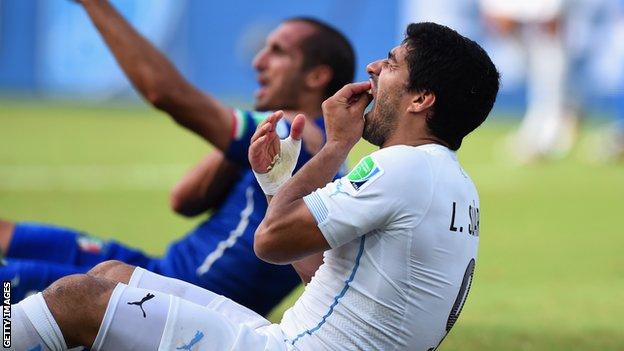 Luis Suarez's lawyer will appeal to the Court of Arbitration for Sport (Cas) against the four-month ban imposed by Fifa on the Uruguay striker, calling it "draconian, totalitarian and fascist".
An initial appeal against the 27-year-old's ban was rejected by Fifa.
Speaking before Suarez's move to Barcelona from Liverpool, Suarez's lawyer Alejandro Balbi said: "We hope they revoke this sanction."
Suarez and the Uruguayan Football Federation had appealed against Fifa's sanctions, which include a ban on "all football-related activities" for four months, a nine-match ban from international football, and a fine of 100,000 Swiss francs (£66,000).
As part of the ban, Suarez cannot train with his club and is prohibited from entering the confines of any stadium, although players' union Fifpro argues the details "lack clarity".
"[It] is blatantly draconian, totalitarian and fascist," Balbi told Spanish radio station Cope.
"The right of a footballer to work is being violated, and football should be worried about that. The nine international games may seem excessive, but the fact that he can't watch a game of football, or train or carry out his job - we are talking about unpleasant things."
Ordinarily, Cas would sit and hear the matter while the player adhered to the terms of his ban.
However, as the World Cup is still taking place, Suarez's legal team could apply to the Cas 'ad-hoc' division, which exists for the duration of the tournament to hear matters such as this.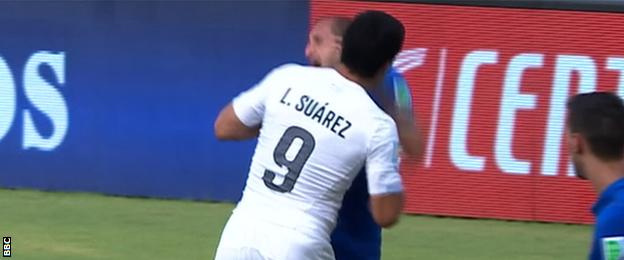 The ad-hoc division could suspend the sanctions pending a full hearing later in the year, allowing Suarez to play and take part in "football-related activities" in the meantime.
"Justice will take its time but it will come," added Balbi.
"We knew that Fifa would uphold the ban because they are corporatists. We will not stop, we are going to go to Cas and we will keep taking the juridical path that is available to us."
Suarez, who scored 31 league goals for Liverpool last season, joined Barcelona on Friday for a fee thought to be about £75m.
He will travel to the Spanish club next week for a medical.